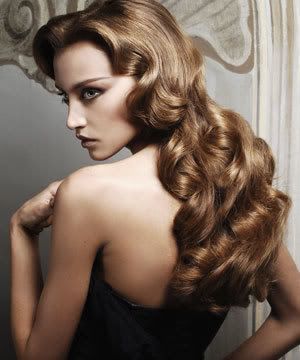 Summer sun will soon be shining on our doorstep, but with the sunshine comes the humidity and then (cue 1920's horror film background music) FRIZZ! We've all heard of the Brazilian Keratin Treatment and if you haven't done it already, I'm sure you've at least been a bit curious as to what the hype is all about.
I personally never thought I could benefit from this treatment as my hair is pin-straight and I was frightened to lose volume. But as a licensed cosmetologist (providing the service at a very reasonable price ), I had to at least try it out for myself. My verdict: Keratin is great for EVERYONE!
Keratin is the main protective substance in our hair. Adding more keratin to our hair improves each strand inside and out. Keratin will not only make your hair shinier, healthier and stronger, but it also protects from environmental damage caused by the sun that cause hair color to fade.

The great thing about the Brazilian Keratin Treatment is it's just a reconditioning treatment –shocking—a salon procedure that gives you beautiful, silky hair, without the damage! BEWARE: Most Keratin Treatments contain the carcinogen, formaldehyde. So, say no to brain tumors and consult your stylist to ensure they are using formaldehyde-free products. These formaldehyde-free products are significantly more costly to the stylist/salon. So, expect the formaldehyde-free Keratin Treatment to be a bit pricier than other salons that use products containing the cancer-causing chem. If any time to splurge on the higher end product, this is it.
Expect silky locks for 3-5 months, depending on your products and how often you wash. Blow out time cut in half! Frizz-nonestistent. Without effort, tight curls will be naturally wavy. Waves will be naturally straight.
Best place to get this treatment in Boston Area: contact Candice (+1774.930.8731) Not only will you get the formaldehyde-free treatment at $150, which is less than the standard $180, but you will also be on your way with all the tools to maintain your soft tresses at a discount price. Recommended products by Candice: Pureology Antifade ZeroSulfate Shampoo and Conditioner (Retails at $27 each 10.1 oz, she sells for $20 each with treatment).
photo courtesy of myhairstylingtools
-Candice, edited by H.Kattan