The Ultimate Concealer Guide To Brighten, Conceal & Snatch EVERYTHING
Concealer is truly the gift that keeps on giving – every beauty lover's fave liquid cover-up with IRL vanishing superpowers to disguise all skin woes, from the odd blemish, a sleep-deprived face, dark under-eyes, and it makes a killer brow groomer too. Seriously, when it comes to versatility, this baby takes first place. So, make the most of your concealer with our curated list of game-changing (and industry-backed) tips that'll elevate your concealer game and take your makeup mastery to new heights. Introducing the 2021 HB concealer crash course. Get your notes ready loves cause class is officially in session.
Seminar #1: Finding your right shade
A FAQ question we often come across on the web is: how do I figure out my shade match? Should I go one shade lighter or find a concealer that's identical to my base? Well, it pretty much depends on what you're trying to achieve. "If you want your concealer to blend in with your foundation for a natural look, I recommend matching the concealer with your foundation," says Ash K Holm, the stellar hands behind Shay Mitchell and Khloe Kardashian's most iconic face beats. "And if you want to use your concealer to highlight, I like to go one to two shades lighter than your foundation shade – highlighting will lift the face and reflect light," she adds. We like to use this same shade over dark circles as well for an on-the-spot vanishing and brightening effect that will literally wake up the eyes. And for an invisible veil for pesky pimples, a shade that matches your foundation is always best.
In case you missed it, last month, we compiled a list of every single concealer we're loving so far. The 10 formulas above are sooo powerful that we're convinced they'll hide all your life problems, from blemishes to your ex.
Seminar #2: Finding your ideal coverage
Just like foundations, concealers come in a variety of textures that essentially achieve different things. Celeb makeup artist Kira Nasrat breaks down the prime differences between cream and liquid offerings to help you distinguish these: "Creamy concealers are going to give you a bit more coverage while liquid can give you lighter coverage," she explains. "I tend to use the liquid formula to even out a tone or slightly conceal and I like creams for more heavy-duty concealing." Creamier, full-coverage formulas are our usual go-to choice for pimples and the obvious dark circles, while a light coverage concealer is always within arm's reach for an easy, skin-evening film of color that'll have you looking put together in 10 seconds flat.
Seminar #3: Masterful layering
We know we say this time and time again, but just in case you forgot, the order in which you apply your products can seriously make a world of a difference to your final look. Our current concealer routine looks a little like this:
Prep skin with a primer of your choice for a clean and smooth canvas.
Layer up a color corrector to neutralize any areas of concern.
Blend over your fave foundation.
Then layer up your concealer, and set it in place with powder as a final step.
Speaking of powder, if you've been pondering on whether you should splurge on one, we 100% recommend it if your beauty budget allows. Concealer and powder make one helluva tag team. Not only will it help lock your concealer and foundation in place, but if it's the fleshy-colored kind, it will add a soft coat of color over your base to enhance and refine your coverage.
Seminar #4: Concealing under eyes (the Huda way)
Just like all social-media-driven trends, concealer application techniques are always changing with the times. 2016 was all about the upside-down triangle for undereye flawlessness. Fast forward to now, and the new Instagram method (which Huda approves of too) entails dragging your concealer up towards the tail end of your brow, for an instant snatched eye-lift effect. For seamless blending that isn't blotchy, a damp makeup sponge is our beauty tool weapon of choice.
Seminar #5: Perfecting (cake-free) extra coverage
Drying time in between your layers is key here. Much like the baking method, if you're applying multiple layers of concealer, allow each to dry on the skin before you blend it out. This allows the concealer to start setting into your skin, which means when it's time to blend, it's almost semi-dry so it won't shift at all – or be completely absorbed into your sponge! Once you've applied some to the areas you want to target, leave it for between one to three minutes to set. The more product you use, the longer you'll need to wait but it's so worth it.
Seminar #6: Covering up pimples
If you find that your concealer isn't hiding your blemishes enough, try this method (it's a little more intricate but it totally works):
Begin with a green color corrector to neutralize and cancel out redness.
Blend foundation over your entire face.
Then, apply full-coverage concealer over pimples, blending it out with a dry beauty sponge.
If a little redness is still peeking through, add a thick layer of nude loose powder and let this sit for one to two minutes, then dust off. This will help lock that concealer in place so it doesn't budge, while also brightening and further camouflaging the area.
Posts You'll Love:
Seminar #7: Neatening up your eyeshadow
The beauty of concealer is that it can be used in many other genius ways like the three lid-perfecting, eyeshadow hacks below…
Prime: Run out of eyeshadow primer? Just use your concealer instead. This will create a clean base for your eyeshadow application and cancel out any discoloration or redness on the skin too (TBH, we often prefer this more than the conventional primer). With your fingertips, blend a tiny bit of concealer across your lid, then set with a light dusting of powder to stop it from settling in the crease.
Cut: Yet another iconic hack that we learned from drag queens. If your eyeshadow look is lacking some pizzaz or drama, work a darker shade into your crease, then with a small flat angled brush, use concealer to outline the shape of your lid and voila! A killer cut crease. So easy, right??
Snatch: Use your concealer like an eraser to clean up messy eyeshadow edges. After you've applied concealer to the under-eyes, extend the color to the outer corner of your eye (in an upward motion), moving toward the tail end of your brow as Huda demo'ed in seminar #4. What this does is sharpen the edges of your eyeshadow look while enhancing your now lifted eyes even more.
Seminar #8: Contouring your nose
One of our absolute favorite hacks — if you want to make your nose look slimmer, apply a concealer that's roughly two shades lighter than your natural skin tone on either side of your nose. By highlighting this area, it'll make your nose look more slender. To heighten this contrast, set it with a bright setting powder.
Seminar #9: Using the right tools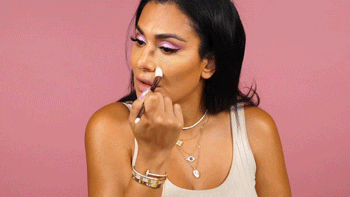 There are three essential tools one requires to create all types of concealer coverage.
Fingertips: To blend light layers of concealer on the lids and under the eyes, if a cream concealer is in use.
Beauty blender: If you desire light coverage on the skin, a damp beauty sponge will soften and absorb excess product.
Concealer brush: For heavier coverage, use a concealer brush in stippling motions (i.e. dab and press the product down into your skin) to ensure you get super-saturated layers of pigments that won't shift.
Seminar #10: Highlighting strategically to sculpt
Contour is nothing without it's highlighting sister. It's like the yin and yang of makeup. Once your cheekbones and angles are contoured to the gawds, highlight the under-eye, center of the forehead, bridge of the nose, and underneath the cheekbones as a secondary step. This will help spotlight the shadows of your contours so that your face looks sculpted AF. Although, as with all things makeup-related, you need to tweak and tailor your contour according to your face shape, so check out our ultimate contouring guide to find out how.
Seminar #11: Fixing cakey makeup
If you were a little too heavy-handed in your application, there's no need for a do-over, simply use Urban Decay global makeup artist Steve Kassajikian's trick to correct. "I spray Urban Decay Quick Fix Hydra-Charged Complexion Prep Spray, $32, onto my brush or beauty sponge and blend or press the concealer to add hydration and smooth it out," he says. Not only will this save you time starting from scratch, but this primer helps reduce the appearance of fine lines and replaces lost moisture. Double bonus.
Seminar #12: DIY skin tint
If you're running low on foundation, mix your concealer with a drop of moisturizer, or for a glowy finish, a drop of glow enhancing cream, like the GloWish MultiDew Skin Tint, $37, for an easy, DIY no-makeup makeup base that's the perfect skin accessory for summer days.
Now that your concealer skills are certified pro-level, check out these 5 drugstore concealers celeb MUAs LOVE to add to your stash.
Disclaimer: Every product we review has been independently selected and tested without bias by our editorial team. We never take payment to review products, although some brands allow affiliate links, so we may earn a commission if you purchase a product by clicking on one of our links.