5 Skincare Rules Everyone Should Know
There are tons of skincare tricks and hacks, and thousands and thousands of skincare products all promising to be the next best thing for your skin. But, it doesn't matter how good they are if your basic beauty routine is damaging your skin. We know that sounds dramatic, but honestly, when you get to grips with these basic beauty rules, you'll understand why they're so important.
So, we've put together our top five beauty rules that almost every expert and derm we've ever spoken to has told us we MUST do. If you ensure you follow these five skincare rules, we promise you'll notice a difference.
Rule 1: Always Double Cleanse
Why? Double cleansing means washing your face twice because one wash just isn't enough. Whether you wear a ton of makeup or not, double cleansing at the end of the day is essential to remove all of the makeup, dirt, grime, and pollution that builds up on your skin. Washing your face once will only remove the surface dirt, but a second cleanse will actually be able to penetrate your pores, sweeping away any sebum and leftover dirt or makeup. It also means your following skincare steps will be able to penetrate your skin better.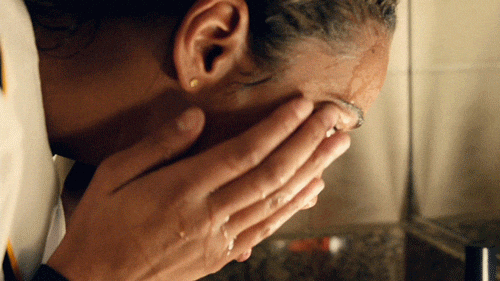 How to: Start with an oil cleanser, which will dissolve makeup, SPF, pollution, and sebum on the surface of your skin. Dw, it won't break you out, the oil binds with impurities and is washed away. Then use a water-based cleanser (like a gel, foam, or cream), which will get rid of water-based impurities like sweat, dirt, and any leftover nasties. This will also be able to penetrate your skin and deliver the active ingredients from your cleanser.
Tips: Always use warm water, never too hot! Massage your skin for one minute with each cleanse. If you don't yet have a cleansing oil, you can start double cleansing just by using your regular facial wash twice. It doesn't need to be expensive, try the Neutrogena Ultra Light Cleansing Oil, $9.
Posts You'll Love:
Rule 2: Layer Your Products the Right Way
Why? Layering your skincare in the wrong order means that some of your products won't be able to absorb into your skin properly.  For example, if you apply a moisturizer before your eye cream, because moisturizers have occlusives in (ingredients that create a barrier on your skin), the potent ingredients in your eye cream wouldn't get a chance to penetrate your skin properly and work their magic.
How to: The general rule is to apply your most lightweight products first, moving on to your thickest formulas at the end of your routine. As the image above illustrates, start by double cleansing, then if you need to exfoliate or do a mask, do this now. Next, tone, which will remove impurities and dirt your cleanser may have missed around your hairline or neck. Now apply any essences or spot treatments, so there's no barrier to stop them. Then serum, as these have small molecules packed with active ingredients, then use your fav eye cream. Finally, add moisturizer – possible one of your most important steps, as it will hydrate and help repair your skin (especially before bed when your skin loses a lot of moisture). Finally, use a face oil – this is the last step as they create a protective barrier on your skin.
Tips: Give time for your products to soak into your skin for a couple of minutes before moving onto the next step, which will stop them from pilling. Don't use too much product, it might seem like the more you use, the better, but actually, this will just cause them to build up and potentially rub off. Check out our product quantity guidelines and more details about layering your skincare here.
Rule 3: Know Your Skin Type
Why? Understanding what your skin needs, means you can find the best products that will work for your skin. Everyone's skin is unique, and even though it changes over time, there are certain 'skin type' categories you can use as guidelines to help you find skincare that works for you. Depending on whether your skin is, dry, normal, oily, acne-prone, sensitive or aging, you should be using very different products. You might even be a couple of these; you could be both oily and acne-prone, aging and dry, or even sensitive and acne-prone. You may also be dry during the winter and oily during summer, which is why you should switch up your skincare when summer hits. If you're not sure what your skin type is, check out our guide here.
How to: It's quite simple, once you know the characteristics of your skin you'll have an understanding of your skin type and you can begin to choose products that work for you. Most skincare products state what skin type they're good for, but in case they don't, check out our guide to picking the right skincare for your skin type here.
Tips: Your skin doesn't stay the same forever. Although your skin type is mainly down to genetics, everything from the seasons, your environment, and your hormones can affect it. If you have oily skin now, you might not forever, so always reassess your skin every six months to see if you need to try something new.
Rule 4: Exfoliate
Why? Regular exfoliation – and by that, we mean at least once a week – will slough away dead skin cells that block your pores and help with skin cell renewal. So not only will it clear out dead skin, and dirt and grime that can lead to pimples and blackheads, but it will also instantly brighten your complexion, and allow for your other products to penetrate deeper. Some exfoliators, like AHAs (glycolic acid), can even improve the appearance of fine lines and wrinkles.
How to: How often you exfoliate depends on your skin type – that's why rule three is so important! If you have oily skin, you can exfoliate between two to three times a week, but if you have dry or sensitive skin, you may find that exfoliating with gentle exfoliators once a week is plenty. One thing that is so important is that you don't over exfoliate, which can end up removing healthy skin cells, exposing your skin to bacteria and making breakouts more likely. There are two types of exfoliators, mechanical (physical) and chemical. You can use a mechanical exfoliator, which contains beads or natural grains like salt or sugar that buff away dead skin, or chemical exfoliators (AHAs like lactic, glycolic or citric acid) which dissolve the 'glue' that binds dead skin cells in your pores.
Tips: Never scrub too hard, as this will damage your skin; apply gentle pressure and use warm water. We like the Kate Somerville ExfoliKate Intensive Exfoliating Treatment, $24, which combines physical exfoliators and lactic acid and fruit enzymes to unclog pores and leave dull, uneven skin behind
Posts You'll Love:
Rule 5: Never Forget SPF
Why? You might think the only damage that the sun can do to your skin is burn it, but the truth is, it's literally destroying your skin. Are we being dramatic? No! 90% of how your skin ages is down to sun exposure and this portrait of a 69-year-old truck driver published in the New England Journal of Medicine proves it! Due to the nature of his job, only half of his face was consistently exposed to the sun. The UVA rays that penetrated through the window damaged collagen, which has led to deep wrinkles and sagging skin to the side of his face exposed – if this isn't the best reason to wear sunscreen, we don't know what is!
Source: The New England Journal of Medicine
There are two types of Ultra Violet rays, UVA and UVB, and you need to protect your skin from both. UVB is what causes sunburn, skin discoloration and skin cancer, and this is what SPF protects against. Then there're UVA rays, which are considered even more dangerous as these penetrate deeper into your skin and cause long-term damage, like wrinkles, sagging skin, the destruction of collagen, and skin cancer. These can penetrate through cloud and glass, which is why you should wear SPF every day, and why you need to find a sunscreen that has a UVA 3-star rating or higher. To make sure you don't believe any of these SPF myths, check out this post.
How to: Even if your only time in the sunshine is your commute to work, you still need to wear SPF. For the cooler months, you can get away with an SPF 30 with 3-star UVA rating in your foundation or BB cream, but when the sun comes out, we recommend factor 50 SPF and UVA 4-star or 5-star rating. If you're continually in the sun, reapply through the day – and no, makeup doesn't protect your skin from UV rays.
Tips: Buy a sunscreen mist that you can apply on top of your makeup to ensure you're protected if you're out during the day, and if you can wear a hat, that helps too. Check out our fav sunscreens that work beautifully under and over makeup.
Let us know if there are any skincare rules you live by in the comments below. X