Skincare Tools 101: Everything You Need To Know & The Best Ones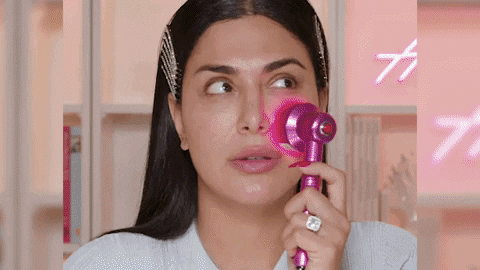 Browse any of your favorite beauty retailers and you'll notice a trend: gadgets, gadgets everywhere! Some are super high tech – like skin printers and wild-looking LED shields – while others, like gua sha tools and dermaplaners, are simpler in nature. Simple or techy, though, there's some confusion about which tools do what. Consider this your ultimate guide to every kind of gadget on the market.
Comedone Extractor
This is a tiny metal tool traditionally used by dermatologists to remove comedones from pores (whiteheads and blackheads). There's usually a small loop and large loop on either end of the tool. The loop is placed strategically over the comedone and gentled pressed and slid until it pops out. You've likely seen these being used in "popping" videos a la Dr. Pimple Popper, and she even sells one herself.
Try it: SLMD Skincare Extractor Tool, $20; Tweezerman Skin Care Tool, $13
Cryo-sticks
Cryo-sticks go by a handful of names, including freeze tools, ice rollers, cooling globes, and ice globes. As these names suggest, they are cold tools (usually with a globular base) that are stored in ice or the refrigerator. They're built to retain this coldness, and are run across the skin to soothe, tone/tighten, reduce inflammation, and minimize redness.
Try It: Aceology Ice Globe Facial Massager, $54; Sephora Collection Facial Cooling Globes, $25
Dermaplaner
Dermaplaners are single-blade razors for your face. They're not meant to shave coarse hair, but instead they remove the soft peach fuzz (vellus hair). This has three primary benefits: it creates a smoother base for your makeup, exfoliates away dead skin cells, and allows your skincare products to absorb more efficiently.
Try It: Schick Silk Touch-Up Facial Razor, $4.99; Spa Sciences SIMA Sonic Dermaplaning Tool, $24.99
Dermaroller
Dermarollers are microneedling tools approved for at-home use. Typically, they feature a handle and a rotating cylinder with micro-needles that you roll gently across your skin. This creates tiny punctures in the upper dermis, which stimulates collagen and elastin production. The tiny punctures also allow your skin to absorb product more efficiently. Though they're OK to use at home, they must be cleaned and stored meticulously to prevent infection.
Try It: Jenny Patinkin Rose on Rose Derma Roller, $75; Sonia Kashuk™ Microneedle Facial Roller, $10; BeautyBio GloPRO® Microneedling Facial Regeneration Tool, $199
Derma Microneedle Stamp/Pen
This is the same idea as the dermaroller, only it comes in press (versus roll) form. These tools are ideal for treating smaller areas of your face, including around your lips, your nasolabial folds, and nose. Some say it's less painful than a dermaroller since your skin isn't being pushed or pulled.
Try it: Nurse Jamie Beauty Stamp, $50; ORA Microneedle Derma Pen System, $110
Dry Brush
A dry brush is an intense, manual exfoliating tool intended for body use (not face). It usually features a handle and thick, stiff bristles that you rub across your skin to remove dead skin cells and improve circulation. Some also swear that it helps with cellulite.
Try It: goop G.Tox Ultimate Dry Brush, $20; Primally Pure Dry Brush, $18
Gua Sha Tools
This is a hand-held stone tool with originations in ancient China. In fact, gua sha loosely translates to "scraping away stagnant energy." They come in various shapes and sizes but usually feature both concave and rounded areas to accommodate different parts of your face. It should be held nearly flat against the skin and very gently glided. This is soothing, but also facilitates lymphatic drainage and reduces inflammation.
Try It: Herbivore Rose Quartz Gua Sha, $18; Snow Fox Black Obsidian Hot Stone Gua Sha, $22
Jade Rollers
Also a facial massager with origins in China, jade rollers typically feature a handle with cylindrical pieces of stone on either side that you roll back and forth against your skin to soothe and improve circulation and drainage. It's a bit easier to handle than a gua sha tool and can also be made with other stones, including white and rose quartz, amethyst, and lapiz.
Try It: Skin Gym Double Duty Smooth & Textured Jade Face Roller, $36; Sonia Kashuk™ Rose Quartz Roller, $15
Posts You'll Love:
LED Face Mask/ Shield  
You'll feel like a sci-fi babe wearing this gadget. It's essentially a mask that fits over your face and emits various waves of light. Usually, they're intended to help with anti-aging effects, but some can also target acne.
Try It: Priori UnveiLED Face Mask, $395; Dr. Dennis Gross Skincare SpectraLite™ FaceWare Pro, $435
LED Handheld Device
This gadget follows the same concept as an LED face mask, only it's a handheld tool. (This often makes it less pricey.) These tools address certain skincare issues depending on the type of light emitted. For example, some target wrinkles, some help zap acne, and others brighten skin. One thing they usually have in common? They yield real results but be sure to invest in quality to see returns!
Try It: Quasar MD Baby Quasar Plus, $249; reVive Light Therapy® Essentials—Acne Treatment, $49
Microcurrent Devices
Microcurrent devices use tiny, low-voltage electricity to stimulate your skin. The professional versions are pretty powerful, but you can also buy tamed down, over-the-counter versions. The goal is to stimulate collagen and elastic production, and to improve the overall tightness of your skin. Because at-home products aren't as strong, they are meant to be used daily for a few minutes at a time.
Try It: Nuface Trinity Facial Toning Device, $325, Trophy Skin RejuvatoneMD Microcurrent Device, $199, ZIIP Device, $495
Microdermabrasion Tool
Microdermabrasion tools use a mildly abrasive textured tip to exfoliate your skin. In-office versions are more intense, but you can find lighter versions for at-home use. The goal is to improve overall tone and texture.
Try It: Michael Todd Beauty Sonic Refresher Wet/Dry Sonic Microdermabrasion & Pore Extraction System, $99; Neutrogena Microdermabrasion System, $27
Pore Vacuum
This tool is exactly what it sounds like: a tiny suctioning tool that pulls the gunk right out of your pores. It's gentler than it sounds, and quite effective. Some even combine a microdermabrasion element that exfoliates while "vacuuming."
Try It: Sarah Chapman Skinesis Pro Pore Refiner Pore Extraction Device, $205; PMD Beauty Pink Personal Microderm Pro Device, $199;
Sculpting Bars
Also called "T-bars," this device is a slim, hand-held gadget that vibrates. Its goal is to help "sculpt" the face reducing puffiness, toning, and tightening. People swear by this simple tool's ability to lift and contour in no time at all.
Try It: Jillian Dempsey Gold Sculpting Bar, $195; Skin Gym Beauty Lifter Vibrating T-Bar Roller, $58
Skincare Fridge
A fridge for your skincare products? You bet. The theory is that when skincare products are stored at a lower temperature, they last longer. This is particularly true of sensitive ingredients, such as vitamin C, retinol, enzymes, and acids. (Just don't put oil-based products inside.)
Try It: The Aqua Cosmetics Fridge, $100; Flawless® Mini Beauty and Skincare Refrigerator in White/Rose Gold, $60
Skincare Printer
This is a relatively new gadget to the market, but we're including it because it's making serious waves in the beauty industry. A skin printer digitally scans your skin, analyzing it in real time, and then instantly conceals imperfections such as age spots and hyperpigmentation. The formula uses ingredients that help fade the appearance overtime, and you can use it on your face, chest, arms, and hands.
Try It: Opte Wand Skin Printer, $599
Sonic Facial Cleanser
For some, hands aren't always adequate when it comes to getting a good face cleaning. Sonic facial cleansers vibrate/pulse for a deeper clean. Some utilize traditional bristles, while others clean with softer silicone bristles. We recommend those with silicone bristles, as they're more hygenic and less abrasive.
Try It: Foreo LUNA play plus, $49; Foreo LUNA™  3 for Normal Skin, $199
Did we miss a gadget? Feel free to shout it out in the comments!
Disclaimer: Every product we review has been independently selected and tested without bias by our editorial team. We never take payment to review products, however, some brands allow affiliate links, so we may earn a commission if you purchase a product by clicking on one of our links.