How I Get The Most Insane Summer Glow All Over
Hey my loves! Summer has officially arrived, and if you're anything like me, there's literally nothing sexier than getting that full glow up from head-to-toe! I'm sure some of you might think this is extra AF, but honestly, I love doing this full glow routine for special occasions, nice dinners, or spending time by the pool because it just makes me feel so good! If you're lucky enough to get out and travel this summer or hit up a beach or pool club, then I promise this beautiful skin routine will give you a real-life glow-up!
Here's how I like to get my glow on…
View this post on Instagram
Okay, this combo brings the GLOW! I'm all about makeup that lasts through it all, and that's especially important in the summer when the heat and humidity are your makeup's worst enemy! We formulated our #FauxFilter Luminous Matte Foundation to literally last through it all – it's literally life proof (waterproof, super long wear (24hr), transfer-proof, fade-proof, sweat-proof, humidity-proof. Combine that with a pump of our new GloWish MultiDew Skin Tint, which is also fragrance-free water-, sweat-, transfer-proof, and non-comedogenic, and you get the most gorgeous-looking skin with a healthy dose of glow and coverage!
P.S. I prep my skin with our WISHFUL Yo Glow Honey Flower Enzyme Scrub (our new limited-edition Yo Glow) to get a smooth and flawless base for makeup application. And don't forget sunscreen before you begin your makeup routine!
View this post on Instagram
Meet my new OBSESSION… The most delicious highlighter that will literally give you a glazed glow, so you look as delicious as a donut! What's so special about our new N.Y.M.P.H. Glaze Skin Glowing Perfector is that it's SO DIVERSE! The formula is a solid cream that melts into your skin in seconds but isn't greasy or oily; it's a highlighter-primer hybrid that gives this glass skin sheen, and smooths and blurs the appearance of fine lines and pores all at once. The payoff is INSANE.
I love to apply this on top of my makeup to give my cheekbones a sheer, glassy glaze that makes the skin look so fresh and healthy. However, you can also wear this as a primer to smooth pores and give a luminous finish to any foundation.
View this post on Instagram
Our N.Y.M.P.H. Kiss Glow Blush is a blush-highlighter hybrid that will give you a STUN-NING rosy glow, instantly. We transformed the rose from our NYMPH All Over Highlighter and created a smaller version that has a universal duo-chrome pearl blend, so when the light hits your skin, it gives off different pink and gold tones that will make you look & feel SO SEXY! I love to use this on my cheeks for an iridescent glow and on my lids for a pretty pink flush of color that catches the light in such a pretty way.
View this post on Instagram
Do you guys remember our stuuuuunning limited edition N.Y.M.P.H. All Over Glow Highlighter? Well, we created a new shade of the same super pearl-rich formula that you guys were obsessed with! Introducing #HELIOS, an all-new universal copper-rose color for the ULTIMATE summer glow. The lightweight formula is packed with squalane for luxurious application that gives a gorgeous soft shimmer or can be built up for a major highlight moment for your face and body! I love to use this with a large fluffy brush on my décolleté for a quick glam moment.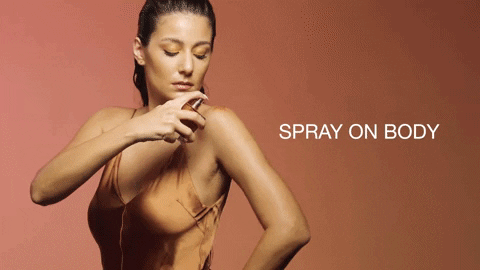 Meet our SEXIEST drop to date… N.Y.M.P.H. Body Drip Shimmering Dry Oil, AKA my HOLY GRAIL of body shimmers. It's a glowing oil packed with skin-loving ingredients and a non-greasy feel that's super quick to apply! The formula is infused with jojoba oil, avocado oil, and vitamin E and smells divine because we infused it with KAYALI's newest fragrance, Utopia Vanilla Coco | 21. I love to use this on my arms during the summer as it immediately hydrates and gives a gorgeous sheen that looks so sexy and summer-ready, and because it absorbs so quickly, it's not sticky or irritating.
View this post on Instagram
Okay, you guys know I'm extra about the glow, so for my legs, I like to combine our OG N.Y.M.P.H. Body Highlighter with our new N.Y.M.P.H. Body Drip Shimmering Dry Oil. This combo is DIVINE! By combining the two, I'm getting hydration and slip from the oil, and the addition of the Body Highlighter takes the glow up another level to smooth out skin and create stunning summer skin that glows from morning till night!
SHOP THE NEW N.Y.M.P.H. COLLECTION
Finally, one last body prep step that I love to do regularly during the summer is exfoliating. I use our WISHFUL Yo Detox Enzyme Scrub for my décolleté, underarms, and bikini line. For my arms, body, and legs, I love to combine coffee grounds with brown sugar and coconut oil for a super hydrating but effective scrub!
Ooh, and please don't forget sunscreen this summer! You should apply SPF all over your face and body if you're going in the sun, then continue with this glow routine. You can also use a spray-on sunscreen throughout the day to top up and keep your skin protected. Check out our fave sunscreens for face and body here.