10 Of The Best Makeup Tips I've Learned Over The Last 10 Years
Over the last ten years, I've learned more about makeup than I could've ever imagined. From moving to L.A. to study makeup artistry to developing my own products in our labs in Italy, makeup has always been my passion but now it's literally my life and my business.
So, to mark the ten year anniversary of HudaBeauty.com – I cannot believe it's been 10 years since I started my blog – I wanted to share the most important and literally life-changing makeup tips I've learned along the way. Because honestly, these hacks will take your makeup game to the next level: Get ready for the glow up…
1. Shaving Your Face is the Ultimate Makeup Prep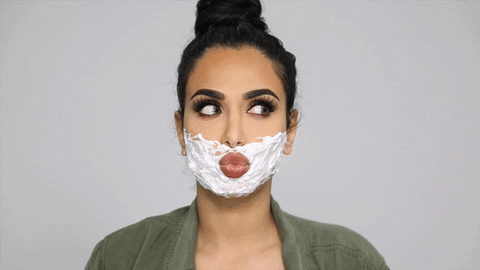 I'm going to start with one of my all-time favorite beauty hacks… Shaving your face. I know it might sound crazy, but I swear it creates the perfect base for flawless makeup application. Not only does it remove peach fuzz but it also exfoliates the skin, leaving you with softer, smoother skin that's ready to cake. I promise once you start, you'll never stop.
Shaving my face is now part of my weekly beauty routine and it only takes me a couple of minutes. I even do my nose sometimes, and I swear it has helped with blackheads!
How to shave your face: Before you start, wash your face and pat it dry with a soft towel. To begin, pull your skin taught, then using a straight razor or Tinkle razor, make small downwards strokes with the blade at a 45-degree angle. Do this for the entire bottom half of your face, wiping the blade on a tissue or towel every few strokes – you will be amazed at how much fluff comes off! I also do the same for my forehead but if you're a beginner, you'll notice the biggest difference just by doing your cheeks and chin.
Top tip: Be very light-handed – you don't need a lot of pressure! Once you've finished, hydrate your skin with a serum, moisturizer, or oil. Check out my tutorial below for more deets:
2. Priming is Everything
Priming your skin is one of THE most important makeup steps, and yet so many people skip it! I ALWAYS prime my face before makeup as it creates a clean base for makeup application. You can also choose a primer to help mattify or boost radiance depending on your preferred finish or skin needs. Many primers also help minimize the appearance of pores and ensure your makeup doesn't move throughout the day – like I said: an essential makeup step!
Over the years I've experimented with primers in every way, and I've developed some pretty bomb hacks.
Mewy Makeup: My first hack is perfect for anyone who has an oily T-Zone, and it's the perfect way to get what I call a MEWY complexion, AKA when your skin looks dewy AF in all the right places and perfectly mattified in others. To get this look, I use two primers: I apply a mattifying primer like our Matte Perfection Pre-Makeup Base, $35, where you typically get oily, like your T-zone and chin, then I use a hydrating primer like our Complexion Perfection Pre-Makeup Base, $35, everywhere else.
Super Glowing Skin: I literally cannot do my makeup without using this priming hack… I use our N.Y.M.P.H Not Your Mama's Panty Hose, $49, liquid highlighter in shade Aphrodite as a primer for my makeup. Although we developed this formula to add a major skin-illuminating glow for your body, I use it all over my face before foundation and it helps minimize the appearance of pores, lock my makeup in place, and give me a glow the gods would be proud of.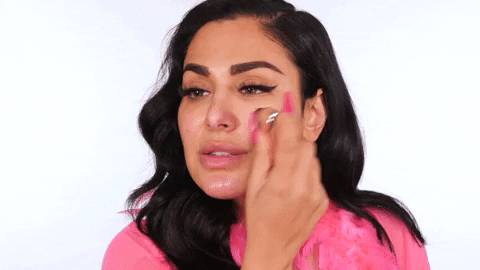 As you can see, when you first apply N.Y.M.P.H. to your face you look kinda crazy, but once you've blended your foundation on top, you're left with the most stunning, luminous glow. At first, everyone in my team thought I was insane for doing this, but once they tried it, they were hooked!
3. Baking is Essential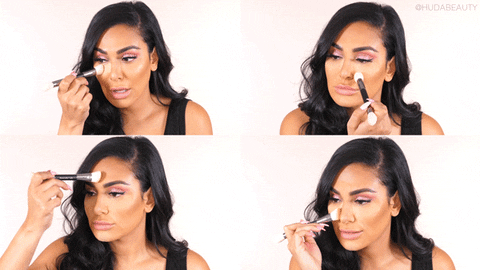 I swear baking is THE most game-changing makeup technique you can ever learn – it just gives your makeup a long-lasting flawless, creaseless, and poreless finish. When done strategically, it can also seriously snatch your face, so needless to say I'm obsessed.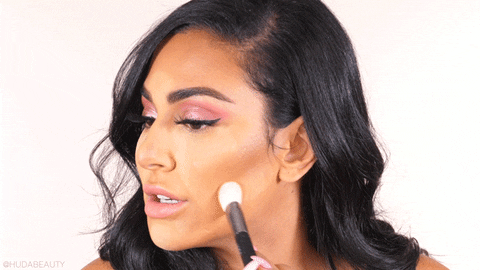 Most people tend to bake underneath the eyes but I literally bake my entire face. We even created our Easy Bake Setting Powder, $34, for this purpose, and it's literally my holy grail for setting my makeup.
How to bake your face: Once your foundation and concealer are down and fully blended, dip a damp makeup sponge into the powder and apply a thick layer of setting powder using a light dabbing motion. I apply the powder underneath my eyes to brighten, along my laugh lines to prevent creasing, underneath my cheek contour to sculpt my face, and on my chin to control oil. To finish, I even bake my brows (check out my tutorial below for more tips). I leave the powder to sit for around three to five minutes, and then I sweep it away with a fluffy brush.
4. Concealer Will Snatch Your Face
Concealer is one of the best ways to chisel and snatch your face. You've probably seen concealer being applied in a triangular shape underneath the eye but I like to go one step further. Instead, I take my concealer higher up to the outer corner of my eye and towards the tail end of my brow, which helps to lift and sculpt the eye and create the appearance of fuller cheekbones.
I also like to bring the concealer in towards the bridge of my nose contour to make my nose look more slender. I then set the concealer with baking powder to brighten the area for a truly sculpted finish.
Other key areas to highlight with concealer are the center of your forehead, along the bridge of your nose, and underneath your cheekbones. This will help manipulate the shadow of your contour and create a really snatched look.
Posts You'll Love:
5. Contouring is the Key to Sculpted Glam
Of course, I couldn't mention concealing without mentioning contour! Over the past ten years, contour has completely changed the makeup game, but it's so important to learn to contour for your face shape.
Facial Contouring: Depending on your face shape, you can use contour to accentuate and manipulate different features to create more balance. For example, if you have a long face shape to balance the length of your face, you can contour along the top of your forehead and below your chin and jawline to create the illusion of a shorter face. If you have a round face, you can add definition by contouring at the sides of your temples, under your cheekbones, and along your jawline, avoiding the chin. By leaving the chin free of contour, it'll help create the illusion of a longer, more oval face shape. Check out my ultimate contouring guide for more deets here.
Now we've covered the basics, let's move on to nose contouring, which I personally think is one of THE most transformative makeup hacks. With the right sculpting technique, you can literally change any nose shape. Check out my ultimate nose contouring guide below:
As you'd probably expect by now, I don't limit my contour to my face: I contour my neck, my color bones, and sometimes even my boobs for a sculpted final look.
Body Contouring: To add definition to your collar bone, use a bronzer (I prefer a cream contour like the Huda Beauty Tantour, $30) and a highlighter like our N.Y.M.P.H Not Your Mama's Panty Hose, $49, to add definition. To determine where to apply the contour, push your collarbone outwards, and work the contour into the indented areas, then finish with a little highlighter along the tops of your collarbones and add a little to your shoulders – the final look is so sexy! For more tips, check out my boob contouring video here.
6. This Highlighter Hack Changes Everything
This highlighter setting hack is a game-changer and I can't imagine doing my makeup without it. It's SO simple and yet it leaves your skin looking super glowy while ensuring your makeup doesn't budge all day.
All you need is a makeup sponge, setting spray (I always use our Resting Boss Setting Spray, $33), and a cream or liquid highlighter – I use the Melted Strobe in our Huda Beauty 3D Highlighter Palette, $45. Start by soaking your sponge in setting spray, dip it in the cream highlighter, and then dab the blender onto the highpoints of your face, focusing on your cheekbones. Next, apply what's left on your makeup sponge to your Cupid's bow, brow bone, and the bridge of your nose, then gently press it into your skin all over to lock in your look. You'll be left with the most luminous, healthy-looking skin – I'm obsessed!
7. The Secret To Perfect Brows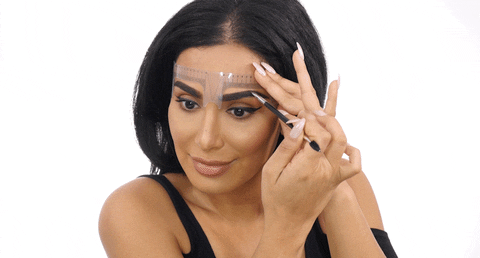 By now I think everyone knows just how important brows are; they frame your face and help create facial harmony. However, there are SO many simple tricks that can completely change your brow game.
If there's one thing that I tell everyone to do, it's to bring the brows closer together – even just a few millimeters can make a big difference. The thing is, most of us don't have identical brows, and it's quite likely that they may not start in a symmetrical place. Often when we talk about brows we discuss the shape or how to fill them in, but aligning them properly is often missed.
If you look at the image below, my team digitally edited my picture so that on the left, the space between my brows is wider. You can see that by bringing my brows closer together in the image on the right, my face and nose look more slender and balanced (this is a great trick for slimming your nose)!
When bringing your brows together, start off gradually then work your way in – you don't want them to be too close together! A general rule is to use a small makeup brush and hold it vertically at the side of the tip of your nose to measure where your brow should begin. Use this technique to check that your brows both start in the same place and are close enough together, and experiment to see what looks better. For more brow tips, check out our guide to shaping and filling in your brows.
8. The Makeup Tricks that Make Your Eyes Look Bigger
When it comes to eye makeup, there are literally hundreds of tips and tricks and so many different looks, but I'm going to highlight some key techniques that everyone should learn.
Eye Contouring: One thing that I always do, whether I'm going for a natural or dramatic look, is define my crease  – it adds dimension and instantly opens up the eye. Even if you're doing a no-makeup makeup look, you can use a shade that's just a few shades deeper than your skin tone to contour your lid and it will make a really dramatic difference. Start by slowly building up the shadow in your crease with a soft blending brush using a back and forth motion.
Once you've added shadow, highlight strategically. I like to add a subtle shimmer on the brow bone to lift the brow, as well as on the inner corners of the eye and the very center of the lid to make my eyes pop.
Liner: A strong wing will always be part of my signature look, it just helps to lift, enhance, and transform the eye unlike anything else. Not only can it make your eyes look so much bigger (or smaller if it's done wrong) but it can also help create the coveted almond-shape (my eyes are quite round) by elongating and lifting the eye.
It's crucial to get the right angle, as this helps to create a lifting effect, which is why I recommend starting with the wing. Start 1 or 2 mm above where your lower and upper lash line meets (this will help lift the eye), then draw the wing at a 45-degree angle up toward the tail-end of your brow. When connecting the liner above your lashes to your wing, gently slant it toward the wing you've drawn to create a triangle shape. For more tips, check out our ultimate liner guide.
9. The Art of Applying Fase Lashes
Lashes are my secret weapon, and if you have natural lashes as short as mine, then falsies are the perfect way to open up the eye and add drama. However, I know so many people don't wear lashes because the idea of applying them is so intimidating, so here are my top tips:
How to apply false lashes: The number one rule is to trim your lashes so they fit your eye shape, which will also make them more comfortable to wear. Before you apply your lashes, give them a little wiggle to make them more supple so they fit the natural curve of your lash. Next, hold the lashes with a pair of tweezers and apply a thin layer of glue along the band of the lashes. Leave the glue to dry for 30 seconds, and then once it's tacky, gently place the lashes as close to the lash line as possible. Using a pair of tweezers, push the inner and outer corners down, then use your finger to push them into place and pinch them together to ensure they're sitting firmly. Finish with a little mascara to blend everything together.
10. My Secrets For Faking Fuller Lips
I've been contouring my lips for as long as I can remember. It's my not-so-secret-secret to faking a full pout and it makes your lips look so sexy. Here's my step-by-step guide:
Step 1: Exfoliate your lips with a warm damp towel and a pinch of sugar, using small circular motions. Remove the sugary residue then blot dry and finish with a little lip balm.
Step 2: Add a small drop of foundation to a foundation brush, then work the formula over the lips to create a blank canvas.
Step 3: Draw an X at the Cupid's bow and outline the lips. Be careful not to go too far outside your natural lip line and make sure they're even and symmetrical.
Step 4: Connect your liner at the corners and fill the lips with liner, fading towards the center. Apply your darker, matching lip shade all over the lip.
Step 5: Using a lipstick in a paler shade, dab it onto the center of your lips and blend out with your finger to create the illusion of a fuller pout.
Step 6: If you want the fullest look possible, you can contour around your lips! Check out my video above for more deets.
These makeup tips and hacks I learned over the last 10 years really changed my makeup game, and I hope they help to transform yours as well. For more tutorials and makeup tips, check out our Huda Beauty Instagram page and all the content we have here on the blog, and check out the Huda Beauty YouTube channel for more tutorials. Let me know your fave makeup or skincare tips you've learned from the blog in the comments below.