My Ultimate Hacks For Filtered Makeup IRL
I love the power of makeup, and a filter is kinda like makeup on a whole new level. But the truth is, with the right makeup and the correct application technique, you can fake that airbrushed effect SO easily. That's what makeup artists do – create a stunning airbrushed finish – so as an MUA, product developer, beauty junkie, and certified #cakeface, I've got to say I've gotten pretty good at it over the years. Here are all of my top tips for faking a filter IRL…
1. Prep your skin
The secret to beautiful makeup is a well-prepped canvas. So, to enhance your glow game, make sure your skin is cleansed and exfoliated so there's no dead skin build-up that could make your skin look dull. Then, always ensure your skin is hydrated (check out these 10 super hydrating creams here) as this will help prevent your makeup from settling into fine lines and give you a more airbrushed look.
I always make sure my skin is prepped with one of my favorite beauty devices; the ZIIP tool, which helps stimulate collagen and keep the skin tight and toned (read our full review here).
2. Create a #FauxFLAWLESS base
When it comes to creating your perfect base, there are so many tips and tricks that can make SUCH a huge difference. Here are my top tips:
Prime: I actually like to double up on primer because I'm extra AF! But finding a good primer is essential as it'll help blur pores and create an even base for your foundation. I use the ahhhmazing skin-smoothing Tatcha Silk Canvas Primer, $52, followed by our Huda Beauty Nymph liquid highlighter – it creates such a stunning glow – I'm obsessed!
Use the right tools: Whenever I'm applying complexion products I like to press the formula into my skin as it creates a more even, seamless finish. I first apply my foundation with a dense foundation brush, stippling the formula into my skin. To then airbrush it to the max, I bounce a damp beauty blender onto my skin to smooth everything out.
Conceal and contour: When you're contouring you need to think about your face shape. I always contour on my cheekbones rather than below as it works with the dimensions of my face shape. I also like to go super heavy on my jawline. Find out where to contour to flatter your face shape here.
3. Snatch It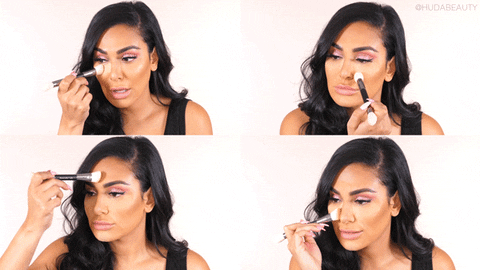 For me, baking is EVEERYTHING! Literally, I do it every day – it keeps your makeup in place, snatches TF out of your face, and gives you that filtered effect. I alternate between applying it with our Bake & Blend Brush, $26, and a beauty blender. If you use a blender, make sure it's damp as this will help pick up the product. However, while it should be damp, it should NOT be wet – this is super important otherwise it'll move your makeup – so squeeze any excess water out and then squeeze it in a towel. I also like to bake on the sides of my nose as it really snatches your face. Check out our baking guide for more deets.
4. Get that glow up
This has got to be one of my favorite hacks of all time. It gives your skin the most beautiful glow that doesn't fade all day long – I actually don't like to touch up my makeup throughout the day so it needs to be long-lasting and smudge-proof. So here it is: soak your beauty blender in setting spray, then dip it into a crème highlighter and dab the blender onto the areas where you'd normally highlight, followed by your entire face. For the step-by-step guide, read this.
5. Beautiful eyes
Contour your lids: First, I contour my eyes by applying a wash of eyeshadow to my crease that's roughly two to three shades darker than my natural skin tone. This will create the illusion of a bigger eye.
Highlight: Contour is nothing without highlighter, so add a little highlighter to the inner corner of your eyes and also onto the inner corner of your lower lash line to open up the eyes and make them pop.
Winged liner: I wear winged liner every. Single. Day. It just makes your eyes look so much bigger – when it's done right! The secret is drawing your wing using the right angle: it should be angled towards the tail end of your brow (find our how to style your wing to flatter your eye here). I then like to bring the line all the way to the inner tear duct to exaggerate this effect.
What are your makeup tricks? Let me know in the comments.