You Asked, We Answered! Replying To ALL Your Skincare Questions
We receive hundreds of questions on our blog and social media pages asking for our advice on a wide array of beauty concerns, from how to get rid of blackheads to how to boost radiance. After a while, we noticed some reoccurring patterns – the same concerns were constantly popping up. So, we decided to compile a list of the most commonly asked questions and deliver the answers you guys are looking for. Get ready to take notes!
Q: How do I get rid of blackheads?
There's no denying blackheads are a b*tch but whatever you do, rule number one is to be gentle with your skin. If you attack and squeeze too hard you'll just bruise the skin.
To minimize blackhead breakouts, it's important to understand what a blackhead is, which is a pore that's blocked with oil, dead skin, and debris. Therefore to combat blackheads, you need ingredients and formulas that'll help balance oil production and keep your pores clear.
Look for chemical exfoliants like salicylic and glycolic acid as well as natural ingredients like kaolin clay. Retinol is another amazing ingredient for tackling blackheads, our go-to is The Inkey List's 1% Retinol Serum, $13, as it doesn't dry out your skin like other more potent retinol products.
If you're looking to step up your game, incorporate a tool into your routine like our new fave, the Sarah Chapman Skinesis Pro Pore Refiner Pore Extraction Device, $205 (£128 in the UK), which extracts your blackheads for clear, happy skin. If you're a DIY lover, a gentle steam can also do amazing things for your skin. It makes a great treatment once or twice a week (post-cleanse).
Q: My skin is dull and textured, what should I do?
If your skin is dull and textured, chances are you need to amp up your exfoliation. Uneven texture or bumps underneath the skin are typically a result of dead skin build-up, which can also make your skin look dull.
To reset your skin, start exfoliating two to three times a week using a chemical exfoliant. The WISHFUL Yo Glow Enzyme Scrub, $39, is a gamechanger as it combines the power of natural fruit enzymes, as well as AHAs and BHAs to gently remove dead skin and dirt, leaving radiant, smooth skin in its place. We'd also suggest incorporating a vitamin C formula into your routine – it's one of the best brightening active ingredients and will also help restore uneven tone and texture. Find our fave vitamin C formulas here.
Read more about why your skin might be looking dull here.
Q: In what order should I apply my skincare products?  
Learning how to layer your skincare products is one of THE most important skincare rules you can ever learn. Ultimately, if you're applying them in the wrong order, you're seriously disenabling them from doing their job properly. Check out our layering guide here.
The most important first step is to ensure your skin is thoroughly cleansed before you apply any hydrating lotions or serums. From there, the general rule is to apply the most lightweight formulas first so they can be easily absorbed without the barrier of heavier creams.
It's also important to allow the product time to absorb into your skin, this will also prevent your products from pilling – those tiny little balls you get when you've used too much product.
Posts You'll Love:
Q: How do I incorporate a facial oil into my routine?
Before we get into how to incorporate a facial oil into your routine, let us explain why it's a total gamechanger. Oils are full of vitamins and good-for-your-skin benefits and are bursting with fatty acids, omegas, and antioxidants that'll nourish and plump like no other product on your shelf.
With that said, it's super important to find the right oil for your skin type, check out our guide to finding the right oil for you here. The general rule of thumb is that a facial oil should always be applied as the last step of your routine so it can lock in all the moisture of your other products. However, some brands do specify that their formulas should be applied sooner, so always read the label.
Application tip: If you have oily or combination skin, you may only want to use oil at night, or try combining one or two drops with your moisturizer. For normal and dry skin types, you can use your facial oil twice a day. You can also try giving yourself a little lymphatic drainage massage while you apply your facial oil, which helps to increase absorption, and de-puff and tone your skin.
Q: How do I get rid of dark circles?
Dark circles are one of those irritating issues that can be caused by so many different things! It could be lifestyle factors like late nights, too much alcohol or salt intake, or it could be down to genetics. The good news is there are lots of different things (plenty of them free!) that you can do to improve the appearance of dark circles. Read our full guide for all our tips and hacks on treating dark circles.
Q: My skin is constantly breaking out, how do I combat pimples?  
First and foremost, let us start by saying that breakouts are totally normal, and while it's easier said than done, don't stress about it – after all, stress can actually trigger breakouts!
With that said, there are plenty of things you can do to calm and soothe acne-prone skin or a maskne breakout. Try introducing active ingredients that'll lower oil production and buff away dead skin that's blocking your pores and triggering breakouts, or look for targeted solutions to take down an existing pimple. Check out our guide to soothing acne-prone skin and take a look at our tried-and-tested acne-fighting products.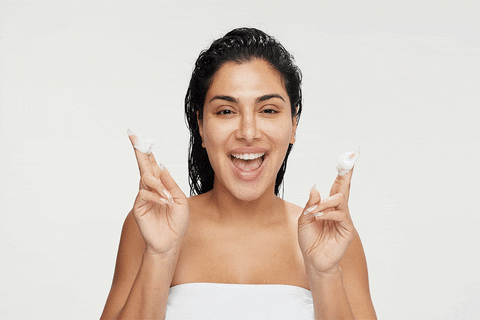 Q: How can I improve my skin without spending money?
Great skin doesn't have to come at a cost, there are plenty of daily rituals that'll improve your skin from within. From exercising regularly to starting your day with a detox drink or, our personal fave, a DIY lymphatic drainage massage, these practices can not only help soothe oily skin and breakouts but leave you with a radiant glow. 
Q: How do I minimize the appearance of acne scars?
First of all, to avoid post-inflammatory pigmentation (post-pimple marks) in the first place, it's super important that you don't pick or squeeze any pimples. For the marks that are often left behind, ingredients like vitamin C and gentle acids can help to improve the appearance of the post-inflammatory pigmentation. Retinol is another amazing ingredient that helps to fade marks left behind – find out how retinol works here.
The Hyper Skin Hyper Clear Brightening Clearing Vitamin C Serum, $36, was designed to specifically tackle this issue and is packed with fruit enzymes, bearberry, turmeric, and kojic acid that work together to attack hyperpigmentation and drastically lighten dark marks, age spots and acne scars. Finally, the addition of natural botanicals works to minimize the occurrence of future breakouts.
Other super effective techniques we've tried to minimize the appearance of scars are derma rolling and red light therapy. The Institut Esthederm E.V.E Essential Vital Elements Serum, $100, is another amazing serum that we love for helping to improve skin tone.
Q: My skin is SO oily, what should I do?
The truth is, oily skin can be a result of so many things; some are within your control and some are not. It can be a case of skin dehydration, genetics or it can be due to a hormone fluctuation (find out how hormones affect your skin at every stage of your cycle), like puberty, PMS, pregnancy, or the impact of your birth control. Check out our derm-approved guide to oily skin.
For more amazing tips, check our 21 skincare tips everyone should know.
Disclaimer: Every product we review has been independently selected and tested without bias by our editorial team. We never take payment to review products, however, some brands allow affiliate links, so we may earn a commission if you purchase a product by clicking on one of our links.