My Ultimate Beach Essentials For A Bronzed Tan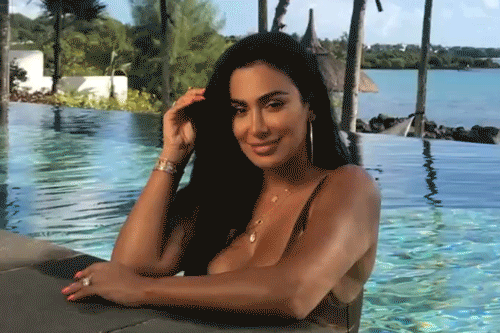 During the summer months, I'm constantly asked about my beach essentials, although in Dubai they're pretty much year-round necessities! So, I thought I'd let you in on the products that I never go to the pool without, as well as my top tips for getting the best tan. I've got to admit, I've crowned myself the best tanner in my family, as I have loads of little hacks that give me an insane golden glow. For me, the most important thing is sunblock – it's a myth that you don't tan with SPF – and I think it actually gives a better tan. The problem is is that too many people, especially when they're on vacay, literally bake in the sun, which isn't just bad for your skin, it doesn't actually give you the best tan either. These are my tanning rules I swear by for the perfect golden glow that'll last all summer long.
Always moisturize the night before
There's honestly very little point in tanning if your skin is dry, as it'll just dehydrate your skin further and cause your skin to flake. So even if your skin does develop a slight tan, it'll shed within a couple of days. This is why I always exfoliate and then moisturize the night before so my skin is in optimum condition. If I have a bath the night before, I'll even put a scoop of coconut oil in the bathtub – it leaves your skin feeling so soft and majorly hydrated.
Don't bake
Even when I'm on vacay, I make sure I stay out of the sun as much as possible during peak hours (from 11am-2pm), and then come out into the sun later on in the afternoon. The middle of the day is when the sun's UV rays are at their strongest and you're most likely to burn. Throughout the years, I've also developed this little tanning schedule, which gives me a really rich tan that actually lasts. I sit in the sun during the afternoon for the first two days, and then I alternate days in the sun.
Always use a good SPF
For me, a good SPF is essential, and I find using a good sunscreen gives a much deeper and longer-lasting tan. It's also just really important to protect yourself from UV rays as they can cause permanent skin damage. I'm talking sagging skin, wrinkles, dark spots as well as dry flaky skin, not to mention they can contribute to the formation of skin cancer. So, to protect myself, I always use the Bioderma Photoderm Brume Invisible SPF 50, all over my body, as well as the Bioderma Photoderm Brume Invisible SPF 100 on dry areas like my knees, elbows, and nose, which tan much more quickly than the rest of my body. I also carry the Filorga UV-Bronze Mist SPF 50 $33, with me wherever I go, as you should reapply your sunscreen every 2 hours, and this mist means I can apply it on top of my makeup without ruining it. If you're going in the sun this summer, please check out this post about SPF, as it's SO important that you properly protect your skin.
Don't underestimate natural ingredients
Whenever I'm by the pool, and normally the week before I go on vacay, I'm constantly drinking carrot juice, which contains the natural pigment, beta-carotene. Doing this can actually help enhance your natural skin tone so you can achieve a richer tan – I know it sounds crazy, but it's scientifically proven (check out this study). Pineapple juice is also an amazing tan intensifier as it's rich in vitamin A and C, which help promote collagen in your skin to make it look radiant and youthful, instead of dry and damaged.
Protect your hair
A lot of the time when people are in the sun, they totally forget to protect their hair and scalp from sun damage. But this is a huge mistake because your hair, just like skin can be seriously harmed by the powerful UV rays of the sun. This is why I literally slather my hair in coconut oil, from scalp to tip before I hit the beach, then I either put it in French braids or just scrape it into a bun. The coconut oil acts as a natural sunscreen, with an approximate SPF 8, so your hair isn't only being nourished, it's a little protected. I also like to use a spray-on SPF on my scalp before I apply the coconut oil, as there's nothing worse or more painful than a burnt flakey scalp.
I hope you guys found this helpful, and please remember to use a sunblock with SPF and UVA protection when you're in the sun this summer. Xx