The Super Easy Beauty Hacks That Transformed My Makeup
Anyone who knows me will know that I'm always creating my own makeup hacks that help me achieve a certain finish or particular vibe. Right now, I'm obsessed with creating a flawless natural look that's still a little bit glam and sultry. So, my main focus is creating the perfect complexion that allows my skin to shine while still attaining that filtered finish I'm known for. I've also had so much fun experimenting with a different brow look, as well as using eyeshadow instead of liner for a softer, sultrier cat-eye. After a few months of experimentation, I've noticed there are five key hacks that I use every day, so of course, I had to share them with you guys. Here are the beauty techniques I'm obsessed with RN.
Hack 1: For Flawless Foundation
If there's one thing I do every day without fail, it's Yo Glow, AKA exfoliate using our gentle WISHFUL Yo Glow Enzyme Scrub, $39. It leaves your skin with the most radiant glow and creates the most flawless canvas for foundation, ensuring your makeup never looks cakey. When we first created this product we advised using it two to three times a week but I started using it daily for makeup prep and we soon realized it was gentle enough for daily use, and it makes such a big difference to how your skin looks and feels when you're wearing makeup.
Post Yo Glowing, I'm obsessed with using our new #FauxFilter Skin Finish Foundation Stick, $39, for a filtered yet natural look. The two products complement each other beautifully and allow you to create a flawless, healthy skin finish that's radiant AF. Seriously, get ready for the glow up!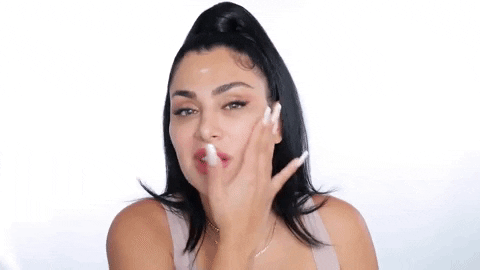 Step 1. Exfoliate:  Use a generous amount of Yo Glow on clean, dry skin. Gently massage the scrub in circular motions across the face and neck, rolling and sweeping away dead skin cells and impurities. Rinse well with warm water and gently pat your skin dry. Follow with your usual skin routine.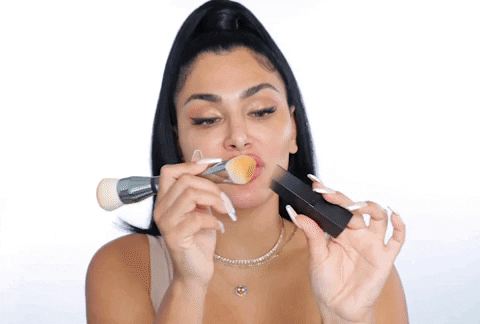 Step 2. Foundation: If you prefer medium coverage, apply the foundation stick directly onto your skin and blend outwards with a makeup sponge or foundation brush. I always use our Build and Brush Foundation Brush, $33, because it's amazing for getting that airbrushed finish, and I like to apply the foundation onto the brush instead of my skin for precision and seamless coverage. Plus, the pyramid-shaped brush allows you to get into those hard-to-reach areas and also works so well around the eyes and with concealer.
Hack 2: For Sultry, Sexy Liner
Eyeliner will forever be my go-to as it instantly exaggerates and snatches your eyes making them look so sexy. Instead of using the liquid side of our Life Liner Duo Pencil & Liquid Eyeliner, $25, recently I've been creating a softer wing using eyeshadow and the pencil side. The end result is a sexy, smokey liner, plus it allows you to play with different colors depending on your mood. My favorite colors to use ATM are the burgundy shade SPICY and the brown shade NAUGHTY from our new Naughty Nude Eyeshadow Palette, $67.
Step 1: Start by creating a feline cat-eye that gradually thickens towards the wing to accentuate the outer corner – I use the pencil side from the Huda Beauty Life Liner Duo Pencil and Liquid Liner, $25, as it smokes out beautifully. Next, I smoke out the kohl using an eyeshadow brush. I'm using the Huda Beauty Smoke & Smudge Brush, $18.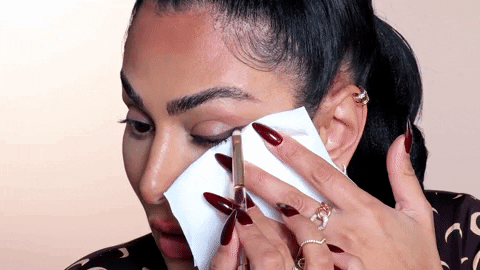 Step 2: Once I'm happy with the shape, I take a folded tissue and place it along my lower lash line, angled towards the tail end of my brow. This will help create the optimum angle for the wing to lift and snatch the eye. Then, taking a flat brush and a heavily pigmented eyeshadow, I layer eyeshadow on top. The tissue will catch any fallout and help create a clean, polished wing.
Hack 3: For Sexy, Fluttery Lashes
View this post on Instagram
Although I will always love false eyelashes, right now I've been keeping it simple by only using mascara for my everyday look. Of course, I'm still amping up the volume using our Legit Lashes Double-Ended Mascara, $27, and I've developed a few hacks along the way…
Step 1: First of all, I always start with the Volume wand and shut my eyes slightly to allow me to reach the base of the lash. Then, to evenly disperse the formula, as I comb the wand through my lashes, I twist the wand in a circular motion.
Step 2: Once I'm happy with the length, I remove any excess product from the wand and use the tip to push the lashes so they're angled outwards, which helps to create a sexy, cat-eye illusion. To finish, I apply a few coats of the Curl and Length wand for a sexy, false lash effect.
Posts You'll Love:
Hack 4: For Natural Brows
This hack is SO simple but for so long I didn't think it was that important! Now, I'm literally obsessed with brushing up my brows! It allows you to create a feathered brow finish with minimal effort. Not only do I brush up my brow hairs before I add definition with a pencil, I comb through the hairs to distribute the pencil or powder pigment for a more natural final look. Simply grab your spooley and get to work! You can use a little hairspray or soap to keep them pushed up and in shape.
Hack 5: For Quick and Easy Touchups
In case you haven't heard, we recently dropped a new primer and it has to be my fave primer to date – the Huda Beauty Water Jelly Primer, $33. It's super hydrating and effortlessly grips your makeup for long-lasting wear. Recently, I used it to touch-up my eye makeup and I was shocked at how well it worked to wipe away fallout and smudging effortlessly without causing my liner to bleed. Love me a multitasking product!!
For more makeup tips, check out my step-by-step guide to creating my fave makeup look right now.