My Honest Thoughts About Charlotte Tilbury's Flawless Filter
2018 is the year of the glow; people are going crazy for radiant, flawless skin that sparkles like our fav Instagram filter. Thankfully, the beauty world is coming through with all the complexion and priming products you need to achieve that glow. So, I was psyched to finally get my hands on Charlotte Tilbury's Hollywood Flawless Filter, which isn't actually a foundation, but more like a multitasking product for lit skin. I often find liquid highlighters lose their shimmer when they're blended, so I was intrigued to see how this would stand up to the test. Here's what I thought:
What it is: A customizable complexion booster that gives a radiant, airbrushed finish. It can be applied underneath makeup as a primer, mixed in with your foundation, used as a highlighter or simply applied on its own. It contains hydrating oils to lightly moisturize as well as floral extracts to brighten the skin. The Hollywood Flawless Filter comes in seven different shades, ranging from shade 1 Neutral Beige for very fair skin tones to shade 7 Deep Bronze for rich skin tones.
What it does: The hybrid formula perfects the skin like a primer, smoothing away fine lines and minimizing pores with airbrushing polymers and fine powders, while their 'Glossy Oil' reflects and adds light to your face where you need it, for mega glow just like a highlighter.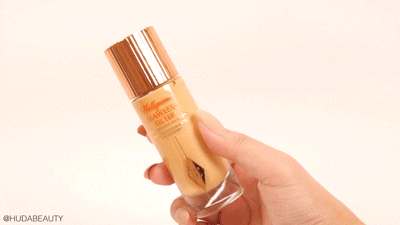 What I liked: Initially I wasn't sure about what I'd get with this, but once I started using it, I fell in love – it gives your skin such a luminous finish. I love that this is SO diverse: you can use it to prime, to blend with, and by itself. I like to wear it mixed in with my foundation, and then I set it with a powder, and my entire complexion still retains that really healthy, glowy finish, which is pretty amazing. I tried mixing this with a few different foundations (underneath, mixed in, and also as a highlighter) and it was really compatible. You also don't need to use a ton of product to get a goddess-like glow, and it doesn't affect the coverage of the foundation you're using, which is ideal.
You can also apply it as a liquid highlighter to cheekbones, for a softer glow. Although it says you can apply this by itself, I personally wouldn't, as it has almost no coverage, so it could make your skin look a little shiny. But, if you do like that super dewy look, this will definitely give that; I would just recommend being selective with where you apply it – just to the cheekbones, brow bone, and on the bridge of the nose and Cupid's bow.
What I didn't like: Okay, so I have to be honest with you guys, when I first saw the product I actually thought it was a foundation, so I was quite disappointed with the shade range. However, because this does have very little coverage, one shade will fit multiple skin tones, but I still feel like they could've gone deeper into their shade range, as I was using shade 6, which is only the second deepest shade.
My verdict: I'm definitely going to use this mixed in with foundations regularly, as it just gives such a stunning glow, and it's perfect for big events or on set, as it just makes your skin look really beautiful. I honestly feel like this is a product that will enhance any foundation, and probably one of my favorite complexion discoveries of the year so far.
Shop it here, $44.
Let me know if you've tried it!