Get The Glowiest Skin Of Your Life With Our NEW N.Y.M.P.H. Collection
Hey my loves! I have a little summer treat for you guys… We've extended our N.Y.M.P.H. Collection with more beautiful products to give you the glowiest skin of your life! Seriously guys, I don't know if you're ready for this glow! This summer, we're bringing the heat with some shimmering new face and body products that will legit turn you into a real-life god of glow.
We've got a shimmering dry body oil for you, a blush-highlighter hybrid, a unique cream highlighter like you've never seen before, and we've brought back our N.Y.M.P.H. All Over Body Highlighter in a gorgeous new shade. Here's everything you need to know about our new N.Y.M.P.H. Collection.
N.Y.M.P.H. GLAZE Skin Glowing Perfector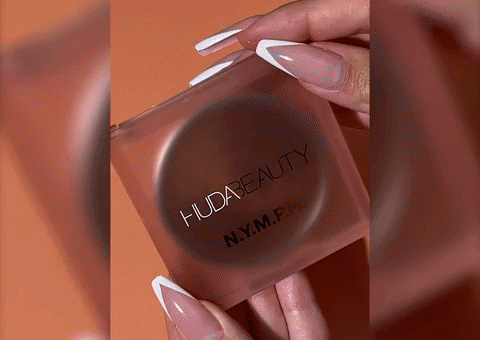 Our melted strobe formula from our first highlighter palette has always been a fave of mine; it smooths the skin in the most amazing way thanks to its high shea butter and pearl content. I knew I had to bring this formula back with a new lease of life, so we've redeveloped the formula for longer wear and created the most divine finish.
So, meet our new N.Y.M.P.H. GLAZE Skin Glowing Perfector, a multifunctional, solid highlighter cream that melts into your skin in seconds, leaving you with a stunning glass skin sheen that smooths and blurs the appearance of fine lines and pores all at once. The payoff is INSANE. I've never seen anything like this! I literally wear it everywhere: on bare skin to give my cheekbones a boost, all over my face and under my foundation for a majorly glowy base, and also on my cheekbones as a highlighter on top of makeup.
The new formula is infused with skin-loving ingredients – shea butter, vitamin E, and squalene – and is also non-comedogenic and available in three divine, stretchable shades: Luna, Aphrodite, and Juno. I legit cannot do my makeup without it!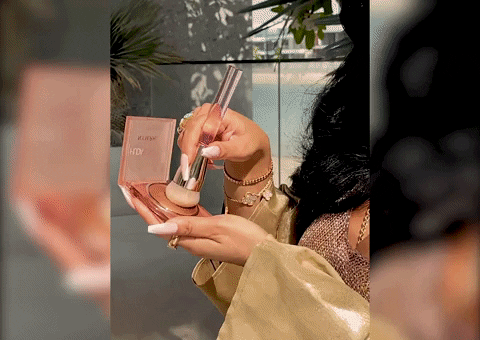 The Shades:
Luna: A soft champagne with gold and silver shimmer, suitable for fair to light skin tones.
Aphrodite: A warm and shimmering rose-gold, suitable for light to medium skin tones.
Juno: A true, warm bronze with golden shimmer, suitable for medium to rich skin tones.
How To Use: Use it on bare skin for a gorgeous glow. Apply it like a primer all over your face as a skin-perfecting base before foundation for a major glow that lasts. Or, apply it on top of makeup on your cheekbones or the high points of your face.
The Brush: We also developed a vegan brush to perfectly apply the formula, our N.Y.M.P.H. FACE | SKIN PERFECTOR Complexion Brush. The densely packed, ultra-soft synthetic kabuki brush is made with synthetic bristles and picks up just the right amount of product, and seamlessly blends it on your skin. I also love to use it with my foundation and for buffing out my contour – the densely-packed bristles blend and buff soo well!
How To Use: Swirl the brush in N.Y.M.P.H. GLAZE to pick up the product, then apply it all over your face in short strokes. I also like to use it with a damp makeup sponge.
N.Y.M.P.H. BODY DRIP Shimmering Dry Oil
You guys know how obsessed I am with our OG N.Y.M.P.H. Body Highlighter, so I wanted to bring you that same stunning glow but in a nourishing format that would also deeply hydrate your skin. This beautiful dry oil is packed with stunning shimmers and pearls to subtly illuminate your skin without feeling sticky or greasy, thanks to its fast-absorbing formula. The universal warm bronze shade is made with ultra-fine gold and copper pearls that give a sheer shimmer that's perfect for all over the body.
You know I love beautiful ingredients that I feel good about putting on my skin, so we included nourishing jojoba oil, avocado oil, and vitamin E. This was actually one of the last products I developed in the factory before lockdowns began, and I'm so obsessed with the blend that effortlessly soaks in and leaves behind gorgeous, gleaming skin.
The fragrance: One other really cool development we made to the formula was to infuse it with our delicious new KAYALI's Utopia Vanilla Coco | 21 Eau de Parfum Intense fragrance. So every time you spray, you'll be enveloped in the dreamy scent of coconut and vanilla – you will literally smell like a snack!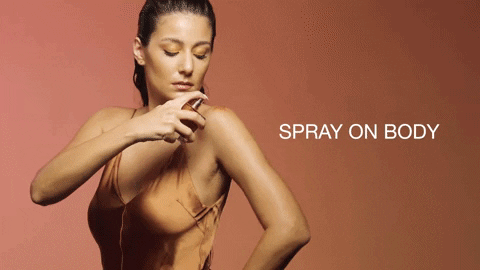 How To Use: Massage into your skin with your hands or use our Huda Beauty Blur & Glow Brush to buff the body oil into your legs, arms, shoulders, décolletagé and collarbones.
My Hacks: I love to mix a pump of our Huda Beauty N.Y.M.P.H. All Over Highlighter with two to three pumps of N.Y.M.P.H. BODY DRIP Shimmering Dry Oil and blend them together directly on the skin. This gives an even deeper glow that's super quick and easy to blend into your skin.
N.Y.M.P.H. All Over Glow in shade Helios
I had to bring this stunning highlighter back. Not only was our OG All Over Glow one of my faves in the entire world, but you guys have also not stopped asking about it! We developed this new pearl-rich shade, Helios – Helios is the Greek god of the sun – for tan to rich skin tones by mixing bronzey-copper and champagne rose pearls, and it looks so divine. The formula looks gorgeous on lots of different skin tones, and anyone can play with it, whether as a highlighter or a shimmering bronzer.
The squalene-infused formula has the same silky, lightweight texture that blends like a dream, and it's super easy to build into a bright glow. Like our last giant highlighter, this new beauty is a huge 10cm (30g of glow!) and available exclusively on HudaBeauty.com.
How To Use: Swirl your brush across the highlighter, then sweep across your face and body for extreme highlight. Use our Huda Beauty N.Y.M.P.H. Highlighting Powder Brush for fast coverage on larger areas of the body.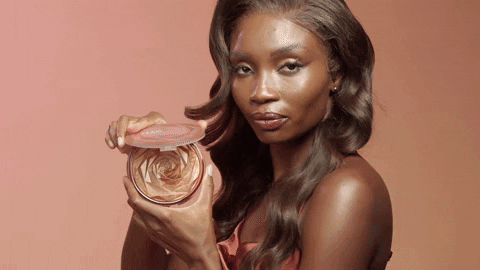 N.Y.M.P.H. KISS Glow Blush
Our N.Y.M.P.H. All Over Highlighting Powder was such a hit we decided to mimic the beautiful shape with this rose design that looks so stunning! I wanted to create a blush that blended blushed color and pretty pearls. So, we created this silky formula packed with duo-chrome pearls that can be used as a blush or a highlighter, as it warms up your skin with a luminous flush of pink and gold for instant color and shine without any chunky, unwanted glitter. It looks so beautiful all over!