How To Save $$ And Give Yourself The Ultimate DIY Facial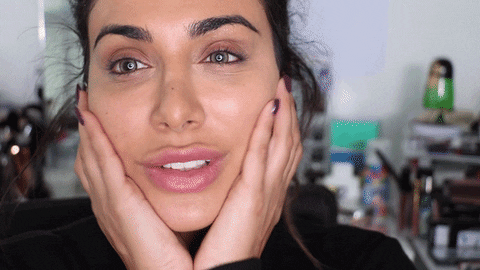 A facial is without a doubt, the best way to give yourself glowy skin and a lit-from-within feeling. Your skin looks better, your makeup looks better, you feel better, and everything is right in the world. And although a facial can make you feel like a million dollars, it doesn't necessarily have to cost you that much! No matter what your skin concerns, the key to a great facial is really pretty simple. Here're the six steps to an at-home facial that will make your skin look like it's just had a few hours at the spa from the comfort of your own home.
1. Cleanse
To start off (after turning on Netflix and pouring yourself a glass… of green tea) you want to assure that your hard work will be worth it, so make sure your face is completely free of any makeup or dirt with a double cleanse. If you start with a clean slate, it helps the next steps and products really penetrate your skin! Use makeup remover to wipe away any impurities or use a cleansing oil, and then use a gentle foaming cleanser to get rid of excess dirt.
Tip: We like to sip on beautifying green tea while we pamper ourselves! Our fave new find is the Steeping Beauty tea, $13.50, by Sahara Tea, which is rich in antioxidants to purify, balance and protect the skin. Plus it tastes insanely delicious as it's made with pomegranates, safflower, papaya, coconut, and other yummy natural ingredients.
2. Steam
Steaming is the secret that facialists swear by. When you're treating yourself to a facial, you have to make sure that you're getting the most out of your skin and your products, and steaming opens up the pores and hydrates the skin, creating a perfect base. (If you have Rosacea or very sensitive skin, you should skip this step). Add boiling water to a pot or bowl, and wait a few minutes until it's cooled down slightly, so you don't run the risk of burning your skin. Put a towel over your head and lean over the water allowing the steam to rise to your face – without sitting too closely (we recommend about a foot away!) Sit for five minutes while the steam opens up your pores and moistens your skin ready for the next steps! For an extra bonus, add a few drops of essential oils to the water. Oils like lavender oil are natural antiseptic and antibacterial, which are gentle skin-soothers if you're prone to breakouts or sensitivity. Check out this post for all the deets on facial steaming.
3. Exfoliate
It's time to scrub up! Exfoliating gets rid of any dead skin cells that are giving you a dull, tired complexion. Use a gentle exfoliator and scrub in slow, circular motions across your cheeks, chin, nose, forehead, and neck. Remember, your scrub will do all the work for you, so don't be too vigorous or push hard on your skin or you could do more damage than good!
We're obsessed with the new WISHFUL Yo Glow Enzyme Scrub, $39, which is super gentle yet powerful, so you won't run the risk of over-exfoliating your skin. The formula is infused with brightening pineapple and papaya enzymes, detoxifying BHAs and AHAs, and cellulose, a gentle physical exfoliator that carefully buffs away dead skin cells without scratching the skin surface. The formula leaves your skin feeling ni credibly soft and smooth, and it really helps to even skin tone over time.
4. Mask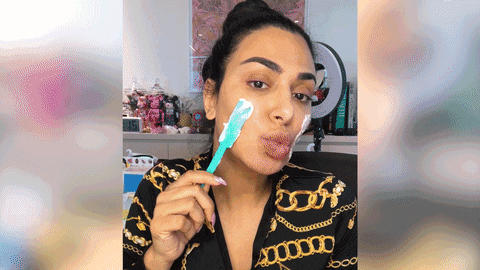 The type of face mask you use depends on your skin type. You don't want to overpower sensitive skin because it really just needs some gentle TLC, whereas problem skin (prone to breakouts) can take a little deep cleansing. For oily skin, we recommend trying one of these clay mattifying masks, which will get that shine on lockdown and deep clean your pores. If you suffer from dryness and your skin needs a little H2O, this hydrating rubber mask by Dr. Jart will give you the supple skin you're after. If you love a DIY, for acne-prone skin try this super easy DIY face mask. Once you've followed the instructions for your mask, rinse it off with lukewarm water and gently dab (don't rub) it dry with a towel.
5. Tone
Toner is like the setting spray for your skincare routine. It makes sure all your hard work doesn't go to waste and seals everything off. A toner will help do a final sweep of your pores, balance pH levels, and ensure there's no residue from your products left on your face that could cause irritation. Like a mask, the type of toner you use depends on what you really want to achieve with your facial. For sensitive or dry skin, avoid harsh toners packed with alcohol or AHAs. For a full guide on what toner works best for your skin type, check out our guide to toners for your skin type.
6. Layer Your Serums
Depending on your routine, layer on any extra steps like essences and serum, and an eye cream. Check out our guide to skincare layering here.
7. Moisturize
When you've had a facial, your skin goes through a lot, causing it to lose moisture. Although moisturizing seems counter-productive if you have oily skin, you still need it. Oil doesn't necessarily mean that your skin is hydrated because hydration comes from water in the skin, whereas oiliness comes from an overproduction of sebum. If you're oily, opt for a hydrating gel formula that won't clog pores, and if you're on the dryer side, give your skin a drink with a rich, creamy moisturizer! Check out our fave drugstore moisturizers here.
Oh, and we cannot stress this enough – do not pick your skin, ever! To keep your skin in check round-the-clock, make sure you know these five essential skincare rules.