6 Summer Skincare Tips You REALLY Need To Know!
It's officially summer, and there's something SO hopeful about summer 2021. After a year of staying at home, we're finally venturing outside, and so naturally, we need our glow game to be on point.
Despite the fact that summer has a rep for being carefree and easy, the heat is accompanied by a slew of skin issues… Yes, we're talking oily skin, clogged pores, and breakouts. To help you breeze through the season without breaking a sweat, we've compiled a list of need-to-know skincare tips, from how to deal with maskne to SPF rules.
1. Wear Sunscreen Daily
We're not going to beat around the bush on this; you need to wear a stand-alone SPF every single day, especially during the summer months. By that, we mean a proper sunscreen, not SPF in your makeup! Ask any derm and they'll tell you that sun exposure causes the premature formation of fine lines, wrinkles, dark spots, pigmentation, the deconstruction of collagen that results in sagging skin, and even scarier than any of that, skin cancer. Hence, why you need to take sun protection seriously, which means finding a sunscreen with high SPF protection (at least 30 but aim for 50) and 4-star or 5-star UVA protection. Check out 10 new SPF must-haves here, plus our go-to drugstore formulas.
2. Reapply SPF Throughout the Day
The truth is you should reapply sunscreen every two hours. While this may seem like a pretty high maintenance habit, it's totally worth it when you consider the dangers of sun exposure.
If you're wondering how TF you apply sunscreen over makeup, you have two options. The easiest way is to use a mist that contains SPF as it won't mess up your glam, and many formulas are enriched with skin-loving ingredients – it's a win-win. We're obsessed with the Filorga UV-Bronze Mist SPF50+, $33, as it contains a powerful antioxidant that's activated by the sun's rays to give your skin protection and hydration. It's even water-resistant, invisible, and completely compatible with makeup, hence why it's stashed in our purse year-round – living in the desert is no joke!
The second option – ideal for any oily girls out there – is an SPF powder. Not only will it shield your skin from aging UVA and UVB rays, but it'll keep you shine-free throughout the day. Our go-to is the Supergoop (Re)setting 100% Mineral Powder SPF 35, $30. It offers 100% mineral broad-spectrum UV SPF with a satin finish. It can also be used to set your makeup or for reapplying SPF.
Check out all our fave SPF mists and sunscreen powders here.
3. Step Up Your Cleansing Routine
Double cleansing, AKA when you cleanse first with an oil or balm, then follow with a water-based formula (like a gel or foam), is an essential step year-round, but it's especially important during the summer. After a day in the heat, your pores are more likely to become congested with dirt, bacteria, and excess oil. Double cleansing will ensure that your skin is clean and primed for the rest of your routine.
As for the second cleanse, dermatologist Dr. Daniel Belkin recommends a more potent formula, particularly if you have oily skin. He says, "At the end of the day, you'll want a cleanser that's a little stronger so it can effectively remove all of that buildup sitting in your pores."
Dr. Belkin suggests the Dr. Dennis Gross Skincare Alpha Beta® Pore Perfecting Cleansing Gel, $38, as it'll help "strip off the dead skin cells that cling onto the skin when there's excess oil and sweat." If you're using a powerful cleanser daily, be mindful when using other exfoliating ingredients in your routine to avoid over-exfoliation.
4. Introduce a Clay Mask Into Your Routine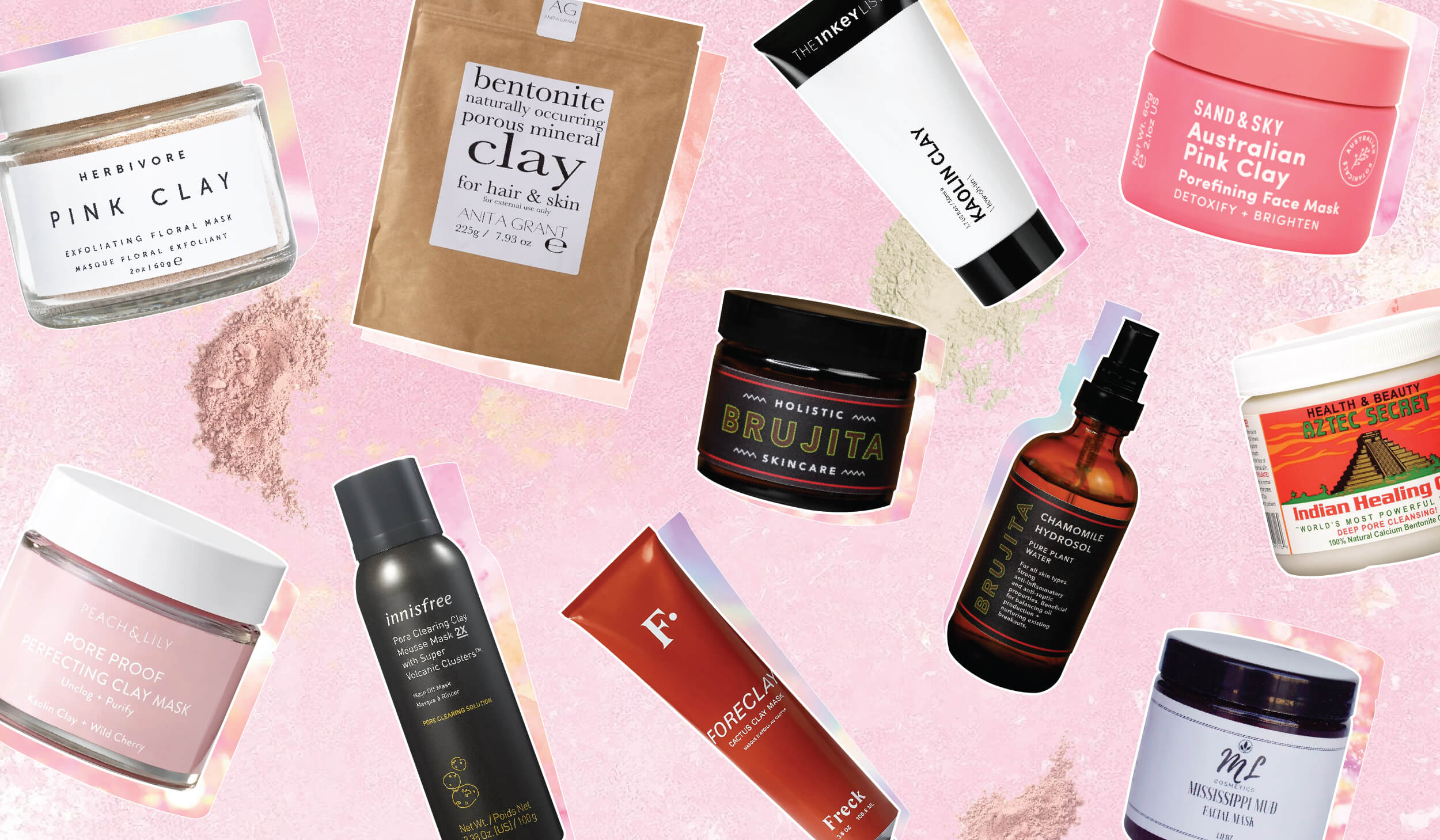 If your skin tends to get oily during the summer season, slot a clay mask into your weekly skincare regimen. It will help extract excess oil, toxins and dead skin debris that would otherwise leave your skin looking dull and prone to breakouts.
If you're on a budget, The Inkey List Kaolin Mask, $7, is ideal as it's powered by kaolin and smectite clay to purify and exfoliate dead skin leaving you with a radiant glow. Another great option is the Peach & Lily Pore Proof Perfecting Clay Mask, $43, which is fueled by clarifying bentonite clay to detox your pores. Plus, it's enriched with hydrating heroes to ensure your skin is dewy and smooth and no dry post mask.
Remember to follow a clay mask with a hydrating skincare routine, so your skin isn't too parched. Ultimately, the more hydrated your skin, the more balanced it is and the less likely it will produce excess sebum and oil.
Posts You'll Love:
5. Combat Summer Maskne
We won't lie: wearing a mask when it's super-hot or humid can be a real struggle. The extra fabric or material creates a microcosm of heat and sweat, which can lead to clogged pores, irritation, and pimples.
Tackle the problem head-on and invest in a natural fabric mask. Dr. Sarah Dolder, a board-certified dermatologist in Greenwich, Connecticut, explains why, "Natural fabrics like cotton and silk allow for more breathability, which means the moisture levels and bacteria load are reduced within the masked area of the skin." Don't forget to wash your mask daily (you can easily do so by hand or via the washer) and have a backup ready for action. We like to use a gentle, fragrance–free detergent like Tide Free and Gentle, $12, to minimize the risk of developing skin allergies.
When soothing a maskne breakout, it's important to use gentle and hydrating ingredients and target any pimples STAT to reduce further irritation. Check out our guide to treating maskne here.
6. Eat With your Skin in Mind
It's no secret that your glow game starts from within, which is why dietician and chef, Aphisith Phongsavanh recommends eating with your summer glow in mind. He even revealed that the right diet can help protect your skin in the summer months, although that doesn't mean you can skip SPF… Ever!
He told us, "Two key antioxidant vitamins that play a major role in priming your skin for protection against the sun are vitamins E and C. A balanced diet rich in vitamins E and C, healthy fatty acids, and other antioxidants will ensure that your skin is ready to fight free radicals and repair itself against the effects of oxidation."
Where to get your dose of vitamin C: "Tomatoes, red and green bell peppers, strawberries, citrus (oranges, limes, lemons, and grapefruit), broccoli, kale, and guava will help support your skin when exposed to the sun."
Where to get your dose of vitamin E: "Try seeds, almonds, hazelnuts, spinach, and avocados. Tomatoes, bell peppers, and broccoli contain both E and C, so you'll be boosting your skin doubly."
Remember, your skin is a reflection of your health. Find out more about how improving your gut health can boost your glow here.
For more skincare advice, check out 21 skincare tips everyone should know.
Disclaimer: Every product we review has been independently selected and tested without bias by our editorial team. We never take payment to review products; however, some brands allow affiliate links, so we may earn a commission if you purchase a product by clicking on one of our links.