The Best Eyeliner I Think I've Ever Used
So, when Rihanna said she was starting her own makeup line, Fenty Beauty, she really wasn't joking with us! Since her launch last year, she's been dropping bombs on us every few months, new highlighters, new eyeshadow palettes, shimmering body oils, and now, a liquid eyeliner – possibly one of the most essential items in our makeup bag. Naturally, I had to try the new Fenty Beauty Flyliner, because I can't remember the time I last did my makeup without doing a wing – I have to say, I'm impressed!
What it is: An intensely pigmented liquid eyeliner with a super flexible felt tip (an exclusive Fenty innovation), that glides on a defined slick of color in one go.
What we liked: For me, the Kat Von D Tattoo Liner is my go-to, but Fenty just stepped up the game, massively. The ink in the Flyliner flows so smoothly, so where you might have some drag or not super-intense pigment with some liquid eyeliners, this really delivers an intense black line in one go. The tip is VERY fine, so getting that perfect pointed flick is really easy! I also really like the shape of this and the fact it feels a little heavy, which I felt gave me more control during application. The ink has a slight shine to it – I usually prefer a matte finish – but because it's so intensely black, it just looks divine.
What we didn't like: I noticed that the ink did bleed a little, but I only saw this when I was using it on the back of my hand, and I didn't notice this around my eyes.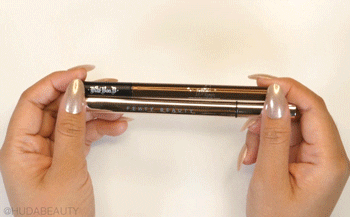 Comparison with Kat Von D Tattoo Liner: At first glance, the nib looks exactly the same as Kat Von D's Tattoo Liner, but actually the nibs are very different. The Flyliner nib is a lot more flexible and just a tiny bit longer and more pointed than the Tattoo Liner, which meant Flyliner gave much better precision and made application way easier. They're also both $20. I also compared them on the back of my hand multiple times, and I literally had to scrub the lines off the back of my hand at the end of the day – they're both waterproof and VERY long lasting!
The verdict: Without a doubt, the Fenty Flyliner is my new fav eyeliner. If you love the Kat Von D Tattoo Liner, you will go crazy for this!
Shop the Fenty Beauty Flyliner, $20, here.