3 Things All Models Do To Their Skin That You Should Too
Models basically get paid to look beautiful, so if we're going to be taking beauty tips from anyone, these ladies are top of our list. Not only do they get to work with the industries best makeup artists and skincare specialists, but they always pick up on the coolest hacks while jet-setting across the globe. After being mesmerized by the Victoria's Secret models all over our Instagram, here're three things all models do that you should definitely know about too:
Models know the importance of a facial massager

Facial massagers are not part of the Instagram hype – you don't see them in every video, and not every brand is creating their own – but it's one of the most common tools among many models. Take a Jade roller, for example, not only can they immediately depuff your skin by stimulating lymph drainage, but over time they can diminish the look of fine lines. Then there's the Japanese Golden Beauty Bar that you use to help your serum penetrate deeper into your skin. The gold ions and micro vibrations stimulate facial massage, while it also tightens and contours your skin. If it'll help us achieve anything close to a model bone structure, we'll try it.
Models know to drink crazy amounts of water
Okay, so models use great skincare, and they know a ton of tips and tricks, but they also know that what's on the inside massively reflects on the outside too. Models know that drinking loads of water is key to their skin looking gorgeous – if you don't drink enough water, it can make your skin look dull and emphasize fine lines (you should aim for at least 2 liters a day). It's not just about water either, most models love green tea, which regulates hormones, controls sebum production, fights against wrinkles and has a ton of other amazing good-for-your-body benefits. And if you ask what most models drink first thing in the morning, they'll tell you they don't start the day without a cup of lemon water, which cleanses the digestive system and contains tons of vitamin C. Moral of the story? Drink more water, and put green tea or lemon in it on the daily!
Models know that their necks need attention too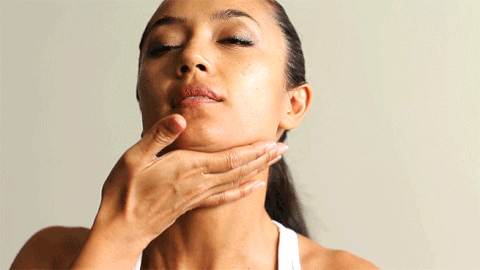 via Giphy
No matter how young your face looks, a saggy turkey neck will give your age away immediately. Models know that they need to take their skincare routine all the way down to their neck as well because actually, the skin on your neck is just as sensitive as your face. This means make sure you remove any makeup here, tone, and moisturize your neck as well – the latter is especially important. This means don't just apply SPF to your face, but to your neck as well. We know it sounds extra, but in ten years you will thank us for it!