5 Ways To Get The Most INSANE Glow This Summer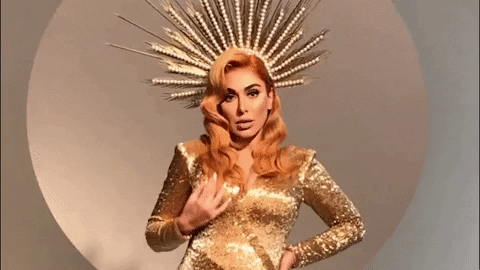 Everyone knows that summer is the time to bring your glow game! So, we decided to create a product that would make it look like you literally fell straight outta heaven with our liquid face and body highlighter, N.Y.P.M.H. aka Not. Your. Mama's. Panty. Hose.
It creates the most stunning glow that blurs imperfections – including pores and dark spots – giving your skin a sun-kissed tint, even if in reality, your skin hasn't seen the sun in forever (damn you winter)! Just like pantyhose, N.Y.M.P.H. is transfer, sweatproof and water-resistant, so you can keep goddess'ing whether you're hanging poolside or hitting the beach – no stickiness here! Here're 5 ways you can use N.Y.M.P.H. on your face and body to get the most insanely gorgeous summer skin.
How To Use N.Y.M.P.H On Your Body
View this post on Instagram
Build up your glow gradually: Since the formula's heavily pigmented (almost 30% pearl pigment) build up your glow gradually. There are three shades in total; Luna for fair skin tones, Aphrodite for medium and tan, and Aurora for deep and rich skin tones. When you first apply it to your skin, take the "less is more approach" and then build it up for a natural to intense glow. For instance, on our neck, arms, and collar bone we only use one pump on each shoulder and another for the decolletage. Then we buff the product out using continual strokes with the Blur and Glow brush to achieve to most insane luminosity. For a more intense glow, you can apply 2-3 pumps to cover a large area.
Prep and set: Before you apply N.Y.M.P.H make sure your skin's moisturized to help achieve the most flawless glow. We'd also suggest waiting 10-15 minutes to ensure that your moisturizer is fully absorbed before you glow up! Then once N.Y.M.P.H is applied, make sure you let the formula set for 1 minute before you put on any clothes. Once it has set it won't t transfer or streak with gentle pressure, so avoid rubbing!
How To Use N.Y.M.P.H On Your Face
View this post on Instagram
Use it as a primer: For seriously luminous skin, use N.Y.M.P.H. as a primer. Start by applying half a drop to a clear palette and evenly distribute the product onto the brush, then, apply a thin veil onto your face. If you have oily skin, avoid the t-zone as this is an area that probably won't need anymore shine! Follow with a medium to full coverage foundation. For an added pop of shimmer, use a small drop of N.Y.M.P.H as a highlighter on your cheekbones, above the brow bone, on your Cupid's bow, and on the inner corner of your eyes.
Posts You'll Love:
Mix it with your foundation: For a more natural everyday glow, mix a small drop of N.Y.M.P.H. with your foundation. Once it's mixed evenly together, buff the formula onto your skin using a blender or brush. This will work well if you use a light to medium coverage foundation as it'll give you a really beautiful yet natural glow.
For a glow that'll NEVER go: Ok, so this hack is for the ride-or-die highlighter fans. If you want a glow that's sweatproof, water-resistant, and just generally life-proof, douse your beauty blender with setting spray and apply a small amount of N.Y.M.P.H. formula onto your blender, then dab it onto your skin.
For the full tutorial, check out our YouTube video:
If you're thirsty for more, check out how these influencers have been using N.Y.M.P.H. We're OBSESSED…
View this post on Instagram
@beautytutorials may be as obsessed with that glow up as us!
View this post on Instagram

You can never have too much highlight!
View this post on Instagram

That pearl pigment be poppin'!
View this post on Instagram

We're dying over that glow!
View this post on Instagram

We love how she has used different shades and blended them together to complement her skin tone.
For more deets on the story, formula, and shade range check out this post. Our Huda Beauty N.Y.M.P.H., $49 (USD) and the Blur & Glow Brush, $33 (USD) will launch online on 3rd May and in-store on 17th May 2019. Sign up for the waitlist on ShopHudaBeauty.com here.