5 Women Who Give Us MAJOR Confidence Goals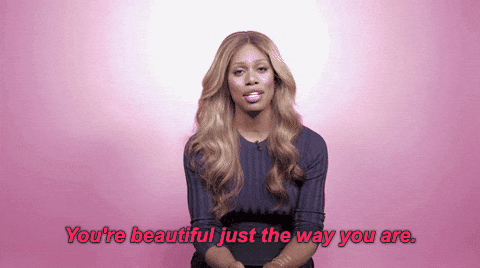 We've always been a believer in the strength of girl power and women backing other women. So, to celebrate International Women's Day, we wanted to give a huge shout out to five women who have shown us what it truly means to be beautiful. These incredible women have illustrated to the world that ultimately beauty is a term that can't be defined, as it doesn't mean one thing and it definitely doesn't, ever look the same. And thank the Gods, because otherwise, the world would be HELLA boring and our IG feed would be bland AF! So we'll be forever thankful to these five bombshells who have pushed the boundaries of beauty norms and who've genuinely started modern beauty revolutions, helping women worldwide to feel confident and empowered. We salute you!
Alicia Keys

This goddess has started an all-natural, beauty revolution through the use of a hashtag, epitomizing the power of the modern woman. Her #nomakeup movement began with an impromptu makeup-free album cover. This helped women all over the world to feel more confident to go barefaced and post a #nomakeupselfie on social media. But that doesn't mean she shames anyone who lives for that highlighter life, she just believes in doing what feels right for you! Alicia said she was sick of the pressure society was placing on women to wear makeup to feel attractive. So, she now refuses to cover up; 'Not my face, not my mind, not my soul, not my thoughts, not my dreams, not my struggles, not my emotional growth, nothing.'
Ashley Graham

Ashley hasn't just been breaking boundaries; she's been making history. In between preaching about self-love and her sharing her favorite hashtags (#beautybeyondsize and #thickthighssavelives), she's a regular on the runway and has even started her own plus-size swimwear line. Oh, and she was the first plus-size model to land the cover of Sports Illustrated – she's killing it! Ashley also said it wasn't just an achievement for 'curvy girls. It was for every woman.' Showing just how much the beauty industry is changing; a modern supermodel isn't just a face or a body, she's fierce, sassy and self-aware.
Winnie Harlow

If there was one woman in the modeling industry who redefined what it meant to be a unique beauty, it's Winne Harlow. Winnie, who has a skin condition that affects less than 1% of the population, was continuously bullied for the appearance of her skin and yet has never let it stop her from feeling beautiful. Winnie said it's not the individual nature of her skin condition that makes her feel empowered. Instead, it's the rare fact that she doesn't find her value in the opinions of others but, within her own self-belief. She is true confidence goals.
Baddie Winkle 

Baddie Winkle is THE most boujee Grandma on the block. The 89-year-old became an Instagram sensation pretty much overnight due to her eclectic wardrobe and her zero F's given attitude. She literally just exudes confidence and inspires you to be the most fabulous, extra version of yourself, no matter how old you are. Baddie proves that you should never feel like you have to conform to your age, your gender or any other societal expectations placed upon you. And ultimately, the most important thing to consider is you and how you feel, not how other people see you.
Halima Aden

Halima Aden, the world's first hijabi wearing model is our hero and ultimate girl crush as she continues to advocate for modest fashion. After having moved to the USA from Somalia as a refugee, she refused to abide by the rules of the Western modeling industry and its ideals of what is beautiful. As a result, she has given Muslim women a role model that can be found within the pages of a magazine or on a billboard in the mall. But really, she's taught girls everywhere that no matter what your religion or personal beliefs, you don't have to conform to what others believe is right or, what has been typically done in the past.
So if you're ever feeling down, look to these women – they constantly give us LIFE and feed our soul, so hopefully, they'll do the same for you! To give us a little more inspo, tag your favorite female bosses or quotes that give you an instant boost.