7 Things I Can't Sleep Without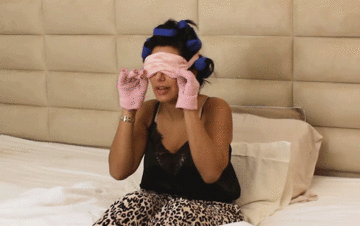 What you do to your skin before you sleep is so important because it's a time when your skin gets to rejuvenate and heal. My Nighttime skincare regime (you can check it out here) takes at least 15 minutes of ensuring my makeup is all gone and my skin is prepped with all the vitamins and moisture it needs to hydrate and feed itself for the next 8 hours… well, more like 6! But I also have a ton of beauty products on my nightstand that I use every night. Check out my essential seven:
Mario Badescu Facial Spray With Aloe, Herbs And Rose Water, $7
This refreshing mist is perfect just before bed, it's super hydrating and is packed with natural ingredients to boost radiance and keep oily skin at bay for 'I woke up like this' skin.
Shop it here.
Margaret Dabbs Foot Hygiene Cream, $27
Your feet have a tough job, the least you can do is give them some TLC. I swear by this rich cream, which is so creamy and also antifungal, anti-bacterial, and anti-inflammatory, so it neutralizes any foot odor.
Shop it here.
This Works Deep Sleep Pillow Spray, $29
I love this sleeping potion! It uses lavender, patchouli, and chamomile essential oils to help you unwind and relax. It legit makes me fall asleep in minutes, and I love the mini version for taking on flights with me.
Shop it here.
Caudalie Divine Oil, $49
I live and breathe this oil, it's my favorite oil I've ever used, and it's just so skin softening, plus it smells ahhhhmazing.
Shop it here.
La Mer The Lip Balm, $60
This lip balm is very expensive, but one pot generally lasts me a year. I have never used another lip balm like it; it stays on all night and intensely hydrates with a magical complex of deep sea extracts. I would also recommend Lanolips as a cheaper alternative (check out my Lanolips review here).
Shop it here.
The Chemistry Brand Hand Chemistry, $22
The very last thing I do before I sleep is apply this super nutritious hand elixir. The balm-like formula improves skin's firmness, elasticity, texture, hydration, and evenness, and it's also lightened my dark knuckles – you'll notice the difference in just weeks!
Shop it here.
The Super Elixir Sleep Welle Fortified Calming Tea Caddy, $67
I've always loved drinking chamomile tea in the evening, and this blend of skullcap herb, valerian root, and hops is the perfect hot drink to relax you before bed, it tastes good too!
Shop it here.
And, just because my hands get dry easily, sometimes I wear these amazing gloves from Bed Bath & Beyond – I apply my hand cream and then put these on and they make my hands insanely soft when I wake up.
What do you guys have to put on before you go to bed? Let me know in the comments below. Xo