9 Reasons Why Love Actually Is The Best Christmas Movie Ever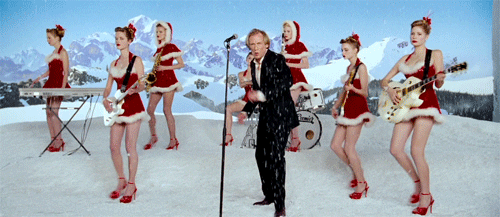 During the holiday season, there's nothing we love more than a movie night! It gives us the perfect excuse to watch the Christmas film that we secretly watch all year round anyway – Love Actually. It's literally the ONLY film on our agenda; it gives us aaaall the festive feels and makes us all warm and fuzzy on the inside. So, break out the face masks, grab some gingerbread, and crack open the eggnog for the ultimate holiday night in. Even those of you who claim you don't like Christmas, we swear if you watch this film you'll be singing Mariah, nonstop, for the next month. Here's why…
1. The ICONIC opening scene is so uplifting because it reminds us of what is truly important in life – our nearest and dearest.
2. It's real, it cuts out the BS and the fairytales, and it tells the true stories of life, love, and heartbreak.

3. The soundtrack makes us dance pretty much exactly like this:

4. It has all our MAJOR girl crushes – errrr hello Claudia Schiffer.

5. The extra AF gift wrapping cracks us up every time, but it does actually highlight an important rule: gorgeous gift-wrapping is almost as important as the present – it shows you've made the effort!

6. It teaches us that although love can be total agony, sometimes it'll work out exactly how you want it to.

7. It inspires us to make a grand romantic gesture to win over our crush.

8. It makes you realize that family is everything, actually.

9. It's an emotional rollercoaster of tears, triumph and true love.

Who else is immediately about to watch this? Let us know your fav holiday films in the comments below.