Beauty Insider: The Hottest Tea This Week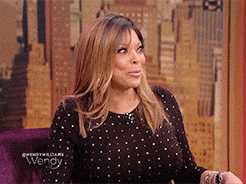 via Giphy
There's been some really strong tea brewing this week! It seems that some of our FAV beauty brands just can't help themselves and have spilled some steaming product news. From legendary Pat McGrath hitting us with a seriously bomb collection to KKW's hotly anticipated new product and Too Faced sweetheart Jerrod Blandino spilling his hot chocolate all over the internet, it's been a busy few days. Here's the beauty news everyone should know:
Pat McGrath Labs reveals huge Unlimited Edition collection
We're literally dying over legendary MUA Pat McGrath's latest revelation: not only is she releasing a huge amount of new products, but for the first time, these aren't limited edition! Teasing her collection, which comprises of eyeshadows, lipsticks, mascara, eyeliners, and lip liners, Pat labeled the unveiling a combination of technique, technology, and truth, a range that was 25 years in the making. The full collection includes three Mothership Eyeshadow Palettes, each with ten shades and seven formulas (Subliminal, Sublime, Subversive, $125 each), 40 LuxeTrance Lipsticks (two finishes, $38 each), 11 lip liners, five eyeliners, and one mascara. Everything, except the eyeshadow palettes, will launch on September 16th and the palettes on September 28th – needless to say, we want to try it ALL!
Too Faced is delighting our palates with a delicious new palette
Too Faced founder and total sweetheart Jerrod Blandino knows the way to our hearts better than we do: yep, makeup and chocolate pretty much hits the mark at HB HQ. So, the news that Too Faced are adding to their coveted chocolate collection with a new Chocolate Gold palette is a sweet treat we're more than happy to hear about. Makeup news pro Trendmood released swatches of the palette and it's a 12-shade collection of dazzling, pigmented hues in everything from copper, silver, and gold, to purple and green. If it's as good as the original palette smells, we'll be lining up around the corner.
Kim K releases her latest KKW Beauty product

We've got eyes on the product and a release date all in one day. Kim Kardashian West has revealed the latest product to hit her growing KKW Beauty line is a Powder Contour and Highlight Kit to complement her existing crème contouring kit (read my review here). Just like the last collection, this collection also includes a double-ended brush, two highlighting shades, and two contour shades. After mixed reviews of the contour sticks, we can't wait to try these out and layer them up with the contour sticks. The collection has three shades, Light, Medium, and Dark/ Deep Dark, and will release on August 22nd.
Kate Moss is back for beauty!
Possibly one of the most iconic models of all time, Kate Moss is inviting us to get her signature look with a new collection. Collaborating with luxury Japanese brand Decorté, Kate's curated Kate Moss Favorites kit has everything you need to recreate her timeless look bundles in a chic black beauty bag. The Kit includes a face palette that has four cream lipsticks in rosy toned shades, and six neutral eyeshadows, which will also double as highlighters or bronzers. Of course, there's a pen eyeliner so you can create her classic cat-eye, three lip/eyeshadow brushes, and an eyebrow pencil. Available exclusively at Saks Fifth Avenue, a taste of the Moss look costs $190