EVERY Weird Step Of My Nighttime Skincare Regime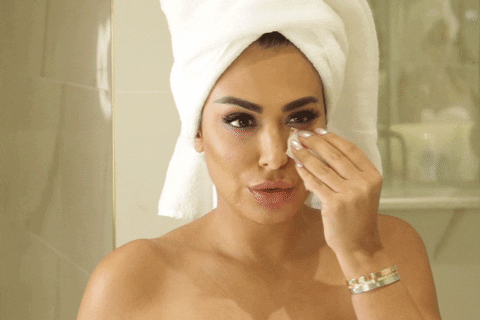 When it gets to bedtime, we're usually just desperate to get under the covers and pass out! A nighttime skincare regime takes a lot of willpower, but for me it's essential; making sure every trace of my makeup is gone and giving my skin the ingredients and vitamins it needs to look its best is vital. While you sleep, your skin rebuilds and skin cells repair, so providing a perfect condition for them to do this is the best way to wake up with a glowing complexion. I'll be honest, there are nights when some steps may get skipped – naughty – but on a regular basis, this is my typical nighttime skincare regime.
Step 1: Remove Makeup
I like to take a spoonful of Organic Extra Virgin Coconut Oil, warm it in my hands, and then just massage it all over my face. Then I just wipe off the excess with a couple of cotton pads.
Step 2: Double Cleanse
I'm a firm believer in using a good cleanser, and you don't need to spend a lot of money. I use the Bioderma Sébium Gel moussant cleanser; it gets rid of everything, and it's super gentle on my skin. Sometimes, if I feel I've really caked it on, I'll take a bit of baking soda (less than a teaspoon) and just mix it in with my cleanser to get an extra bit of microdermabrasion. It clears out your pores and leaves your skin feeling super soft.
Step 3: Tone
If there's any panda eyes going on or leftover makeup, I use micellar water around my eyes, hairline or brows to ensure it's all gone. I can't live without my Clinique Clarifying Lotion 2; I get really bad acne, and if I don't use this I break out! It's amazing for getting rid of any residue or flaky skin, and it really controls oil and tightens pores.
At this point I should also admit, if I haven't been wearing a lot of makeup or if I'm feeling super lazy, I usually skip these first few steps and use the Neutrogena Makeup Remover wipes – they're my fav!
Step 4: Hydrate
Okay, my hydration step is pretty intense! I'm really into face oils, so I often use a few. I start with the SkinCeuticals C.E.Ferulic Vitamin C Serum; it's like a massive burst of vitamins and antioxidants that work magic on your skin. Then I follow it with the Ren Rose O¹² Moisture Defence Oil, which is SO hydrating. And then finally, I use the SkinCeuticals Skin Firming cream, which not only helps to contour your jawline but it also helps tighten your pores as well.
Step 5: Target fine lines
I'm nearly done! I tend to use a concoction of eye creams – I can never decide on my favorite, but right now I'm using the SkinCeuticals Eye Cream, and I love it.
Step 6: Condition
Finally, I apply a quick coat of Revitalash to my brows and eyelashes to keep them moisturized and boost growth – this is usually about all I have energy left for.
Extra steps I do once a week:
Anti-aging and skin-smoothing regime: Every week I like to do this 3-step process, which helps with acne scarring, boosting collagen, even skin tone, and general skin health. Once I've toned I start by using a dermaroller all across my cheeks, chin, and forehead (I use the 1ml, but beginners should use less). This is just ahhhmazing for your skin as the tiny damage that it creates boosts circulation and encourages your skin to increase collagen production. I follow this with E.V.E serum, which helps the skin to repair, and because of the perforations in your skin caused by the dermaroller, it soaks in more efficiently. Finally, I finish this step with red light therapy that increases energy in the skin and gives you an instant glow, as well as long-term circulation boosting. Check out the full routine here.
Exfoliate and Peel: Exfoliation is really important to keep your skin looking healthy and young. For years I've been a huge fan of the Ole Henriksen Power Peel, it's a 3-step system that starts with an almond polish (it smells divine!), then an AHA lemon peel, and finally a skin soothing clay lavender mask. And just because I'm extra, I also like to follow it with the Tony Moly snail mask, which is just like an intense hit of hydration.
DIYs: As you know, I'm a huge fan of DIY masks, so I'll often mix something up to help whatever condition my skin is in. If I'm having a breakout, I love making a nutmeg and milk mask. Or, if my skin is looking dull, sometimes I'll just use a bit of fresh orange juice on a cotton pad and wipe it across my face – the hit of vitamin C gives your complexion an instant boost.
If my acne is acting up: If I'm breaking out, which unfortunately happens easily, I use Mario Badescu's Drying Lotion – it's like the king of taking down pimples, it dries them up overnight! I also love to use banana peel as a natural DIY for treating pimples.