The 411 On The Beauty Brand That Everyone's Talking About
Glossier has a devout cult following – we're pretty sure Glossier Girl* will be in the dictionary soon enough. *Glossier Girl: an on-trend beauty lover with the ultimate dewy complexion who cares about their skincare and what's in it.
Unsurprisingly, when Glossier announced they were launching Glossier Play, a color cosmetics collection of "dialed-up beauty extras," Glossier fans and the beauty world-alike went into a guessing game frenzy. The final reveal came with a ton of controversy; this new collection was so different to what we'd imagined, and it definitely wasn't something we thought the typical Glossier fan would fall in love with. Loud glitters and colored eyeliner seemed a little too bold!
Our initial thought on the collection was that it just didn't feel new or fresh enough. There are so many beauty brands now and you need to set yourself apart – innovation is everything. That said, we've tried all the products and we're actually pretty impressed. Here's the 411 on the first collection of Glossier Play products:
Niteshine Highlighter Concentrate, $20
What it is: A buildable liquid highlighter made with refined pearl powder that comes with a doe foot applicator, in four shades: Molten Umber (deep bronze), Deep Copper (metallic ochre), Platinum Rose (pink rose), Pale Pearl (opalescent pale champagne shimmers).
What we thought: This gives the kind of glow Glossier customers would love, it's subtle and pretty, and not too in your face. That said, if you like to pop this is probably not going to be for you, especially as we found it looked less bright as the day went on.
The variety of shades mean there's a shimmer that looks stunning on every skin tone – Platinum Rose would look gorgeous on all skin tones. The only thing we didn't like about the formula was the fact that it never really set – it felt tacky to the touch after ten minutes and even after a few hours.
Tip: For a really natural dewy glow, combine this with a little moisturizer and swipe over your cheekbones.
Shop it here.
Vinylic Lip, $16
What it is: Think lip gloss meets lip balm. This non-sticky, hydrating and pigmented balm comes in click-pen packaging with a fluffy, felt applicator tip. There are six shades to choose between.
What we thought: We really like this formula – and the subtle fruity scent! The formula stays 'wet' on the lips, but it's not sticky or uncomfortable, so it kinda feels like you're wearing a balm. The formula is richly pigmented and slightly staining, so although it's not designed to be a long-wearing formula, it lasts a good few hours without needing a top-up (it will transfer to whatever you're sippin' on).
At first, we weren't sure how the applicator would work, but it distributes the product well and feels comfortable to apply – three or four clicks of the 'pen' give good coverage.
The shades are varied and range from a vibrant red, deep plum, candy pink and orange to terracotta and taupe, all of which were gorgeous. We wish there were more shades!
Tip: Keep clicking for more formula, and maximum pigment and shine.
Shop it here.
Colorslide Technogel Eye Pencil, $15
What it is: A richly-pigmented waterproof gel eyeliner that lasts for 12 hours. The formula comes in 12 shades of the rainbow with both matte and metallic finishes.
What we thought: First of all, we love the color spectrum; the metallic finishes have the most stunning delicately glittering finish, while the pigment payoff of the mattes is really impressive. The formula sets and is completely waterproof; even when we applied this to the back of our hand it lasted through several washes and didn't budge after vigorous rubbing – that's what we need!
While the formula lasts, the not-so-buttery formula means that applying it as a liner on your upper lid and lower lash line takes quite a bit of building up as it doesn't melt onto the skin, so it drags a little too harshly. That said, once we built it up, it looked great and lasted all day.
Tip: Pull your lid taught to make application easier and quicker, and use short feathered motions to build the line.
Shop it here.
Glitter Gelée, $14
What it is: A glitter gel with big and small chunks of glitter that sets in place and stays in place. It comes in four shades.
What we thought: We're super impressed with this formula – it reminded us of the Lemonhead Spacepaste glitter gels. Once applied, a thin layer of glitter sets in around a minute, and once it sets, it doesn't budge, which for glitter is very important. As the formula dries on the eyes, it does have a slight tingling/ stinging sensation, but this goes away when it dries.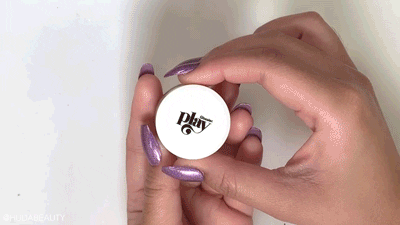 It's also splash-proof, so it's perfect for a festival. The variation in glitter size is super cute and makes it feel playful and look much more opulent, and we loved three of the shades: Phantasm, a stunning opal and holographic glitter, Bijoux Bijoux, a bright silver, and Firewalk, a coppery bronze shade. We weren't into the gold shade, Glass Bonsai, as we felt it was a little too yellow.
Tip: Use your finger to gently dab these across the lid, let set, then reapply for insane disco-ready vibes. For a more low-key look, add the glitter to your inner corners or under the outer lower lash line using a cotton bud.
Shop it here.
The verdict:
Although we don't think this was a super innovative brand launch, we can't deny that the quality is really good and the formulas perform well (although the highlighter we'll pass on). We would love to see less packaging moving forward as the extra wrapper between the box and product feels so unnecessary, even if it is playful!
Fave products for us were the glitters – definitely going in our belt bag for Coachella – and the Vinylic Lip, which is a great lightweight daytime option that we'll continue to use. Overall, despite slight confusion over who this brand is really geared up to, the first drop has got our attention and we're intrigued to see what they launch next.
What do you guys think about this new brand launch? Let us know in the comments below.