Is This The Highlighter Palette Of The Year?
It's the time of year to literally light it up – and not just on the Christmas tree! Our latest obsession for adding all the glow to our face is Ofra's Glow Up Highlighter Palette, $49. Everyone knows the Ofra highlighters are lit (Nikkie Tutorial's fave highlighter brand), and this palette that launched a few months ago is the epitome of an essential highlighter product. Here's why we fell for it:
What it is: A four-pan highlighter palette with one full-sized pan of Beverly Hills – a wheel of five impossibly pretty highlighters – and three minis: Rodeo Drive, a bronzey-gold shade, Blissful, a sultry bronze, and Star Island, a warm ivory shade with golden undertones.
What it does: Ofra's killer formula will add the most luminous, effortless glow to your face without chunky glitters.
What we liked: OBSESSED is an understatement. All of these shades add the most insane glow, and you only have to slightly dip your brush into the pan to get a bright pop of intense shimmer. The shades are also really versatile, so they'll look great on all skin tones.
Not only do we love this for the cheeks, but the shimmers also look stunning on the inner corners, lids, under the brow bone and Cupid's Bow. Play around with the different shades and mix them up to suit your look. We love the rose gold slice in the Beverly Hills pan for adding warmth to our cheeks and the white slice for our inner corners.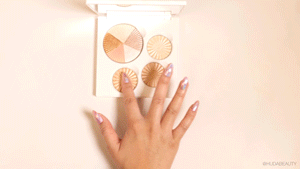 We also love that the pans are magnetic, so you can replace shades as you need to with Ofra's refills. It also comes with a massive glass mirror, which is perfect for when you're on the go.
What we didn't like: It's pretty damn perfect, but we struggled to get the pans out, so just be careful if you're trying to refill these – you may need a tool to help you dig the pan out.
The palette is on the pricier side, but the quality and value for money is worth it – you'll also probably never hit pan as you don't have to build it up to get megawatt glow. If you're looking for a new highlighter, you won't be disappointed with this!
Top Tips: Dip lightly!!! Try mixing up the Beverly Hills shade for the most heavenly, multi-dimensional highlighter shade. Once we've applied the product to the tops of the cheeks, we like to take any leftover product and dust it over the high points of our face (sometimes we get carried away and do it all over) for a seriously dewy, glowy complexion.
Have you guys tried Ofra highlighters or the Ofra Glow UP Palette? Let us know in the comments below.