How To Fake The Ultimate Golden Vacay Glow
With summer in full swing, we're living for that golden goddess look. Yet as much as we'd love to spend our summer laid on a beach soaking up the sun, sometimes work commitments and a lack of $$$ get in the way, not to mention the fear of eternal sun damage. So sometimes you've just got to fake that vacay glow, and as always, we've got you covered. If you follow this step-by-step guide we swear you'll look like you've just stepped off the sand, when in reality you've just left the sanctuary of your glam room.
Get a head start
For a more permanent solution to getting that golden glow, you can always use fake tan. Although, when it comes to your face you need to be extra careful. We like to stick to tanning mists or gradual tanning drops that you can apply to your daily moisturizer to build up a subtle glow. We love the Isle of Paradise Tanning mists and drops, $26, as you can customize your tan according to the undertones of your skin, giving you a much more natural final look. Check out more fake tanning tips here.
Prep Your Base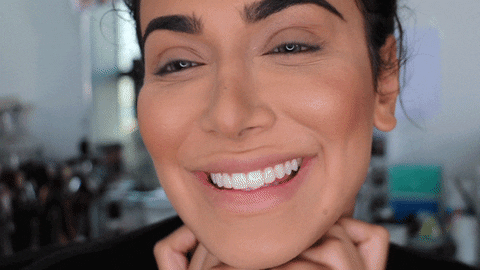 Before makeup, prep your skin with a radiance primer, like the Farsali Unicorn Essence, $20, which will help your foundation glide on and give you a dewy finish. When it comes to your summer foundation, you want a lightweight product that doesn't budge in the heat so look for a water-resistant formula. We like the Becca, Multi-Tasking Perfecting Powder, $34, which provides buildable coverage and is enriched with beauty-boosting antioxidants. You can also opt for a shade that's slightly warmer than your natural color to give you a more radiant finish.
We're obsessed with the Charlotte Tilbury Dynamic Duo Lift & Light Reflector, $45, as the eye cream instantly hydrates and firms the undereye, while the concealer contains light-reflecting particles to brighten and illuminate; it's perfect for hiding dark under eyes after long summer nights.
Bronze Everywhere
This is probably the most important step to getting your glow on, so don't hold back but do be tactical with your application. For a chiseled bronze glow, start by applying your bronzer to the outer edges of your forehead, sweeping down in towards your cheekbones and then out again around the jaw – as if you were drawing the shape of a 3 on the side of your face. Don't be afraid to add a little to your collar and shoulder bones too… If they're two shades lighter than your face, it's a total giveaway. To perfect this look we always reach for the Estée Lauder Bronze Goddess Powder Bronzer, $42.
Highlight E'rythang
When it comes to a golden glow, we believe there's no such thing as too much highlighter. Look for warm golden and bronze shades, and avoid silvery tones that will cool your complexion. We love the Morphe High Impact Highlighter in Mirage, $14, or our Huda Beauty Bronze Sands 3D Highlighter palette, $57. Apply it pretty much anywhere on your body – to your cheekbones, as well as underneath your brows, the inner corners of your eyes, and your Cupid's bow – this will open up your eyes and make your lips look juicy AF. Again dab a little (or A LOT) on your collar and shoulder bone too to add a little extra shimmer. If we're feeling extra, which TBH is ALL the time, we like to cover ourselves from head-to-toe in the Sol de Janeiro's Glow Oils, $35, it feels so soft and nourishing on your skin and you glisten every time your skin catches the light.
Go For A Warm Smokey Eye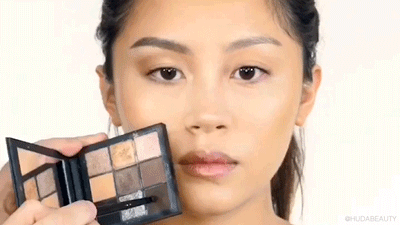 Although we live for a winged eyeliner, we like to keep it simple with a warm bronzey eye – it's subtle, sexy and complements the look perfectly. Start by washing a nude or golden shimmer shade (we always use our highlighter) all over the lid and then add a warmer brown shade to the crease. Add dimension to the outer third using a soft brown shade to smoke out the wing, and to finish add a little shimmer to the inner corner of your eye.
Keep it natural
For a slightly beachy brow look, avoid over-filling the brows and opt for unruly brows to frame your face without looking too polished. Comb your brows through with a tinted brow gel, like Benefit 3D BROWtones Instant Color Highlights, $24.
Find Your Perfect Nude
To finish off the look, keep it simple with a sexy nude lip or rock a gloss. To find the perfect nude for your skin tone, either choose a color that's one shade lighter or one shade darker than your natural color. Although, if you're having trouble deciding, you can always buy the KKW Creme Lipstick Set, $144, which offers eight different nude shades.