I Tried The Most Hyped About Concealer Kit On The Internet
When Kim Kardashian launches anything, it's bound to sell out – it's like the law of gravity, you just know what's going to happen. I had lunch with Kim last summer, and she mentioned her plan to release a concealer kit that would create the same illusion of bright eyes that herself and Mario have turned into their signature look. Already a big fan of Kim's makeup, I was super psyched to try it, especially as Kim told me it was going to be a whole kit with anti-aging properties. So imagine, I've been waiting for the KKW Concealer Kit even longer than you have, and finally, it's here!
What it is: A three-piece under-eye concealing kit with a full-coverage cream concealer in 16 shades, and a baking powder and brightening powder, each with four shades. There are also two tools, a new double-ended concealer brush, and a double-ended blending tool with a dense makeup sponge on one end and a fluffy brush at the other. You can buy each product separately, everything is $18, or you can get all five in a kit for $80, saving $10.
What it does: The Concealer Kit was designed to make Kim's coveted bright eyes look accessible to everyone in an easy three-step process. The formulas have anti-aging ingredients to help reduce the appearance of fine lines and even make eyes look younger and feel firmer over time.
My verdict:
The Liquid Concealer: This glides on so easily and has a really smooth, silky texture. I would say the coverage is more medium than full, as one layer didn't completely hide my dark circles (which the Tarte and Kylie concealer do). It blended nicely using a damp makeup sponge, but because this dries quite quickly, I suggest doing one eye at a time. I also noticed that all the colors oxidized to be at least a couple of shades darker than when first applied, so choose a shade lighter than usual and be prepared to build this for full coverage. See our oxidization swatch test below.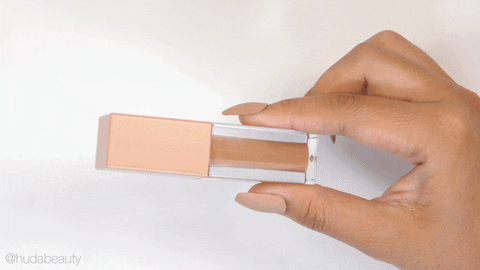 The Baking Powder: The powder is really finely milled and has a very pretty finish. It's also infused with brightening pearls to add radiance, and I think you definitely get a brightening effect from this alone. I did notice some creasing with this about halfway through the day even though I had baked using the concealer and powder in the morning. There are four shades of translucent powder, and each of them is quite pigmented in comparison to most 'tinted' translucent powders, so they're less universal.
The Brightening Powder: Unfortunately I wasn't able to get the full effect of this as none of the shades worked for me. My skin tone is medium with a golden undertone, but the medium yellow shade was too light, and the dark shade was way too orange for me. The texture felt nice though, and it applied really nicely with the fluffy end of the double-ended concealer brush. I think it's best to concentrate the brightening formula in the tear duct dip (where the natural indent of your eye bag is), otherwise, you can run the risk of looking like you have white under eyes.
The Price: $18 isn't a massive splurge per product, which means it's definitely more affordable for people to try these and experiment. However, there's also around half the product in the powders that you would get from most other popular brands, so just remember that while it might cost less than your current fav, this is because you're getting less product. You can shop the five-piece kit for $80 here.
My Final Verdict: I love the concept of making baking really easy for everyone, and the pale pink packaging with clear acrylic cases for the powders is really pretty. Overall, I was expecting a little more; I hoped the concealer would give better coverage, as this is key to getting Kim's look. The lack of color options for the brightening powder was a bit of a letdown, especially for the medium kit, as it's just too fair for most medium skin tones. I think the concealer will work nicely for more mature skin or if you need lighter coverage. Overall, I'm not as excited as I hoped I would be, but I'm looking forward to seeing what comes next!