I Tried THE Weirdest Mascara, Here's My Verdict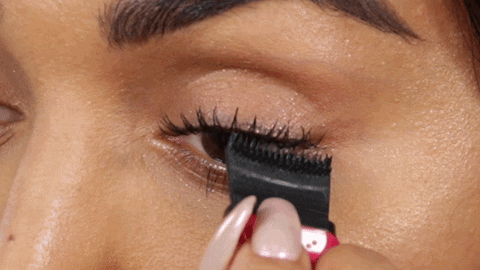 I'm pretty much down to try anything the beauty world wants to throw at me: bee venom masks (on the blog this week), lube as a primer (not a good idea) or dunking your face in water to set your makeup (btw, that actually works amazingly). So, when my sister showed me this crazy looking mascara I was totally down to see if this would be the next best beauty tool, although I'll be honest, I wasn't sure it would be! My first impression of Avon's Mega Effects Mascara was that this strange wand was a huge gimmick, but of course, I'll try anything in the name of beauty!
What it is: A new 'Wonderbrush' designed to bend and adjust to multiple angles to amplify every single eyelash from root to tip. The formula promises to be sweat-proof and non-flaking, clump-proof, and provide 24-hour volume!
What it does: The unique mascara wand is designed to deliver 40% more mascara 'than the average brush' to give you extra volume, while the wetter formula means clumps are far less likely to form. Avon says that by using the brush at different angles you can get different effects: 0° (vertical) gives quick application and volume, 40° can be used for upper and lower lashes, and 90° gives you full application from root to tip.
What we liked: The first thing I noticed was that it really gripped into my lashes and deposited a lot of product, which gave me a lot of volume – so far, so good! I don't have the longest lashes, and they're quite sparse, so I was impressed that it did lengthen them and add volume. It also lasted really well throughout the day, and I didn't notice any flakes or get panda eyes – a huge plus, as I'm prone to smudging unless I bake really well.
What we didn't like: Opening the mascara was like a battle, I know it sounds ridiculous, but it was really hard to get the mascara out (on their website they have instructions for opening it!). Once I finally got it open, I liked how it made my lashes look, but it's not as easy to use as the standard mascara wand, and I felt like I didn't have as much control. I also found it difficult to use with my false lashes, so I wouldn't try this if you have falsies on.
The verdict: If you have lots of volume and thick lashes but need length, this might not be the ideal mascara for you because it won't add lots of length, just more volume. If you have long lashes and just need volume, you'll love this. Overall, it's an interesting concept, although a little more challenging to use, but if you're a mascara connoisseur and want to try it because it's cool, then give it a go. For the average girl, I think there are other drugstore mascaras that will do the job better. I suppose the fact that no other brand has tried to copy the design (it's been around for five years) could be a hint at its effectiveness.
Price: $7.99
Available: Avon.com