Is This The Most Instagrammable Nail Trend Of The Summer?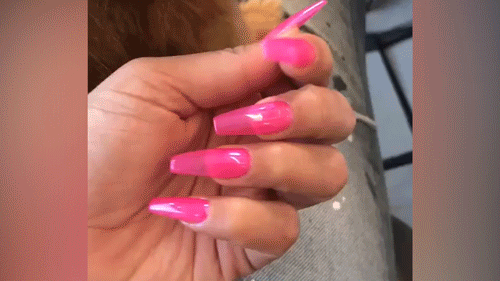 If there's one nail trend that we're high-key obsessed with right now, it's jelly nails – they're such a cute 90's throwback and are literally perfect for summer.
If you don't know what we're talking about, jelly nails (also known as glass nails) are a type of see-through nail usually worn with a splash of color. Although this playful trend has been around for a while now, popping up on the runway since 2014, they've infiltrated our Instagram recently, and we're 100% feeling it. So we thought we'd give you some major #nailinspo before your next appointment at the salon, as well as the tips and tricks for giving yourself the most bomb DIY manicure.
At The Nail Salon
Jelly nails are made from translucent colored acrylics which are molded to the shape of your nail. First of all a foil is placed under the nail and then the translucent acrylic formula is applied in the shape of your choice (find out what nail shape will flatter your hand here). If you want to add a little sparkle to your mani, you can also opt for some glitter (within the nail) – think of it as a glitter sandwich – major Kirra Kirra vibes.
DIY Jelly Nails
When it comes to giving yourself the perfect jelly mani-pedi, the easiest thing to do is to buy a jelly nail polish. We love the Zoya nail polish, $10, or if we feel like splashing out, the Dior Nail Glow $27 is super pretty too. Just make sure you apply a clear base coat before you apply your jelly nail polish to give it that glossy, glass finish. Alternatively, you can also buy stick on jelly nails from Amazon, $8 if you want a little extra length. If you do want to add some glitter into the mix, apply a base coat, then two coats of jelly nail polish, wait for it to dry and then apply the glitter. Once the glitter is dry, apply another layer of jelly polish and finish it off with a nail toper for extra shine.
We love these long ballerina nails, the jelly effect looks so cool when you can see the light shine through.
We've been crushing over neon nails for a while now, so neon-jelly nails are the perfect excuse to keep on slaying the trend.
This is the ultimate summer nail selfie – we're obsessed!
We're firm believers that there's no such thing as too much glitter which is why we're literally drooling over these nails.
These nails are perfect for festival season, they're giving us major Coachella vibes.
Let us know if you would wear this trend in the comments below.