My Daytime Skincare Routine Takes Less Than 1 Minute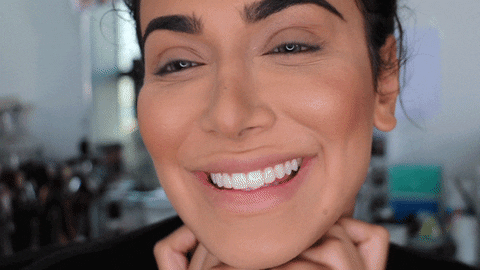 To be honest, my daytime skincare routine is ridiculously simple. Because I'm usually rushing around in the morning, the less steps the better, so I rely on a few amazing products to get my skin through the day. If your skin is combination like mine, and a little prone to acne, then this is just a super simple routine for the mornings. Of course, I'm always trying new beauty products (currently I'm trying this essence), so sometimes I'll switch out my fav face oil for a different one or test out a new moisturizer. But right now, this is my faithful pre-makeup skincare routine in the morning.
Step 1: Face wash… Except I don't use a cleanser; I just splash my face with water. I always double cleanse in the evening to make sure all my makeup is removed before I start applying my creams and oils, so my skin is already clean and hydrated.
Step 2: Nourish. I swear by face oils, they're such an amazing way to lock in moisture and add important vitamins and lipids to your skin. My absolute essential is the Rose O¹² Moisture Defence Oil, $58, it contains amazing ingredients and oils like Seabuckthorn Berry, Damask Rose, and Safflower – actually, the list of goodness is practically never-ending. It makes my skin feel insanely soft and as I'm prone to dryness, this really helps to keep my skin hydrated all day long. It's also packed with vitamin C, which protects your skin against free-radical damage thereby combatting the signs of premature aging. This oil is meant to be used before moisturizer, but typically you should apply your moisturizer and then your oil (check out our guide to layering skincare), but if you have oily skin you can skip oil in your morning routine.
Check out Ten Skincare Products That Changed My Life here.
Step 3: Hydrate! A moisturizer is super important for the daytime, even if you have oily skin, as the more dehydrated your skin becomes, the more oil it will produce. I'm obsessed with the SkinCeuticals Skin Firming Cream, $110. It's a super hydrating anti-aging lotion that feels amazing on my skin and really helps with keeping fine lines at bay. This is the last step before I apply my Pre-Makeup Hydrating Primer and foundation. Check out our guide to finding the right moisturizer for your skin type here.
Step pimple control! If I'm breaking out, once I've applied my potions I add a dab of Mario Badescu's Drying lotion – it's the best product I've tried for making pimples go down FAST – and I'll leave this on for as long as possible before I do my makeup.
Step 4: Top-ups. Throughout the day I love using facial mists, they're refreshing, don't affect my makeup and add a burst of moisture to tired skin. My favs are Mario Badescu's Facial Spray With Aloe, Herbs and Rosewater, $7, and the Caudalie Beauty Elixir, $18 – both work amazingly under or over makeup!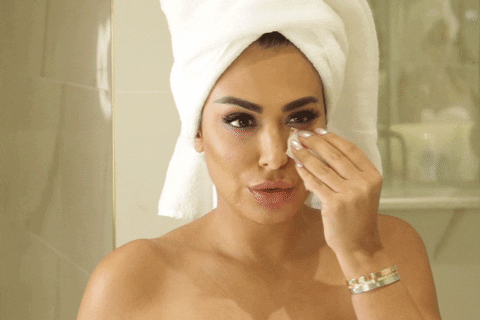 Once the end of the day comes around, it's a completely different story. Check out my nighttime routine here.