Vote For Your Fav #ElevatorMakeupChallenge Video!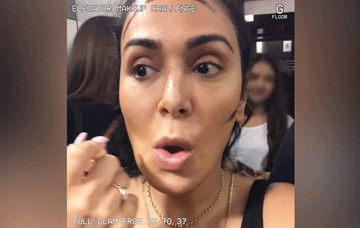 UPDATE: Winner Announcement! Your votes are in! We've had thousands of votes over the last 24 hours, and you guys have decided on your three fav videos! Thank you again to everyone who entered, we've had SO much fun watching all of your videos and loved how creative you all were! So, here're the winners of our #ElevatorMakeupChallenge, as chosen by you! HUGE CONGRATS to: @prettywithlee, @motdnessy, @quesnack, who will each receive a $5,000 (USD) cash scholarship to spend on a makeup training course or makeup kit of their choice. You can check out their videos below, as well as the other awesome entries from our shortlist.
 —————————–
Hey my loves!! Anyone who knows me knows how much I LOVE a challenge, and the #ElevatorMakeupChallenge may be my fav so far. What could be more fun than trying to do full cake face in a public elevator?! Finally, after a month of seeing hundreds of ahhhmazing videos, we have shortlisted 10!
First of all, we want to say a HUGE thank you to everyone who entered, we were blown away by all of your videos, and choosing 10 finalists was really hard because we loved them all in their own way. But, we had to choose, and these final ten videos really stood out for us. Now, it's down to you to vote for your favorite video. The three finalists with the highest number of votes will each win a $5,000 scholarship to spend on a makeup training course or a makeup kit of their choice. The vote will close in 24 hours, and the final three winners will be announced on August 14th on the blog.
Watch all of the finalists' videos below, and vote for your fav at the bottom of the post!
3. @bybellabeauty

5. @sallymansourofficial
6. @befreewithshri