The Best 5 Matte Lipsticks You Have To Try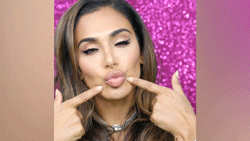 If you typically spend more time searching for the perfect lipstick than you do a new love interest, then welcome to our world. There are few things more important than a killer lipstick that stands by you through everything, so we've rounded up our fave five lipsticks in our most trusted go-to formula; matte! Here are the best five matte lipsticks to put an end to your search for good.
This super pigmented formula is one of our faves – it'll last through almost anything, even eating, and we love that the formula doesn't make our lips feel dry. The doe foot applicator makes application and outlining the lips SO easy, plus it's perfect for under the mistletoe – doesn't budge or transfer! The best bit? It comes in an insane amount of shades – 89 – as well as matte, satin, and metallic finishes, so you'll easily be able to find a shade you love!
First off, you just can' go wrong with this price, and to add to the fact it's affordable, we love it because Bourjois got it SO right! It has an easy-to-use applicator, great color spectrum, super smooth formula, and great wear. Not only does it come in 37 shades of seriously gorgeous reds, pinks, browns, oranges, and berry, but we're also a little bit obsessed with the formula. As the name implies, it literally feels like velvet on your lips, and we love the sexy, soft-blur velvet-affect finish. It isn't entirely transfer-proof, but it has a staining effect, which means it doesn't wear off patchy.
If you hate typical matte lipstick formulas but love the look, then this will be your savior! This incredibly creamy formula feels like butter on your lips but looks like a soft matte veil. The formula is super hydrating, smells delicious, and applies so smoothly. It's great for shaping the pout, although we recommend using a lip liner for ultimate definition and lasting power, as this formula isn't as long-wearing as your typical matte formula. The lipstick comes in 17 shades, varying from pretty pinks and nudes to rich berry shades and sultry reds – Charlotte's shade Pillow Talk (above) is iconic for being the ultimate nude tone, and it really is gorgeous.
Our go-to matte formula, the Liquid Matte has reached cult status in the beauty world! We don't just love the super saturated color and the fact that this lasts for ages, we're also totally addicted to the subtle vanilla scent. The bold collection of 29 shades means whether you prefer a pop of pink, berry, red or even a sultry grey, you're covered.
Posts You'll Love:
Pigmented, easy to apply, and super lightweight – this is such a comfortable formula with amazing payoff. We love that this doesn't budge (even through a sandwich) and the fact that it feels like you're not wearing anything at all, plus it's completely transfer proof. The unique pointed applicator makes shaping the lips and precise application extra easy, so you won't need a mirror to perfect your look.
Now you know which lipstick you want, check out how to contour your lips for even longer-wearing lipstick and juicer-looking lips:
Have you guys tried any of these lipsticks? Let us know what your fave matte formula is in the comments below.