The Shocking Truth About What Happens to Your Skin When You Fly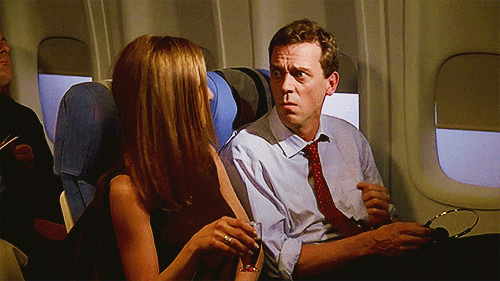 First class, business or economy, it makes no difference! Your skin takes a serious beating when you're up in the air. Between the dehydration, stress, puffiness, and reduced blood flow to the face, the sauna-in-the-sky AKA airplane you were so excited to board, is suddenly your #1 enemy.
"Your skin is a bit like a hothouse flower," says Master Aesthetician and Jurlique Director of Education Paula Provenzano. "It likes humidity and 40-70% is best for a comfortable dewy complexion. When you board a plane, the humidity drops to a mere 20%, and as your skin attempts to compensate, moisture is pulled from the deeper layers leading to a dehydrated complexion. This is true especially if you are on a long flight." Just what we need!
Another major threat to your epidermis comes via the bar cart. If you like to partake in alcoholic (or even caffeinated) beverages 3,000 miles and higher, you're at risk of "systemic dehydration, which is the opposite of what your skin needs," according to Provenzano.

Instead, load up on lots of water before, during, and after your flight, mist regularly, give your hands a healthy dose of a high-performance hand cream every chance you get, skip salty foods and opt for water-laden snacks such as oranges and celery, and by all means — apply a sheet mask. Here are our favorites that will keep you moisturized and protected after the wheels go up:
For deep hydration: Tony Moly Snail Mask, $9
Snail mucus and gold tea ferment miiiiiight seem like a questionable combo to some, but trust us when we say this sheet mask hydrates and repairs — along with reducing the signs of aging and dry skin inflight — so smooth it on, kick back, and wait for the goodness to start. Shop it here.
For glowing skin: Charlotte Tilbury Magic Dry Sheet Mask, $22
The queen of all things glam is known for her luxurious line of pampering skin care products and her sheet mask is no different. Formulated with active ingredients, peptides, and magic oils, Charlotte's miracle worker releases bursts of effective technology over an 8-hour period (dw, you only need to wear it for 15 minutes), and the result is increased collagen production, a nourished glow, and a brighter visage. The best bit is, it's completely dry, so it's mess-free! Shop it here.
For detoxing: Freeman Cleansing Charcoal & Probiotics Sheet Mask, $3
If you partied a little hard on vacation, chances are your pores could use a good detox on the flight home. Freeman Beauty's sheet mask is up for the challenge thanks to a serum-infused activated charcoal mask that draws out toxins and oils without over-drying. Shop it here.
For acne-prone skin: Starskin Balancing Bio-Cellulose Second Skin Face Mask, $10
If you're trying to banish a few pre-trip breakouts last minute, take some time to apply Starskin's purifying zit-zapping sheet mask. Packed with 30 milliliters of serum (along with coconut, magnolia bark, gentian root, and niacinamide) your skin will be calmer, softer, and void of redness post use. The "bio-cellulose" design also fits like a glove, so it won't go anywhere, even when you're multitasking between movie watching and magazine reading. Shop it here.
For anti-aging: Jurlique Purely Age-Defying Firming Treatment Mask, $52
When firmer smoother skin is the goal, Jurlique's got your back with their treatment mask infused with concentrated botanicals, hydrating aloe vera, and powerful antioxidant vitamin C. You'll deplane feeling and looking better than ever, basically. Shop it here.
When you've landed, be sure to thoroughly cleanse your skin, tone, and rehydrate again!