This Is The Reason You Have Panda Eyes, And Here's How To Combat It…
There's literally nothing more frustrating than applying your foundation flawlessly only to have it ruined by eyeshadow fallout. The result is usually a panda look that you definitely didn't plan for and a whole lot of patching up! So, when your eyeshadow is dropping off the brush like Salt Bae and his seasoning, here are the best techniques to prevent and correct those pesky eyeshadow marks.
Tip 1 – Eyes First: Tip one is also basically step one, and it makes the whole frustration of eyeshadow fallout a lot more bearable: Start with your eye makeup first! This means any fallout won't ruin your foundation as you can easily wipe it away before. If you're a die-hard foundation first kinda gal like me, don't worry we've got you covered too…
Tip 2 – Tap Out: My favorite thing to do is super simple, and it's just to make sure you tap out your brush before you apply the makeup to your eyelid – you probably do it with face powder, but so many people forget about this with eyeshadow. I know Lisa Eldridge always taps out her brush on a towel, Charlotte Tilbury would always brush it on a tissue, while Kim Kardashian's makeup artist Mario Dedivanovic would tap out his brush onto his hand. All of these methods work well, and as many brushes do pick up extra product, it really does help to pat your brush onto something to remove any pesky falling product.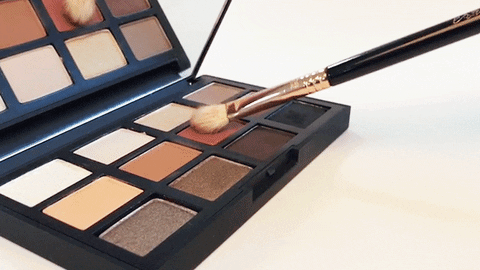 Tip 3 – Block it: Probably the technique I use the most often, is to grab a tissue and hold this underneath my eye while I apply eyeshadow. Super easy, super cheap, and it works!
Tip 4 – Bake: This isn't my favorite technique, but you can apply a ton of baking powder under your eye while you do your eyeshadow, then when finished, you simply brush away all the excess powders. But depending on the colors you use, this isn't guaranteed to be the neatest fallout removal as sometimes it can streak.
Tip 5 – Get it Wet: Another thing you can do, although I would only recommend this with specific eyeshadows (because you could end up ruining your eyeshadow!) is to dampen the brush with setting spray or water before you pick up product. Some shadows, like some of the NARS and Anastasia Beverly Hills eyeshadows, can be used with a wet brush, which intensifies the pigment and limits fallout.
BONUS TIP! Stay flawless all day…
If you're one of those people that always ends up with smudged mascara under your eye or creases from your concealer, then baking is your solution. Though I'm not a fan of baking for preventing fallout, I do think it's the perfect thing to do after your eye makeup to lock all your hard work in place. The technique, which involves piling on translucent powder under your eyes with a beauty blender and letting it sit for ten minutes, leaves your eyes under eye area staying matte, crease-free and panda-less all day long. Check out my YouTube video for the full tutorial.