This Is What You Need To Do For Sexy Smooth Skin In Winter
Winter is officially here (although maybe not in Dubai), and there's nothing we love more than getting our winter coats, boots, hats, and gloves out – plus the fact we have months off from shaving our legs! But along with the change of wardrobe comes crazy cold weather, the contrasting blast of hot air from central heating, and steaming hot showers to bring us back up to a cozy temperature. And, as great as the rush of warmth might feel, it can cause havoc on our skin. So, to make sure you're looking as flawless during the winter months as you do during the summer, here are our top tips and our fav DIYs to keep your skin in prime condition.
Humidify
It's winter, it's cold, and all we want is to be at home binging on Stranger Things under the duvet with the heating on full blast – preferably with some hot cocoa to hand. And, although this seems like the perfect solution to the winter weather, the dry air from heating majorly dehydrates skin, so you're left with chapped lips and a super dry face. The answer to this dilemma is simple, a humidifier. A humidifier, especially if in your bedroom, will put the moisture back into the air and back into your skin, boosting radiance and slowing down signs of premature aging that occur more easily when your skin is dry.
Keep up with SPF
We know, it seems silly to slap on sun cream when you haven't seen the sun in what feels like forever, but just because you can't feel it, doesn't mean it's not there. Experts have even found that just by wearing sunscreen daily, can slow down signs of aging by 24%. Even wearing foundation with SPF won't cut it; applying sun cream to your face and hands every morning is essential. And if you're anxious about the chemicals in sunscreens with high SPF, dermatologists have said you can opt for children's sunscreen as it's just as effective and extra gentle on your skin.
Don't be afraid to supplement
Taking supplements to give your skin a little extra lift, especially during the winter months, is a tip most of the A-list swear by. For winter, look out for vitamin E, C, and B2, which are full of antioxidants that will boost the production of skin cells and aid in the formation of collagen to keep your skin looking youthful and fresh. Another supplement that will work miracles for skin hydration and fine lines are hyaluronic acid capsules (see why hyaluronic acid is awesome here).
Exfoliate
We all know that exfoliating is the key to soft skin, but getting around to doing it is another matter. We're here to tell you, that you seriously NEED to, especially in the winter months. Between the cold, damp air outside and the dry indoor heating, your skin cells are majorly dehydrated, which can lead to a buildup of dead skin that can eventually clog your pores. Exfoliate your body once a week and your face once or twice a week, but make sure you don't over exfoliate – we suggest gentle scrubs, and keeping stronger AHA peels to a minimum. (Try our amazing DIY Breakfast scrub here).
Use lip balm, all over
There's nothing more irritating than cracked dry lips – no one wants to be under the mistletoe with anything but the perfect pout. This means that a good lip balm is key to keeping your lips kissably soft (we love this Lanolips balm with super hydrating lanolin in), but you don't need to limit your Vaseline or lip balm to your lips. Jennifer Aniston uses Vaseline under her eyes at night to keep away her crow's feet, and you can also use it to tackle any dry skin on your face, like when you have a cold and your nose gets all cracked and sore. You can even use your lip balm on the ends of your hair or to tame fly always if you need a little extra moisture.
Two Simple, Super Nourishing DIY's To Combat Dry Winter Skin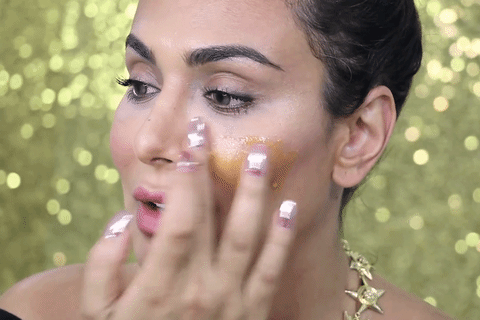 If you love DIY as much as we do, here are two super quick masks using one miracle ingredient to combat your dry winter skin; plus, you probably already have them in your kitchen.
Honey: When your skin is starting to get a little dull, honey should be your go-to. Not only is it bursting with antioxidants that will replenish your skin, but it's also antibacterial, so it'll get rid of any unwanted toxins from extreme heating. Simply apply a thin layer of raw honey directly onto your face and lips in circular motions, leave on your skin for 15 minutes and rinse off with warm water for radiant, gorgeous skin.
Avocado: When celebs like Adriana Lima and Jessica Biel swear by this $2 ingredient, you know it has to be good. Avocado is rich in minerals, nutrients, and vitamins that promote healthy skin. Check out our hydrating avocado DIYs here.