Throwback! Can You Actually Believe We Used To Wear This?
Remember some time back in the 2000s – the days of Britney and JT, flared jeans, and thongs peeking out from your super low-waisted jeans – yeah, it was an 'interesting' time for fashion and beauty. We imagine right now you're having some pretty cringey flashbacks; remember chains dangling from your pockets, Juicy Couture was hot af, and Claire's Accessories was the bomb – we die! Well, we thought we'd reminisce some of the most hilarious trends from our millennial teens, you know, that grey area between the end of the 90s and the early 2000s, just for fun…
The Hair
It was a time for bright butterfly clips, two tiny little hair tendrils framing your face, crimped sections, and those little twisty pieces of hair carefully pinned to your head by the aforementioned butterfly clips! Of course, all our fav icons wore them; Sabrina The Teenage Witch, Britney, Topanga, and Christina – major goals!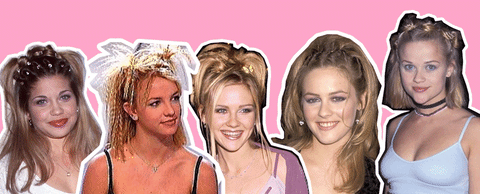 The Makeup
Where do we begin? Chalky white or bright blue eyeshadow was the look du jour, of course carefully topped off with purple mascara and non-tour – it's hard to believe contouring didn't even exist at that point. Then, there was the super glossy lip and the over-plucked brows that we're still recovering from to this day. What were we thinking, and can you believe we thought this looked good?!
The Clothes
It's kinda funny to see how many of the trends from our teens have actually come back into fashion; who else got a weird sense of déjà vu fondling a new pair of hoop earrings and velvet choker? Fortunately, there are some things which haven't come back in: boleros (THE must-have mini cardigan!), disco style halter neck tops, ¾ length jeans, velour tracksuits (if you were lucky you had a pair from Juicy Couture), and then, of course, there were crop tops (back in again!), and boob tubes. OMG, and remember wearing dresses over jeans, denim minis, and RaRa skirts – it's too much to handle. We can just be thankful that we didn't have phones at that point to document every outfit and makeup look with selfies!
The Music
We don't know about you, but the music from our teens gives us MAJOR vibes, and you cannot imagine how much fun we had compiling these iconic tracks from our teen years!
What was your most cringey look from your teens? And did you have all the above in your wardrobe too?