Wedding Makeup Masterclass: The Ultimate Bridal Look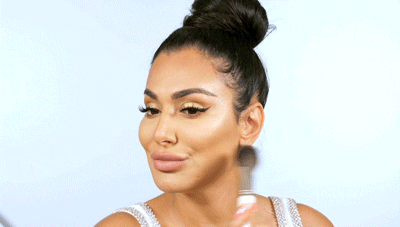 For me, the perfect wedding makeup isn't about looking fierce or super sexy, it's all about enhancing your natural beauty. If there's one day when you want to feel like the most beautiful version of yourself (and still look like you), it's your wedding day. I know a lot of people love to have their makeup done professionally on their big day, but since no one knows your face better than you, I actually believe that doing your own makeup is a great idea.
So I wanted to recreate the look that I wore on my wedding day, which I've also recreated countless times on my clients, and give you guys a super in-depth tutorial. From how to prep your face with the best skincare tips, to how to apply your makeup to last through the nerves; the tears, and, of course, the dancing. I hope you guys find this helpful, and if you've not got a big wedding coming up, this is great prep for an event as well!
If you want to try any of the products I used in this video, here is a full list:
Prep
Face sculpting tools: Ziip Beauty Nano Current Skincare Device, $561, NuFace, $325
Face Razor: Tinkle Razor, $6
Lip balm: La Mer The Lip Balm, $60
Face cream: Skinceuticals, Skin Firming Cream, (discontinued) replace with SkinCeuticals Triple Lipid Restore, $128
Makeup
Primers: Huda Beauty Complexion Perfection Pre-Makeup Base, $42, and Matte Perfection Pre-Makeup Base, $39
Foundation: Huda Beauty #FauxFilter Foundation, shade Toffee, $50
Glow enhancer: Charlotte Tilbury Hollywood Flawless Filter, shade 6, $40
Powder: MAC Studio Fix Powder Plus Foundation, shade Nc 55, $30
Contour: Dior Backstage Contour Palette, shade 001, $45, or NYX Professional Makeup Highlight & Contour Pro Palette $25.
Highlight: Huda Beauty Golden Sands 3D Highlighter Palette, $45, or Farsali Jelly Beam Highlighter, $45
Concealer: Huda Beauty Overachiever Concealer in Toasted Almond, COMING SOON!
Baking powder: Huda Beauty Easy Bake in shade Banana Bread, $45
Blush: Morphe Blush Trio, $12
Eyeshadow Palette: Huda Beauty Rose Gold Remastered Palette shades Sandalwood, 24K and Black Truffle, $68
Blending brush: Morphe Blending Brush, in G24, $6
Stila: All Day Waterproof Liquid Eye Liner, shade Intense Black, $22
Muji: Q-Tips $3
Eyelash primer: Dior Show Maximizer 3D Lash Primer, $30
Mascara: Marc Jacobs Velvet Noir Major Volume Mascara, $26
Fake Eyelashes: Huda Beauty Samantha Lashes, $24
Lash glue: Huda Beauty Lash Glue Dark Tone, $24
Lip pencil: Huda Beaut Lip Contour, in shade Venus/ Muse/ Trendsetter, $24
Matte lipstick: Huda Beauty Liquid Matte, shade Venus/ Muse/ Trendsetter, $27
Brows pencil: Benefit Precisely My Brow, shade 3.5, $24
Brow Brush: It Cosmetics Heavenly Luxe Brow Brush, $24