Weird Beauty: Which Of These Crazy K-Beauty Tools Work
We're on a never-ending quest to find the coolest and quirkiest beauty products, so we were literally in heaven when we found YesStyle.com, the site that had it ALL! We're talking some bizarre ingredients and crazy tools from all across Asia, plus some pretty bomb beauty products from the best Korean and Japanese brands. Naturally, we went all out and got ourselves a ton of weird beauty tools and products. Here's our verdict…
1. Facial hair remover: Yup, it's a spring! It works by dripping hairs and ripping them out; by bending the spring and then straightening it, the hairs get trapped and you pull it up. It does actually work to pull out fine hair, and once you get the technique right, it's a strangely satisfying way to remove peach-fuzz. Overall, we'd probably rather go and get our mustaches waxed or shave our faces, which are just way more effective and less time-consuming. Shop it here, $2.90.
2. Eyelash tool: This is actually an amazing idea! Who else is always terrified of ruining their flawless cut-crease or smokey eye with mascara?
This tool will basically cover both your lower and upper lids from mascara while you apply it. We did find it slightly harder to perfect our mascara using it, but after a little practice, it worked really well. Shop it here, $2.90.
3. Reusable silicon mask cover: A celeb-favorite, silicone masks are being touted as the easiest way to cheat 8 hours sleep. We first heard about silicone masks from Hollywood beauty guru Nurse Jamie, and we couldn't believe when we saw this silicone mask on the YesStyle website for just $3, (Nurse Jamie's is $30).
We haven't tried both, but it's silicone, so we're hoping it does the same job – it looks the same! A silicone mask should be applied after moisturizers, serums or oils to help the products penetrate more deeply into the skin. The mask attaches around your ears, so it's super easy to wear while you Netflix, just a little creepy looking. Shop it here, $3.90.
4. Eyebrow cutting scissors: Just a silly gimmick or genius? If like us you struggle to hold your brow brush while you trim your bushy brow hairs (mainly that left brow!), then you will fall in love with this product. It's literally just a tiny pair of scissors with a brow comb attached, but it works SO well. Shop it here, $2.90.
5. Makeup brush cleaning tool: This is probably our fav product of all of them. This genius sponge basically removes colored powders from your brushes, so when you're switching pans, you can simply rub your brushes on this pad and it will remove the last shade.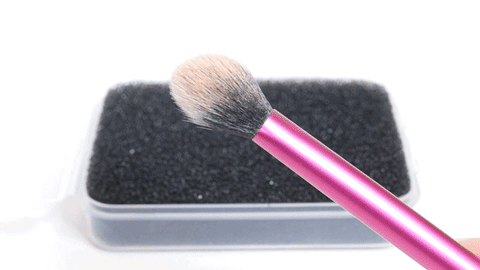 It's also just a sponge, so it doesn't use any chemicals or oils and can be used with any brush. Once it gets a little dirty (we like to turn it over and use both sides) you can just wash it with water and a little soap and it's ready to be used again. Shop it here, $3.90.
6. Nose lifter: AKA a non-surgical nose-lift. We have to say we were skeptical about this, and we find the idea a little crazy… It's basically a peg for your nose. If you wear it for a few hours it will temporarily make your nose look slimmer, and even though it does work it's super uncomfortable to wear. You're actually meant to wear this regularly for 'lasting results', but we can't say we've tested that! Shop it here, $3.90.
7. Hair curlers: These weird curling tools are surprisingly great!
At first, they seem pretty hard to use, but after a couple of goes, it's super easy and doesn't take that long. If you want heatless curls and can't get the hang of using traditional rollers, these could be a really good option for you. There are also different styles, including ringlets, wave, and roller style. Check out this tutorial here. Shop it here, $32.
8. Eyeliner stencil: We thought these eyeliner stencils might be the genius new way to get our wing liner on point, but this is just way more hassle than it's worth! Definitely a miss for us! Shop it here, $3.90.
Stay tuned for our reviews of K-beauty and Japanese skincare products!