Will The Frank Body Shimmer Scrub Turn You Into A Legit Unicorn?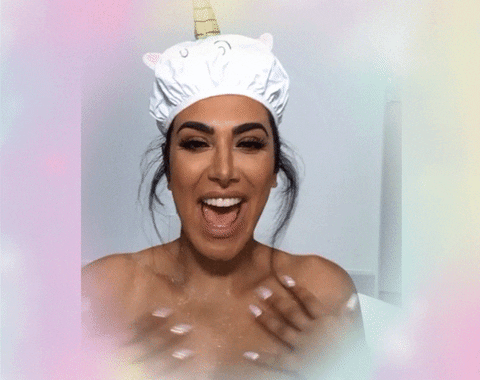 It's the age of the unicorn and I'm more than happy to embrace it on every level – okay, perhaps not unicorn hair! I've tried unicorn brushes, unicorn makeup, and I even threw a unicorn party for my daughter, of course I wanted to try a scrub that would turn me into a mythical creature. The Frank Body Shimmer Scrub is packaged to perfection – if you put glitter or iridescent shimmer on anything I'm more than likely going to want to buy it and try it. The thing is, I've received so many coffee scrubs in the same zip-lock packaging, but none of them called to me to try them (they weren't covered in shimmer). I could never be bothered to open them up and figure out how I was going to keep my scrub fresh when it came in a packet. With a 50,000-person waiting list on its launch, the Frank Body Shimmer Scrub was a must-try, especially as it promises to turn my weekdays into weekends!
What it is: A sugary, salty scrub with vitamin E, grapeseed oil (rich in antioxidants), salt, sugar, roasted ground coffee beans, and mica (a pearlescent mineral) to make your skin glow. It's also vegan, nut-free and palm-oil-free.
What it does: It exfoliates and smooths your skin to leave you with gorgeously shimmering, soft, and hydrated skin. It also promises to put 'a little disco in your day.'
What we liked: I'm not a big coffee drinker, and I'm not crazy about the smell of coffee, but OMG this smells absolutely divine – it's like a delicious macchiato that I want to drink all day. As soon as I took my first handful of scrub I loved it, the texture was really fine, finer than sugar, so it wasn't gritty or scratchy on your skin. It has a slight oil base, but only enough to bind the product, so it's not dripping in oil like most scrubs, which can leave a greasy residue on your skin that can feel a little icky. This combo of a very light oil and a fine scrub was ahhhhmazing, I used it neck-to-toe and it left my skin feeling unbelievably soft, like every bit of dead skin was completely gone. I noticed it evened out my skin tone and I even felt like it improved the appearance of wrinkles on my décolletage (sunbathing faux pas!), if that's possible! The coffee definitely has an invigorating effect, and it smelt so fricking good I really didn't want the experience to end.
What we didn't like: I love the packaging, but I'm not crazy about the packet; it opens easily, and it has a zip lock, so it's easy to reseal but because there isn't a flat bottom you still have to try and prop it up between bottles so that it won't fall in the shower. As far as the shimmer is concerned I didn't really notice much of a mythical glow after I used it, which is fine, I don't want to look like I've just come back from Coachella. But because it's called a shimmer scrub, I kind of expected it to have big chunks of glitter in the formula, just for fun when you're using it. So, although the mica makes the formula shimmery, it doesn't quite transform you into a glowing goddess like it claims it will.
I have to admit, I felt kind of addicted to Frank Body scrubs after I used it and I immediately wanted to go out and buy them all. The product packs 7 ounces, so you could easily get 15 to 20 uses out of it, depending on how much you use. I REALLY love how this made my skin feel, it was just super beautifying and deep-cleansing, and the smell more than makes up for any lack of glitter.
Price: $19.95
Available: It's currently sold out, but there's a petition you can sign to bring it back at Frankbody.com.