Will This Ceramic Brush Take Your Hair From Hot Mess To Sleek AF In 3 Minutes?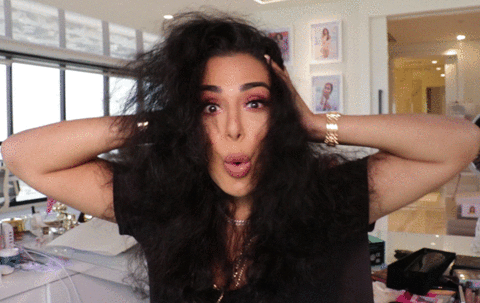 When your hair is as unruly as mine, you'll be willing to try almost any invention to make taming it easier. I love technology, and I live for trying innovative beauty products, so when I saw this ceramic straightening brush when I was in California, I knew I had to try it. What really captured my attention was the promise of 'professional-looking results in 3 minutes", because let's be real, finding 30 minutes in our busy schedules to do our hair is not a luxury most of us have! At this point, I'm already convinced to try the Dafni brush, but then I kept reading even more benefits; like less damaging for your hair, more powerful than straighteners, and I'm even more impressed. Surely there's no better way to test the Dafni brush than my wild hair!
What it is: A ceramic-coated brush designed to straighten your hair without the traditional damage of flat irons, in just minutes. The Dafni brush has seven times the surface area of traditional flat irons and is programmed to evenly distribute a constant 185°C heat. It can be used on any hair type.
What it does: The brush straightens hair quickly and efficiently with ceramic-coated bristles that reach from root to tip. Because the heat setting is much lower than flat irons, it doesn't damage hair, while still leaving it smooth, shiny and natural.
What we liked: The main thing I LOVE about the brush, is it makes doing your hair SO easy – and with my hair, that's a BIG statement. This definitely was a lot quicker than straightening my hair, I spent about ten minutes doing this, instead of the 40 minutes (minimum) I would usually spend. It also heats up in just one minute, so there's no need to hang around when you're getting ready in a rush. The end result wasn't quite as smooth and flawless as you would get with straighteners, but if you have wavy to curly hair, this would probably be all you need. It's also great because it doesn't get super-hot: I didn't burn my ears, I could handle my hair immediately after going through it, and it's nice to not feel your hair sizzle. If your hair needs to be tamed with heat, like mine does, this will definitely cut back on the heat damage that you will accumulate using a blow dryer and straighteners. I let my hair air dry, brushed it through, sectioned it into four parts, and made my way through my hair, going over it until it was completely smooth.
What we didn't like: My hair is on the wilder side of curly, I'll admit, but it kept getting caught in the ceramic, which was pretty uncomfortable. You definitely need to have your hair thoroughly brushed out first, but if you have hair as curly as mine that can sometimes be challenging, so it's definitely not going to be one of those things that will detangle and straighten your hair. The other flaw I noticed was the on button, it's not very strategically placed, and I kept hitting it while I was using it so that it kept switching off.
The Verdict: I would definitely recommend this! If you're on the go, traveling, or just busy and need a bit of taming and smoothing without going to the salon, this is perfect for you. I used the brush on my sister Alya's curly hair, and it worked SO well! I think if you have very curly hair like mine, it's not going to give you the full effect you would get with straighteners, so this won't be my new go-to, I'll still use my flat irons, but I did really like that it gave my hair straightness and wave without weighing down my hair. My final verdict is it's a really innovative product that will work amazingly for most people – it will give you sleek hair with extra shine – but if you have super curly hair, depending on the final finish you want, you'll still want to touch up with your straighteners or curling irons.
Price: $100
Available: Target.com
There are lots of less expensive imitations of this brush, and in my experience, using 'fake' electronics are not worth the damage they can cause to yourself, or the electrical danger they expose your home to, so be careful!