How To Treat The 5 Most Common Types Of Hair Damage
Real talk: regardless of how many masks or miracle oils you apply to your hair, it's almost impossible not to experience some kind of hair damage in your lifetime. While the term hair damage is pretty broad, the five most common forms of hair damage include split ends, heat damage, color damage, chemical damage, and hair loss. The good news? With the right knowledge, you can keep hair damage to a minimum or even avoid it altogether.
That's exactly why we got in touch with a collection of amazing experts – from a color specialist to a curl doctor, and even a hair loss expert. They filled us in on the root cause of each form of hair damage (pun intended), plus how to avoid and treat it.
Split Ends
What causes split ends: Celebrity hairstylist and curl expert, Shai Amiel, says, "Split ends are the most common complaint of every person that sits in my chair." The main cause? Time! Shai explains, "The ends of our hair are the oldest and most fragile area. They've had the most time on our heads and they've experienced everything we've done to it. Every time we wash, detangle, style, etc, we spend a bit more time polishing those ends. The constant "wear and tear" attributes to weak ends and split ends begin to form."
How to avoid split ends: "The best way to slow down split ends is by getting regular trims" confirms Shai. If you're wondering, how often is regular? It simply depends on your hair type (check out our trimming guide for more deets). Shai says, "On curly hair, I recommend cutting one curl at a time as it's the only way you can guarantee you won't cut off more than needed." His personal advice is to simply, "Pay attention to the ends and trim [split ends] as soon as they reappear." With that said, Shai also recommends, "Trimming your hair every three to five weeks depending on how quickly you get them."
If regular trims are out of the question, try split end repair serums. Julius Michael, a New York-based celebrity hairstylist says, "Using a split end repair will help smooth down the cuticle, seal in moisture, and give your hair its shine back. They also protect your hair from further damage," he says. Check out the best products to conceal and nourish dry, split ends here.
Heat Damage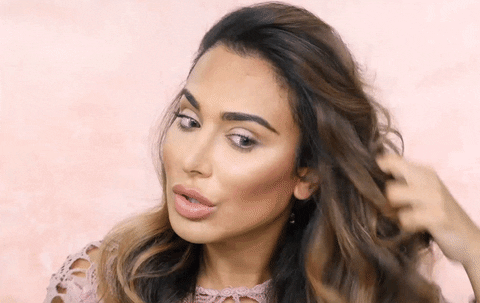 What causes heat damage: It's no secret that heat damage is caused by excessive heat styling. However, it's not only down to straightening or blow-drying your hair every day or multiple times a week. Heat damage can be a result of bad styling habits, like repeatedly styling the same section, or worse, styling wet or damp hair, which essentially boils the hair leaving hair fried, damaged, and dull.
How to avoid heat damage: Shai insists that, "Heat damage can be controlled by having a bit of will power," and essentially limiting heat styling, especially for curls. However, we realize this isn't always realistic. In this case, the number one rule is to adjust the temperature for your hair type. "Adjust the temperature setting – on both irons and blow dryers – according to your unique hair type," says Jill Buck, a celebrity hairstylist who's tousled the tresses of Julianne Hough, Nina Dobrev, and Jessica Simpon. "For example, fine hair and color-treated hair needs a low setting in order to achieve the best shine and results. When the setting gets too high for the specific hair texture it falls flat and damage occurs quickly." Check out our heat styling dos and don'ts for more details.
Using a heat protecting serum or spray can also be a great way to help protect hair during heat styling.
Color Damage 
What causes color damage: London colorist and Founder of Whair Directory, Tommy Drury, says, "Color damage can occur for a number of reasons." The first is overprocessing, which Tommy explains can be caused by, "Using an unnecessarily strong product, too much heat or leaving the color on for too long. The mentioned events can lead to extensive damage inside and outside of the hair."
Tommy says another common cause of damage is from, "Overlapping, aka overlapping new color on previously colored hair." Tommy adds that while at times it's necessary to overlap, it's definitely something your colorist should be mindful of as it can lead to damage.
Finally, Tommy adds that, in reality, making any drastic color change can cause damage, for example, going from brunette to blonde in one color appointment. Instead, changes like these should be achieved gradually over a series of three to four appointments.
How to avoid color damage: Before you book your next color appointment, do your research and find a reputable colorist who is familiar with your hair texture. Tommy clarifies, "Every type of hair reacts differently to color and that's why it's best if your colorist has experience with your texture."
Once the appointment is booked, it's time to prep your hair to ensure it's as healthy as possible. Tommy insists, "The best way to enter any color service is to start with healthy hair, and with Olaplex expanding their range of products it's even easier to do at home. I'd also recommend treating your hair after a service whether or not it has been damaged."
Another key piece of advice? Tommy says to be super careful when dying your hair lighter and advises against using bleach, "Any time you choose to go to a lighter color, it requires a harsher approach than going darker." He adds, "I am not a fan of bleach as you're gradually removing the thickness of your strands and exposing lighter color underneath your dark hair. It usually will dry it and cause your curls to lose their elasticity."
Posts You'll Love:
Chemical Damage 
What causes chemical damage? Chemical damage is caused by perms and hair relaxants, which are used to change the shape and texture of your hair.
How to treat chemically damaged hair: According to Shai, chemical damage is very similar to color damage and unfortunately, it's difficult to fix. In fact, Shai says it's almost "Impossible to reverse [as] you've broken down the hair from inside the cuticle layer, [which is almost] like breaking a plate." He continues, "If you've tried to change the texture of your hair with a chemical, you most likely will have to be patient until it grows out."
However, Shai insists, "The second-best remedy is time, because the BEST remedy is simply avoiding it. If you don't care about the curl pattern and it doesn't matter if you have hair that is weak and won't hold a curl, then it's not an issue. But most don't like having damaged hair so avoiding it is best."
Hair Loss 
What causes hair loss: Dr. Shanthi Colaco from SkinStyle Dermatology says hair loss can be caused by a myriad of issues. She begins, "Some people lose hair as they get older. This is called hereditary hair loss. There are also certain diseases (e.g. thyroid problems, PCOS, and lupus) and medications (e.g. chemotherapy) that often result in hair loss."
Lifestyle habits can also impact hair loss. For instance, "Stress causes hair to shift from the growth cycle to the resting cycle, in which it is more likely to fall out." Your diet also plays a significant role, Dr. Colaco explains, "When you don't get the vitamins, minerals, and protein that your body needs, it can cause hair to fall out." In fact, Dr. Colaco told us that iron deficiency is one of the most common causes of hair loss in women. Even changes such as weight loss, typically when you lose more the 15-20lbs in a short amount of time, can have a negative effect on your hair volume.
How to avoid hair loss: "As a preventative measure, it's best to have a healthy lifestyle and take vitamins known to be effective for healthy hair growth," says Dr. Colaco. Check out our fave hair vitamins here. Dr. Colaco recommends: "Biotin, Tumeric, silica, collagen, and other known vitamins that are good for our hair." However, please remember to consult your doctor before adding a vitamin to your diet.
Posts You'll Love:
Another lifestyle change to make for the sake of your hair and overall health is to stop smoking! Dr. Colaco advises against smoking as it, "Causes inflammation throughout the body, which makes so many things worse, and hair loss is no exception." She also suggests limiting heat and chemical damage and instead recommends using gentle, sulfate-free shampoos and conditioners. Finally, she says it's important to avoid wearing your hair in tight hairstyles that can pull on the hair shaft over time (traction alopecia), which can cause it to fall out.
The best treatment for hair loss: According to Dr. Colaco, "The best treatment for hair loss begins with treating the underlying cause. If you don't know what is causing your hair to fall out, your dermatologist can help! Your dermatologist can also recommend other treatments for hair loss including hair supplements, prescription oral and topical medications, injections of PRP (platelet-rich plasma), low-level laser therapy (LLLT), and hair transplant."
Shai warns not to wait too long before consulting a doctor as ignoring the problem can lead to permanent damage. "If you see any bald spots or areas where the hair doesn't grow like other sections on your head, go see a doctor," says Shai.
Disclaimer: Every product we review has been independently selected and tested without bias by our editorial team. We never take payment to review products, however, some brands allow affiliate links, so we may earn a commission if you purchase a product by clicking on one of our links.