Our WISHFUL Yo Glow Enzyme Scrub Will Give You A Crazy GLOW-UP!
Hey my loves! I cannot believe it's been two years since we launched our skincare brand, WISHFUL! It's honestly been such an incredible journey for me, and I've been so overwhelmed with all the love for our products and the incredible results that you guys have shared with us in that time. You've supported us launch a skincare brand like no one else had done before – NO Photoshopping, NO filters, just real results on REAL SKIN.
Our Yo Glow Enzyme Scrub was our first WISHFUL baby, and it's completely transformed my skin and so many of yours! I'm so proud of the insane results it gives and so happy that it's helped so many of you. If you haven't tried it yet, it really is such a gentle but effective product that gives you those amazing results straight away – softer, smoother, brighter skin! It also works wonders over time to even skin tone, and help fade dark spots and post-pimple marks while keeping pores decongested.
Yo Glow Enzyme Scrub
Our Yo Glow Enzyme Scrub is infused with pineapple and papaya enzymes, BHAs (beta hydroxy acids) and AHAs (alpha hydroxy acids), and cellulose (the most gentle physical exfoliator) that buffs away dead skin cells and brightens the complexion. The lightweight, milky scrub is amazing for evening skin tone, retexturizing and brightening the skin and, of course, giving you that glow!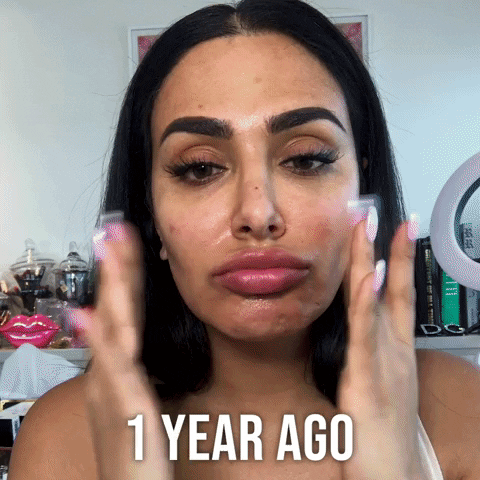 When we were developing this product three years ago, I had uneven skin tone, dull skin, and post-inflammatory pigmentation left behind by pimples. BUT, in the course of making and testing Yo Glow, it gave me the skin I had always dreamed of having. My skin tone was more even, my texture was smoother, my pores more refined, and I experienced less breakouts thanks to being able to regularly exfoliate my skin – so many other exfoliators would break me out or were too harsh for regular use! I use this almost every day and I can honestly say my skin has never been better!
Yo Glow Enzyme Scrub Ingredients
I have always loved using pineapple in my DIYs because it contains bromelain enzymes. Enzymes are like the A-listers of the skincare world because they're amazing for evening skin tone, smoothing and brightening, but they're also gentle on the skin barrier. They work by breaking down the bonds that bind dead skin cells on the surface of the skin, allowing dead skin cells to be sloughed away. Pineapples are also rich in vitamin C that helps to brighten the skin.
Yo Glow is made in one of the best skincare labs in Korea, and all our ingredients are certified clean at Sephora. The ingredients that make this scrub so special are:
Papaya Fruit Extract: Papaya contains the enzyme papain, which is known to smooth and increase skin clarity for a radiant glow while antioxidants help to fight free radical damage.
Pineapple Fruit Extract: Full of bromelain enzymes that gently exfoliate, reduce dark spots and soothe skin. It also contains antioxidant-rich vitamins.
AHAs: Citric, Lactic, Malic, and Tartaric acid work together to gently dissolve dead surface skin cells, thereby reducing dark spots and improving skin tone and texture while also helping to hydrate the skin.
BHAs: Salicylic acid is oil-soluble so it penetrates pores and dissolves the 'glue' holding together sebum and dead skin cells that block pores.
Cellulose: This gentle physical exfoliator is an organic plant compound that very gently removes dead skin cells that are ready to come off, leaving softer, smoother skin. It works by gathering up dead skin cells and dirt as it rubs across your skin and clumps together.
Hydrating Ingredients: Glycerin, sweet almond oil, coconut, and rose flower extracts soothe and hydrate the skin, so your skin never feels tight or dry.
Posts You'll Love:
These gentle ingredients mean Yo Glow Enzyme Scrub is gentle enough to use every day if you want – although stick to 2 to 3 times a week if you have sensitive skin. If you're using retinol or AHAs in your routine already, adding this in 2 to 4 times a week will be the cherry on top of the cake! I use it almost every day and I love to use it before makeup application as it gives me a perfectly smooth, glowing canvas.
View this post on Instagram
After using Yo Glow, you'll not only notice that your skin feels SO soft, but you'll also see long-lasting results in just 10 days thanks to its unique combination of fruit extracts, acids, and soft exfoliants.
How to Use Yo Glow Enzyme Scrub
Yo Glow is a gentle facial exfoliator that needs to be used on clean, dry skin. We recommend double cleansing beforehand if you're wearing makeup. Then dry your face and get Yo Glowing!
1. Use a generous amount on clean, dry skin – it's essential your skin is dry for the enzymes to work most effectively.
2. Gently massage the scrub in circular motions across the face and neck, rolling and sweeping away dead skin cells and impurities as you go.
3. Rinse well with warm water and gently pat your skin dry.
4. Follow with your usual skin routine (like toner, essence, serum, and moisturizer), then put on sunglasses to protect your eyes from the exceptional glow your skin now radiates.
I hope you guys get to try this scrub if you haven't already and I can't wait to see more beautiful before and after transformations. Make sure you tag us with #WishfulSkin so we can see your pictures, and don't forget to follow our WISHFUL Instagram page to learn and find out more about skincare.
Shop Yo Glow Enzyme Scrub, $39 USD (EUR 39 / GBP 34 / AED 177), online at HudaBeauty.com now.