How Foreo's UFO Will Give You A Celeb Facial In Just 90 Seconds
When I heard Foreo were creating the UFO I could not wait to try it – a facial with six types of therapy in 90 seconds – I'm SO here for that! Finally, I have it, and I'm so excited to show you what is possibly going to be the most revolutionary beauty tool of the year! This incredible new piece of skincare technology by beauty innovators Foreo, is the world's first ever smart mask, and I'm psyched to be one of the only people in the world to try it! I'm already a huge fan of their collection of industry-leading beauty tools, so I have high expectations.
The UFO (aka Ur Future Obsession – LOVE this name!) doesn't give just any facial, the UFO combines six of the most amazing new technologies, like anti-aging red light and acne-fighting blue light, cooling cryotherapy, and heating thermotherapy, which you would usually only have access to at a doctor's office. This technology is combined with mini Korean-made sheet masks, to help the ingredients deeply penetrate your dermal layers. As I'm already a huge believer in the power of red light therapy and have experienced so many types of facial techniques, I couldn't wait to see if this would live up to its very promising claims.
What the Foreo UFO is: Foreo wanted to create a tool that would quickly and effectively deliver ingredients into the skin, feeling that a regular sheet mask just didn't do the job well enough. So, they've created a device that combines six leading skincare technologies with sheet masks infused with Korean Ingredients.

Foreo UFO Technology:
T-sonic pulsations: The vibrations don't just feel great, they improve the absorption of ingredients into your skin.
Red light: Stimulates collagen production to gradually smooth out fine lines.
Blue light: Kills the bacteria that causes acne and boosts blood circulation.
Green light: Evens skin tone and brightens dull skin
Thermotherapy: This is always among the first steps as it opens up the pores, as the heat (up to 50 degrees) allows the ingredients to penetrate deeper into the skin.
Cryotherapy: This will always be the final step in the mask routine, as the cooling therapy helps tighten pores, simultaneously lifting and firming the skin.
How it works: The best thing is you don't have to worry about a thing; with each mask, it'll be paired with a unique pre-set program (different combinations of the above therapies) that you simply select via an app on your phone – it really is foolproof! Although not every technology will be used with each mask, as depending on the ingredients in your mask, different steps will deliver the most beneficial results for those specific ingredients.
Each program is made up of 3 x 30-second treatments, so it could start with red light and heating, then move onto T-sonic pulsations and blue light, finished with cryotherapy and green light therapy – it all depends on your mask of choice.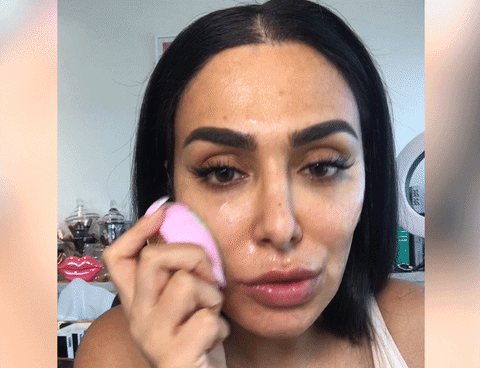 The Masks: Foreo currently have two types of masks: The 'Make My Day' sheet mask and the 'Call It A Night' mask. The day option combines hyaluronic acid (for hydration) with antioxidant-rich red algae extract, to protect and feed the skin throughout the day. The nighttime mask uses anti-aging ginseng to smooth, hydrate, and rejuvenate, and olive oil, which penetrates deep into the skin to keep it nourished all night long.
How to use the Foreo UFO UFO: UFO might be a completely new method of sheet masking, but it's still sheet masking. To use, you simply need to remove the mini sheet mask from the packet and place it on the UFO, securing it with the plastic ring. Scrape out any extra serum onto it, select the setting to accompany your mask of choice, and get masking – it only takes 90 seconds!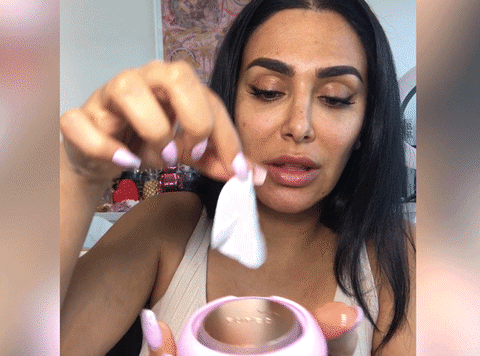 The price: The full-sized UFO costs $279, but you can also get the mini for $179 – they're both the same size, the only difference is that the mini doesn't include the cryotherapy setting. The actual sheet masks will be sold in packs of 7 for $9.99.
My Verdict: I love the design! It's incredibly small for all the technology they've packed in, it looks sleek and the soft-touch pink silicone casing makes it easy to use. I think probably one of the hugest benefits is that this only takes 90 seconds. Everyone is always in a rush these days, and I think if we could all mask in the morning we would – the UFO definitely makes that possible. There is an initial investment in this device, but it is incredibly innovative and the quality of Foreo products are second to none. The sheet masks themselves, (7 for $10), are very affordable considering most sheet masks are usually between $5 to $15 per mask.
I'm looking forward to seeing the other masks Foreo release, but I have to admit that I'm quite attached to some of my sheet masks, so this won't be a complete replacement for my current favs. Although I am tempted to try cutting a small circle out of my fav Tony Moly Snail Mask, smothering my face in the serum, and seeing how that works! I do wish you could use the device without the masks as well – I think the device is amazing, but I noticed that I did break out a little after, so I don't think these particular masks agreed with my skin.
I had quite a lot of excess product on my face at the end, which was almost a too much to pat in like I would with other masks, so it was a bit messier than I expected it to be. After a few minutes of UFOing, my skin felt hydrated, and there was definitely a subtle glow to my skin. After you've masked, you just need to rinse the UFO and dry it – it's completely dust and waterproof so cleaning is really easy. Overall, I think this is super innovative and VERY impressive, but I'm not sure if this is my holy grail just yet! I'll need to use it more and try the other masks before confirming if this really is my 'future obsession'! Stay tuned.
Available: The UFO and masks launch in April 2018 and are available on Foreo.com now or Sephora.com, $279.
What do you think of the UFO? Are you as excited to get your hands on it as I was? Let me know in the comments.