We Tried The Morphe X James Charles Collection
Anyone who follows beauty blogger James Charles knows that his makeup looks are NEXT level. He doesn't just have mad blending skills, but we love his creativity and the dimension of his looks. When we heard Morphe and James Charles were collaborating, naturally we were intrigued to see what would be on offer, and he we have to say – we were impressed! The Morphe X James Charles Collection includes a 39-shade Eyeshadow palette and a hand-selected collection of 33 brushes (launching today), here's what we thought:
The Eyeshadow Palette:
What it is: A 39-shade palette including matte and shimmer formulas, with seven extra-large transition shades, each hand-selected by James Charles to allow you to 'release your inner artist.'
What it does: The insane color spectrum allows you to create literally any look you want! Whether you're feeling a soft and neutral look (check out the top left corner) or you want to be bold and use all the colors of the rainbow on the bottom two rows.
SWATCHES: Sister, So Good, Wig, Face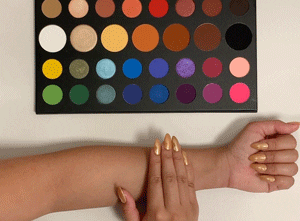 SWATCHES: Bee, Playground, Social Blade, Skip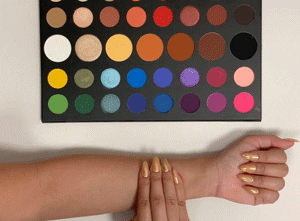 SWATCHES: Guac, Artistry, Shook, Literally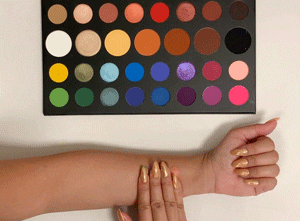 What we liked: We are seriously impressed with the pigmentation in these pans; like literally just dip your brush into the mattes and you're good to go! And even though these mattes are super pigmented, they also blend beautifully and work in harmony together without muddying when combined. The shimmering shades are VERY pretty and give the best intensity when used with a small dense brush. It goes without saying that the versatility of this palette is INSANE, and we love that the rainbow color spectrum gives you free rein to create a variety of bomb looks.
We also love that you can use this like a face palette too, the shade Face works beautifully for highlighting on fair to medium skin tones, while So Good and Wig look popping on deeper complexions. The black shade, Spooky, works as liner in a pinch, while shades like Punch Me and Tea will work for contouring and chiseling the face. We love to use the white shade, Flashback as a base to intensify the pigments of the other shades.
What we didn't like: The only problem with this palette is it's SO big, so it's not really ideal for traveling… But can you complain if you get to use all these shades on the reg? No!
Price: $39
The Brushes:
What it is:  A set of 33 face and eye brushes, and a blending sponge with chiseled edges to make baking and snatching that contour even easier. James chose 21 of his fave brushes and duplicated the most commonly used eye brushes so that you never have to worry about mistakenly mixing your pigments again. There are three of the M433 brush, and two of several other eye brushes.
What we liked: If you're looking for a MAJOR brush collection, we're dying over this selection. The face brushes are very soft and it's the perfect collection for applying powders, although there isn't a specific foundation brush. We love the M501 Pro Pointed Blender Brush, which is literally THE brush for contouring, and also E48 Mini Pointed Powder brush for highlighting cheekbones.
For eyes, there is literally every type of blending brush you could want: from the perfect dense brush (M224) for packing on concealer or even shimmer formulas to the M158 Angled Liner and Spoolie brush essential for brows.
Price: $149 (value $218)
The Verdict: Overall if you're into beauty and don't want any restrictions on letting your inner artist out to play, this palette and brush collection is a great start!
Shop the Morphe X James Charles Collection here.