Is This Supernatural Face Mask Machine The Future Of DIY?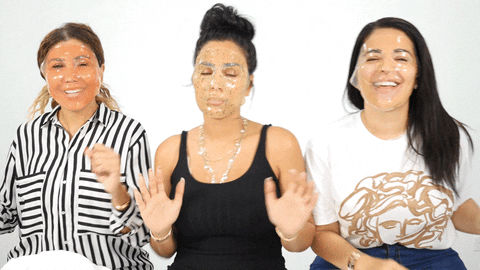 To say I'm obsessed with DIY beauty is an understatement, it's probably the first part of beauty I ever really got into. Since I was a kid, I loved mixing up ingredients and experimenting, so of course, when I discovered there was a machine that would allow you to custom make your own mask, I was super excited to try it. I mean, I love DIY, but it can be messy AF sometimes. The latest craze to hit the beauty world is a machine that turns fruit into hydrogel sheet masks, yep, your own sheet mask using almost anything you want; from vegetables, egg whites and essential oils, to any fruit, tea, milk, or liquid beautifying ingredient. When I saw this on Instagram, I was psyched to try it, so I ordered it immediately and enlisted my sisters to test the face masks with me. We decided to create three different masks that would target each of our skin concerns.
What it is: A machine that combines fruit juice, water, and a collagen pill, which is what turns the liquid ingredients into a semi-solid, hydrogel sheet mask.
What it does: The face mask machine heats and mixes your ingredients for around 5 minutes. When it's ready, the machine beeps, and you simply pour the mix into a face mask mold and wait a few minutes for it to cool and set. The jelly-like sheet mask comes away from the mold easily and can be immediately applied to your face.
What I liked: I love that the product is innovative and makes it possible for you to use literally hundreds of ingredients in your DIYs. After the first couple of attempts (which went very wrong), I got the hang of how to use the machine, and it was fun, but you need to be very precise with your measurements, or the mask just won't set.
What I didn't like: The fact that the fruit is heated up means some of the vitamins and active ingredients are actually being lost in the process, as it's effectively being cooked. I thought that because I'd be using a machine for DIYing the process would be easier and less messy, but it actually made the whole process so much more complicated: not only do you have to clean your juicer afterwards, you have to clean the equipment and all the utensils that you need to use with it. My sheet mask actually stayed on my face okay for the first 5 minutes, but Mona's face mask was tearing and wouldn't stay on her face without her tilting her head back. After five minutes all of the face masks started to melt and began to drip everywhere, which was super messy and we had to take them off. My skin did feel nice after, and the strawberry mask made Alya's skin feel super soft and smell amazing, but for the hassle, I'm not sure it was worth it.
The verdict: I think it's a fun thing to try, but it definitely won't be replacing my usual DIYs.
Where to get it: The KINGDOMCARES Face Mask Machine Face Maker is currently available on Amazon for $55 here, and it also comes with a DIY juicer and 16 collagen tablets (16 masks). You can also buy the collagen tablets separately if you prefer. Think about it, if you make one sheet mask every week for a year, it would cost you just $1.50 for each customized mask, excluding the ingredients of course, which would probably cost less than $1 per mask.
Ingredients For Our DIY Face Masks:
My Hydrating And Nourishing Mask With Kiwi And Green Tea
Kiwi is an amazing natural moisturizer, it's full of vitamin E to nourish your skin, and it actually contains more vitamin C than any other fruit, making it a potent powerhouse of antioxidants. Green tea is one of the most amazing natural ingredients you can put on your skin; it's full of polyphenols, which are an incredible source of antioxidants.
We used: 20ml of ripe kiwi (you only need one kiwi), and 60ml of green tea (instead of plain mineral water).
You could also use: grapes, cucumber, milk, aloe vera.
Alya's Oily And Acne Prone Calming Mask With Strawberries And Lime
Strawberries are like an amazing natural skin cleanser for acne; whether you eat them, or smother your skin in them! Both strawberries and lime contain AHAs, which are a popular ingredient in acne skincare because it cleans deep into pores, removing excess oil and dirt. Lime is also full of antioxidants to help your skin heal, while its antibacterial properties reduce acne-causing bacteria.
We used: 10ml of strawberry juice (2 large strawberries), 10ml of lime juice (half a lime), and 60ml of mineral water.
You could also use: rose water, beetroot, carrots, lavender oil.
Mona's Brightening And Correcting Mask With Lemon And Honey
Both of these ingredients are amazing natural remedies for a host of skin concerns but combined they make a potent mask for brightening and perfecting the complexion. Packed with vitamin C and tons of antioxidants, lemon juice makes this mask an effective treatment for dark spots and acne-scars. Lemon is also a natural AHA; it will exfoliate the upper layer of your skin to work on any hyperpigmentation. Honey is full of antioxidants, is a natural antibacterial, and has crazy healing, nourishing and hydrating properties.
We used: 1 teaspoon of honey, 15ml of lemon juice (half a lemon), and 60 ml of mineral water.
You could also use: peaches, carrots, Jasmine tea, milk, rice water, olive oil.
If you don't have a machine, you can incorporate most of these ingredients into your own DIY mask really easily. Check out my FAV DIY masks of all time here.