The Top 10 Palettes Of The Moment – Which One Would You Choose?
I've seen so many gorgeous eyeshadow palettes all over the Gram and it's super hard to choose between them all. So, I thought I'd go through all the latest eyeshadow palettes and give you a mini review on each of them to help you choose which one is perfect for you. We played with tons of palettes and narrowed it down to these 10; from the latest Fenty offering, the newest ABH palette, Morphe, Too Faced and loads more, we hope this helps you guys choose:
MUST-HAVE:

 Too Faced Just Peachy Velvet Matte, $45

This really is a must-have palette! Too Faced do an incredible job with palettes and this might be their best one to date… Like go online and buy this right now! I love it because it's filled with mattes and it's perfect for so many occasions. The textures are amazing, the shadows apply beautifully, the shades are gorgeous, and you can create so many looks. The only thing missing for me is some more orange tones, as it's very pink – but it's still to die for.
Shop the TooFaced palette here.
BEST VALUE:

 15N Night Master and Morphe 15D Day Slayer Eyeshadow Palettes, $15 each

I'm living for these palettes. Morphe really stepped it up, and I love this big ass mirror, the packaging, and the textures, which feel even creamier than their previous palettes. The mattes are very smooth and the shimmers have good payoff, but you can intensify the shimmers even more using a wet brush.  I love the color options in both the palettes, but if I had to pick one, my fav would be the orange Day Slayer Palette has the most gorgeous warm-toned colors in.
Shop the Day Slayer palette here and the Night Master palette here.
COOLEST PACKAGING: 

Fenty Beauty Galaxy Eyeshadow Palette, $59

I love Rihanna, and I love the packaging – the oil stain, the weight of it, the color – it's very Fenty! I also love that it comes with a double-ended brush, as I just think that's really useful. The eyeshadows aren't my favorite; they're quite powdery and a little too glittery for me. The darker shades have a black pigment base and I find that they perform much better than the lighter colors, which didn't have as much pay-off. I think definitely go into a store and try it, because you may find it works really well for you.
Shop the Fenty palette here.
MOST PLAYFUL:

 Anastasia Prism Eyeshadow Palette, $42

This palette really caught my eye. The mattes are very creamy, the shimmers are super nice, and you get great pay off from all the shades. The shade selection is really pretty, especially as you can create very classic, every-day looks with this, as well as some more exciting looks with the colors Sphere, Osiris, and Throne. It's also really good quality and the velvet packaging is so gorgeous!
Shop the Anastasia palette here.
CREAMIEST FORMULA: 

Zoeva Opulence Eyeshadow Palette, $26.50

This is super velvety, the shadows almost feel wet, and it's a step up in texture form the ABH palette, for me. Zoeva makes really great wearable palettes that last a long time and although I'm not blown away by the colors, the textures are just insanely good. Koh-I-Noor and Get Your Glory are stunning shades and the others are ideal for everyday use, I just wish it had a few more mattes to create more versatile looks, as there's only two mattes.
Shop the Zoeva palette here.
MOST ARTISTIC:

 Pat McGrath Mothership II Palette, $125 each

This is just a piece of art, and I think Pat is a genius! Not only is the packaging bawse, but every shade is divine. The shadows have insane staying power and awesome pigments; I wore it all night and it looked like I'd just stepped off the runway. I'm pretty obsessed with this palette, even though it's not an everyday palette, it's one that I'm excited to use again! These palettes are just so impressive, and if you love makeup, this is worth every dollar!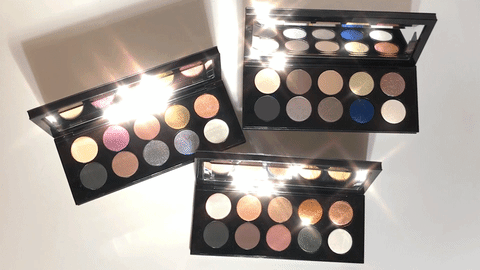 Shop the Pat McGrath palette here.
MOST VERSATILE:

 Huda Beauty Desert Dusk, $65

I have a lot of love for this palette, obviously. The thing I love most about this palette is how many different looks you can create with it, and we've actually been blown away by the variety and creativity we've seen with it on IG. The mattes are so buttery (they're my fav), and even if they do have a little kick-back, it works to help blend them seamlessly onto your lids. If you already have an everyday palette, this is the next step to make your makeup a little more artistic, and take you outside of your comfort zone.
Shop the Desert Dusk palette here.
BEST GIFT:

 Charlotte Tilbury Instant Eye Palette, $75

I really like this palette. The colors are essentials and I think it's brilliant the way she's categorized the shades, which makes it really easy for people to use, especially if you're not very experienced with makeup. The textures are SO silky and smooth, but it's not super pigmented, which in this case it's a good thing: It makes it easier to use and you're not going to get intense color that just sits on your lid, so it makes it much easier to blend. It's a very sophisticated palette, the packaging is gorgeous, and it's just super wearable.

Shop the Charlotte Tilbury palette here.
MOST PIGMENTED: 

Natasha Denona Eyeshadow Palette 5 – Holiday Edition, $48 each

These palettes are awesome and Natasha is a true artist! The way she puts colors together is always unexpected and beautiful. The shadows are a little fragile because of the cream formula; two shades have separated from their case, so you do need to be careful with them if you're traveling. Some of the shimmers are formulated differently but the textures are so gorgeous. The colors are amazing, and they're perfect if you want to add a pop of color to your look. They are quite pricey for the amount of shades you get, so I feel like these palettes are more for a makeup connoisseur.
Shop the Natasha Denona palettes here.
MOST TRAVEL-FRIENDLY: 

Huda Beauty Obsessions Palettes, $27

Obviously we created these, so I won't go into too much detail, but what I love about these is you get a lot of product in a really tiny package. The shimmers make a big impact, the mattes are really buildable, and I just love how easy it is to create looks and play with color.
Shop the Obsessions palettes here.
Let us know your favs in the comments below!!