Calling It Now: 6 Buzzy Skincare Ingredients For 2021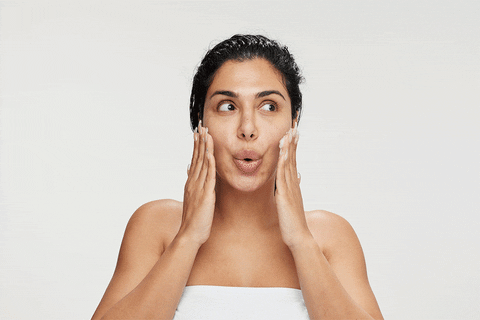 Amid all the uncertainty of 2020, there's at least one thing we can be certain of: skincare (and self-care in general) is totally in. There's zero doubt that momentum will roll into 2021. To get a better feel for what ingredients are really going to shine in this new year, we asked skincare gurus to do a little slather forecasting.
1. Encapsulated Retinol
Retinol's another one of those ingredients that's been reveling in the spotlight the last couple of years. Believe it or not, formulations have become even more sophisticated in these last months. This derm-fave has historically been a bit aggressive, but new products are utilizing encapsulated retinol that's gentler while still serving serious results.
"You get all the benefits of retinol without as much of the irritation. It's a win-win," says Dr. Papri Sarkar, a board-certified dermatologist. "Retinoids have been shown to treat fine lines and wrinkling, even out skin tone, increase cell turnover to reveal brighter skin, and can even increase collagen."
Try It Yourself: Versed Skincare Press Restart Gentle Retinol Serum, $22; It Cosmetics Hello Results Wrinkle-Reducing Daily Retinol Serum-in-Cream, $69 
2. Cannabis Extract and Oil 
The cannabis plant has enjoyed adoration in the skincare community for the last few years, but we argue that excitement is only just getting started. New and continued research continue pointing to its host of benefits, which range from major moisturization to soothing abilities.
"[The ingredient] calms and soothes inflamed, red skin. [It is also shown to be] pain-relieving, and helps to retain skin moisture and prevent trans-epidermal water loss (TEWL)," explains Rachael Pontillo, a licensed aesthetician, and skincare formulator.
Try it Yourself: Happy Dance Whipped Body Butter + CBD, $30; Herb Essntls Hand Cream, $34
3. Niacinamide
While you're taking your vitamins, don't forget to apply your vitamins, too. Niacinamide – also known as vitamin B3 – is one of the best, and board-certified dermatologist Dr. Heather Woolery-Lloyd predicts it'll be a key player in '21.
"Niacinamide is a skin brightener that's especially useful because it does double duty. It combats hyperpigmentation and has anti-aging effects," she says.
Try It Yourself: Fenty Skin Instant Reset Overnight Recovery Gel-Cream, $40; The Ordinary Niacinamide 10% + Zinc 1%, $6
Posts You'll Love:
4. Tranexamic Acid
This newish skincare acid works wonders when it comes to creating an even complexion and bright, youthful skin.
"It inhibits the interaction between pigment-producing cells called melanocytes and skin cells called keratinocytes," explains Dr. Sarkar. "Anyone with pigmentation issues – such as melasma, [acne, or age spots] – can benefit from using this ingredient."
Try It Yourself: The INKEY List Tranexamic Acid Hyperpigmentation Treatment, $15; Skinceuticals Discoloration Defense, $98
5. Olive Oil Ferment Filtrate
While olive oil has remained beloved over the centuries (literally!), Pontillo predicts the fermented version of this tried and true fave will be especially popular in 2021.
"It offers increased delivery of omega 3 and 6 fatty acids, supports healthy skin barrier function, and provides emollient protection without leaving a greasy feeling like regular olive oil," she explains. "Plus, it can benefit just about anyone. It is primarily used in products geared towards softening fine lines and promoting a youthful, dewy appearance."
Try It Yourself: JLo Beauty That JLO in a Multitasking Serum, $79
6. Polyhydroxy Acids (PHAs)
"Polyhydroxy acids are alpha hydroxy acids (AHAs) like glycolic acid but are larger molecules that can't break through the skin barrier as easily," says Dr. Sarkar.
Their small size makes them less irritating compared to traditional acids out there, which means that even people with sensitive skin types can slather them without worry.
"These gentle chemical exfoliators reveal bright new skin underneath, help to even out skin tone, and help to treat mild pigmentation issues." Examples of PHAs include gluconolactone and lactobionic acids.
Try It Yourself: The INKEY List PHA Toner, $11; Peter Thomas Roth PRO Strength 10% PHA Exfoliating Clarifying Liquid, $58
Have you tried any of these trending ingredients? Let us know in the comments below.