3 DIY Acne Masks To Soothe And Heal Your Skin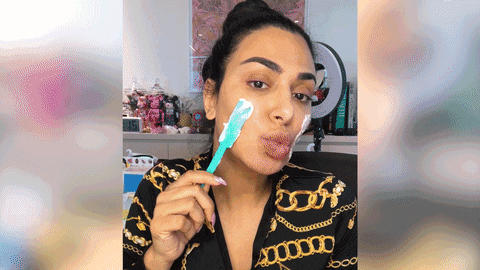 As it gets colder, nights out seem less tempting and the prospect of an evening in cuddled up with Netflix and a cup of hot cocoa sounds a whole lot better. And, since the cooler outdoor temperatures combined with indoor heating can wreak havoc on your skin, a night in is the perfect opportunity for a DIY face mask. The truth is, as much as we love splurging on the latest designer sheet mask, sometimes you can't beat a simple, three-ingredient mask – you're applying the ingredients in their rawest form, which means you know there aren't any chemicals that'll irritate your skin, and it's A LOT cheaper. Basically, it's a win-win!
So, we're sharing our all-time favorite masks that are bursting with beauty-boosting antioxidants, minerals, and vitamins that'll soothe your winter skin and help deal with breakouts.
1. The All-Round Miracle Worker
This has to be one of the best acne-busting masks – we literally do it every time our skin is acting out. The honey is a powerful antibacterial and contains anti-inflammatory properties too, which means it can help soothe existing pimples while fighting any acne bacteria lingering in the skin. It's also an amazing hydrator as it's a natural humectant, which means it'll draw moisture into your skin. The texture of the nutmeg will work as a natural exfoliator and it's bursting with antioxidants that keep signs of premature aging at bay. Cow's milk contains lactic acid, a hydrating AHA that helps to clean deep into pores.
Ingredients:
1 tablespoon of honey
1 tablespoon of nutmeg
2/3 teaspoons of cow's milk (make sure they're teaspoons!)
Combine the ingredients in a bowl, then apply to your face using a brush; continue to layer the mask until all of it is gone. Leave it on your skin for 10 to 15 minutes and then wash your face with warm water or remove it gently using a muslin cloth.
Posts You'll Love:
2. The Glow Getter
Even though we've been recommended by dermatologists not to eat dairy as it can irritate your skin and cause breakouts, that doesn't mean you have to remove it from your grocery list entirely. Yogurt is, in fact, really good for your skin when applied topically, as it's a natural exfoliator – it contains AHA lactic acid, which will help dissolve dead skin, dirt, and bacteria that's sitting in your pores. It'll also hydrate and soothe your skin, leaving you with a gorgeous glow. The egg whites will tone your skin, helping to tighten the appearance of pores and even skin tone. We love how smooth this leaves our skin feeling!
Ingredients 
1 Egg White,
2 Tablespoons of Greek Yogurt
Whisk the egg whites slightly, then mix in the yogurt. Apply the mask to your face using a brush or your fingers. Leave the mixture on for 10-15 minutes before rinsing with lukewarm water. You can do this every other day.
3. The Skincare Multitasker
This is another classic cult mask at HB HQ as oatmeal is one of the cheapest DIY ingredients but it's also a major multitasker: it cleanses, moisturizes, and gently exfoliates your skin! Oats are highly absorbent as they contain saponins, which will help extract any oil or dirt blocking your pores. Oats are also rich in natural sugars, oil, and starch so they'll soothe your skin and lock in moisture. This DIY also features turmeric: an antibacterial powerhouse, which has antimicrobial properties that'll help fight P.acnes bacteria.
Ingredients
Oats
1 tablespoon of honey
1 tablespoon of turmeric
1 Egg white
Cook together 1/2 cup of hot water and 1/3 cup oatmeal, remove from the heat when ready (or follow the cooking instructions on the packaging), and leave them for around 15 minutes to cool. When cold, mix in 1 tablespoon of plain yogurt, 1 teaspoon of honey, 1 teaspoon of turmeric, and an egg white. Apply a thin layer of the mask to your face and wash it off 15 minutes later. Prepare for very soft, soothed skin!
Let us know if you've tried any of these masks in the comments below.