3 Things You Should Do Right Now If You Have Boobs
Whether you have big boobs or little boobs, there's one thing they all have in common, they're awesome! But with great boobs comes great responsibility, which means you need to CHECK YOUR BOOBS! This month it's Breast Cancer Awareness Month, so we wanted to bring to your attention this hugely important topic and round up three things everyone with boobs should do.
1. CoppaFeel
Checking your boobs every month is really, really important – this is your number one boob priority! In the UK and US, 1 in 8 women are affected by breast cancer, and it's still the most commonly diagnosed form of cancer in women under 40. It's not always hereditary; actually, only 10% of breast cancers are caused by family history, sometimes there's just no reason behind it.
The good news is, checking your boobs is SO easy! The key is to check them regularly, every month, and by doing so you'll become more familiar and become better at spotting any changes in your breasts, which could be an early sign of breast cancer. Detecting breast cancer early can save your life: the five-year survival rate of early-stage breast cancer is 80-90%, falling to just 24% for diagnosis at a later stage. Look for differences in shape, size, changes in your nipples, and feel for lumps. Use the Coppafeel chart for direction and head over to the CoppaFeel page here for more details on the chart below.

And remember, if you do find something different or notice any new lumps, don't expect the worst. Go to your doctor and get them to take a look; there are lots of reasons why your breasts might change, so having a professional assess them as soon as possible is key. Go to the amazing CoppaFeel site for more details on how to check your boobs and to find out more – you can even get a boob-check reminder.
2. Get your bra properly fitted!
Yes, you've probably heard that before, but seriously it's really important because it can cause a ton of health problems you might not even realize are a result of your bra.
If your bra is too tight: Not only are you going to get quadraboob (your boobs bulging over your bra, so it looks like four boobs), but it can put tension on your stomach and ribs, giving you stomach pain and indigestion.
If your bra is too big: If it's too big, it can do even more damage than it being too small, especially if you're a larger cup size. If your bra's too loose, it isn't able to give you the right support, and it can cause the ligaments to stretch and your boobs to get saggy – not to mention the back pain you've no doubt experienced at some point.
If your straps are too tight: Aside from the red marks on your shoulders, it can put tension on your shoulders and neck, most likely resulting in muscle ache, but it can also result in headaches – who knew!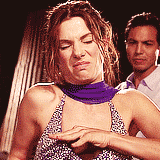 3 ways you know your bra doesn't fit properly:
1) If the band keeps riding-up at the back and you find yourself pulling it down constantly, the band is too big. When you buy a bra, it should fit snugly and comfortably on the last clasp. As you wear the bra it will begin to stretch; this is when you start using the tighter clasps so that the fit remains the same. After washing, you will probably need to use the last clasp until it stretches again.
2) If your cups are gaping, or if there is any space in your cups, then you need to go down a cup or band size. If only one cup is loose, then you may need to tighten the strap or add padding for extra support.
3) If your boobs are bulging out of your bra, you need to go up a cup size. If your bra is cutting into your back or leaving marks on your back or chest, you need to go up a band size.
If you have any of these problems, or you're just not sure, the best thing to do is to go to your closest lingerie boutique and get them to fit you correctly.
3. Share this with your friends
Now you know how to take care of your boobs and check them properly, tell your friends too! Every woman and man (yes, men can get breast cancer too) should check their boobs; it's so so important. So share this with your friends and family to help spread the word. You can also donate online at CoppaFeel or to your favorite breast cancer awareness or research charity.