17 Eyeshadow Tips & Hacks That'll Take You From Beginner To Pro
When it comes to your beat, there are four main categories to master; complexion, brows, lips, and today's topic of conversation, drumroll, please… EYES! For today's deep dive, we're going hard on eyeshadow tips and hacks. The thing is, perfecting your eyeshadow game requires dedication, practice, and patience. You've got to pack on the pigment, buff and blend, be mindful of fallout, and ensure the color pops, all while working that trend or shadow style to suit your unique eye shape. Luckily for you, we have all the answers, hacks, and pro tips to perfect your eyeshadow. Consider this your eyeshadow masterclass.
Eyeshadow Tip #1: Prep and Prime
Before you even pick up your blending brush, you need to prime and prep your lid to ensure that a) the pigment is poppin', b) the color is even, and c) it stays on all day long without creasing. Here's how:
Apply an eyeshadow primer: There are now tons of eyeshadow primers on the market that act as the perfect canvas for eyeshadow application while maximizing the staying power. Our fave is the cult classic Urban Decay Eyeshadow Primer Potion, $27.
Bake your lid: If you have oily lids, your eyeshadow is more likely to settle into your creases and look patchy throughout the day. To avoid this, dust a light layer of translucent setting powder like our Easy Bake Setting Powder, $35, to your eyelids. For more makeup tips for oily skin, read this.
Make that pigment pop: If you love to experiment with bright eyeshadows, to guarantee the color looks just as vibrant as it does in the pan, apply a white base to your lid using a light-colored concealer or a white eyeshadow. We love to use the Matte Basics Melted Shadows, $25, to prep the lids and ensure max pigment payoff.
Eyeshadow Tip #2: Choosing Your Eyeshadow
Speaking of pigment payoff, it often comes at a cost – fallout, but that's a small price to pay for intense color! To minimize the amount of fallout on your cheeks, gently tap off any excess powder after dipping your brush in the pan before applying it to your lid.
If you're going for a dramatic eye look, we also recommend starting with your eyeshadow before moving on to your complexion so that any fallout won't mess up your entire beat.
Eyeshadow Tip #3: Consider Your Eye Color
When choosing an eyeshadow hue, we love to experiment and have fun with trends. However, there are shades that we know bring out the colors of our eyes and really make them pop. For example, blue eyes are accentuated with a plum-colored shadow, and if you have green eyes, a bronzed lid is a no-brainer! Seriously, try it and wait for the compliments to roll in. Check out our shade guides for blue, brown, and green eyes!
Shop our Eye Makeup Faves!
Eyeshadow Tip #4: Know Your Eye Shape
Getting to know your eye shape is essential when you're trying to elevate your makeup game. Of course, there's no "one-size-fits-all" with makeup, but knowing what typically complements your eye shape can seriously level up the final look. Anyone who's seen this eyeliner hack for hooded eyes will know this is a #fact!
For example, for hooded eyes, there's typically less eyelid space to play with, so blending shadows up and outwards gives more depth to the lid space. Similarly, to elongate round eyes, you can play with dramatic wing styles to switch up your look. For more tips on tailoring your makeup to your eye shape, read our guide for round eyes, and how to style your wing to flatter your eye shape.
Posts You'll Love:
Eyeshadow Tip #5: Use the Right Eyeshadow Brush
A good set of makeup brushes will make AAAALL the difference to your makeup skills, helping you blend more seamlessly and be more precise with your looks. Knowing which brush to use is also a game changer, as it'll allow you to get the most intense pigment payoff, the least fallout, and the most seamless blend.
But don't worry, you don't need to spend $$$; there are tons of amazing drugstore brushes! We love Spectrum brushes, as they have a broad range of quality brushes starting from $6. We're also loyal to the Real Technique brush range. Check out our ultimate makeup brush guide here.
Eyeshadow Tip #6: Perfect Your Blending Technique
Now that you have the tools, you need to level up your blending technique. Here are our top tips:
Mix eyeshadows: Don't be afraid to mix and match eyeshadows on your brush to create a more harmonious look. Make sure you tap off any excess pigment before applying it to your lid to reduce fallout.
Pat, then blend: To create an even base, use a dense brush and pack the product onto the lid by gently pressing the powder onto the skin. Then blend it out using back-and-forth motions (think: windshield wipers).
Blend outwards: To lift the eye, drag the eyeshadow outwards, up towards the tail of the brow. This will create a subtle cat-eye effect, even without a winged liner.
Eyeshadow Tip #7: Don't Forget the Lower Lash Line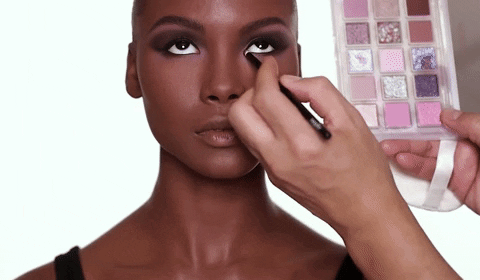 A little eyeshadow on the outer corner of the lower lash line goes a long way. For an everyday look, use softer hues, like a soft brown, then opt for a deeper shade for a more dramatic look. Apply the shadow using a small dense brush, then blend out using a slightly larger, fluffier brush. You can also tight-line your lower lash line with a beige eyeliner pencil (white can be too harsh) to create the illusion of bigger eyes.
Eyeshadow Tip #8: Contour Your Lids with Eyeshadow
View this post on Instagram
Regardless of the look you're going for – from a natural look to a smokey eye – always define your crease by contouring your lid. You'll add depth and definition to the eye by simply creating the illusion of a shadow in your crease. Start by taking an eyeshadow two to three shades deeper than your skin tone. Your bronzer shade will work perfectly. Pro tip: The secret is slowly building up the eyeshadow with a soft fluffy brush, using a back-and-forth motion.
Eyeshadow Tip #9: Brighten and Define Eyes with Concealer
To define the edges of your eyeshadow for a more polished, dramatic finish, clean up bold eyeshadow looks with a little concealer on an angled brush. Begin by applying concealer under your eyes, then extend it by drawing from the outer corner of your eye (up at an angle) towards the tail end of your brow – this will clean up any blended eyeshadow while also lifting your eye. You can also apply the concealer from the inner corner of your eye up towards the start of your brow to help brighten and accentuate the eye area.
Eyeshadow Tip #10: Add Water to Intensify the Color
Ok, this one is for our eyeshadow pros out there. If you want to intensify the color, pick up the eyeshadow on a small synthetic brush, then mist it with a water mist like the MAC Prep + Prime Fix + Water Mist, $31 (or facial mist), before applying it to the eye. Not only does this deepen the pigment, but it also helps set the eyeshadow. Just be warned: it does make the shade appear deeper, and once it sets, it sets, so no more blending. Oh, and avoid misting your brush and then dipping it into the palette, as this can create a film on your shadows.
Eyeshadow Tip #11: Use Eyeshadow Instead of Eyeliner
Trade in your liquid liner for eyeshadow, and you'll get a smokier, softer finish. All you need is a thin, angled brush and a dark shade of eyeshadow. Then, simply apply it as you would your regular liquid eyeliner. It's also great if you want to slay a colorful line. TikTokers have recently shared the most amazing hack that transforms any eyeshadow into a liquid liner. Just grab a fine liner brush, soak it in micellar water and then pick up some eyeshadow and apply it to your lid. See it in action in the tutorial below:
View this post on Instagram
Eyeshadow Tip #12: How to Create a Cream Eyeshadow
To add a glazed donut finish to your eyeshadow, take notes from celeb MUA Hung Vanngo who works with beauties like Selena Gomez, Bella Hadid, Joan Smalls, Kendall Jenner, and Rosie Huntington-Whiteley, to name a few. When we sat down with Hung, and he spilled the deets on his fave eyeshadow hack, "My best and only makeup trick is mixing powder eyeshadow with Aquaphor Healing Ointment, $16, to create a cream shadow. You can also do this with a powder blush to create a cream blush," he explains. And there you have it. BRB, running out to buy 500 bottles of that right now! For more product recommendations from Hung Vanngo, read this.
Eyeshadow Tip #13: Use Your Lash Curler For An Easy Cut Crease
An eyeshadow cut crease is such a hawt look, RN, but we won't lie; it's not always easy to achieve. Unless you have a lash curler to hand. Start by dusting your entire lid with an eyeshadow of your choice to serve as your base (Lena chose a neutral shade). Then dip a large fluffy brush in a contrasting shade. Place your eyelash curlers a few millimeters above the eyelid's crease, then use the outer rim of the curler as your stencil to create a cut crease effect.
Eyeshadow Tip #14: Add a Pop of Color
View this post on Instagram
If you're feeling experimental, this eyeshadow trend is SO cool and will take your selfie game to the next level. Celebs like Zendaya and Gigi Hadid can't get enough of this edgy eyeshadow hack, and it's so easy to achieve. Start by creating a clean base (conceal and powder your lids), then add a pop of color to the inner corner with a small dense brush, et viola! You can also add drama by adding a feline wing. For more deets and inspo on this eyeshadow trend, read this.
Eyeshadow Tip #15: Try the Halo Eyeshadow Hack
View this post on Instagram
Halo eyeshadow has lived rent-free in our minds ever since our cake-face days. If you're unfamiliar with the term, you'll have seen the trend where a shimmer shade is placed directly in the center of your lid (instead of starting at the inner corner). It's simple yet sexy and incredibly flattering on the eye. Plus, it works for all eye shapes, which is another major bonus.
Step 1: Start by sweeping a matte shade over the lid and the lower lash line.
Step 2: Apply the same hue in a shimmer shade to the center of your eyelid. Finish it with a layer (or ten) of your fave mascara, and you're good to go.
Eyeshadow Tip #16: Use Your Fingers to Apply Shimmers
The reality is that nothing picks up shimmer shadows like your fingertips, so apply the shadow with your finger whenever you need the shimmer to have that megawatt high-shimmer finish. Just make sure it's clean!
Eyeshadow Tip #17: Try Siren Eyes
If you've been on TikTok recently, you'll be familiar with the siren eye, a term coined by influencer Danielle Marcan. The look plays with light and shadow to elongate the eye for a sexy, siren finish.
Step 1: Taking a sharp black pencil liner, trace a thin wing starting at the outer corner of your top lash line. Then, take the line onto your brow bone, just above the crease of your lid, and drag it towards the inner corner of your eye.
Step 2: Using the same black pencil, line the outer third of your lower lash line and the waterline of your tear duct.
Step 3: Take a small brush and smudge the liner. Then using the small brush, take some black eyeshadow and accentuate the smudged-out pencil. If you need to clean up any areas, use a Q-tip dipped in micellar water.
Step 4: Finally, taking a gold-toned highlighter, brighten the inner corner of the eye, as well as the center of your upper lid. Finish with layers and LAYERS of mascara, focusing heavily on the outer corner.
For more makeup hacks, check out 19 foundation hacks that will change your life.
Disclaimer: Every product we review has been independently selected and tested without bias by our editorial team. Although some brands allow affiliate links, we never take payment to review products, so we may earn a commission if you purchase a product by clicking on one of our links.