5 FREE Hacks That Have So Many Health & Beauty Benefits
Over the past year our health and mental wellbeing have become our number one priority for obvious reasons. We're waking up to the importance of sleep, eating healthier, being kinder to ourselves, and our personal fave, self-care. If you're looking for ways to look and feel healthier, follow these five hacks; they're completely free, require minimal effort, and are scientifically proven to make a difference!
1. Take an Ice Cold Shower
Wellness influencers have been shouting about the benefits of cold showers, and although it may take A LOT of bravery, we have to admit, they're onto something. Ice cold showers boast a whole myriad of health benefits. Health studies have shown that a cold shower can actually improve your immune system, something we can all benefit from RN. It's also believed to reduce stress levels, increase alertness, and it can even increase your metabolic rate.
There's beauty benefits too: cold water is proven to help tighten your pores and seal damaged hair cuticles, thereby minimizing frizz and boosting shine.
Tbh though, the idea of stepping into an ice-cold shower is terrifying. Our trick is start out warm and gradually go from warm to cold. It'll help you stay under the cold water for longer.
2. Sleep With Your Socks On
@doctorjesssI wear socks to bed so don't come at me im not weird

Somewhat surprisingly, this health hack is something the world learned on TikTok. The genius yet simple hack was shared by Doctor Jess Andrade, who took to her video and said: "So let's talk about people that wear socks to bed. Wearing socks makes the feet warm and this opens up the blood vessels that cools the body down. The body being cool tells the brain that it's time for bed, so actually, people that wear socks tend to fall asleep faster."
We know what you're thinking, "really, health tips from TikTok?" We totally understand, however, this one is backed by science. A study conducted by the Netherlands Institute for Neuroscience found that those who wore socks to bed fell asleep faster than those who didn't.
3. Give Yourself A Scalp Massage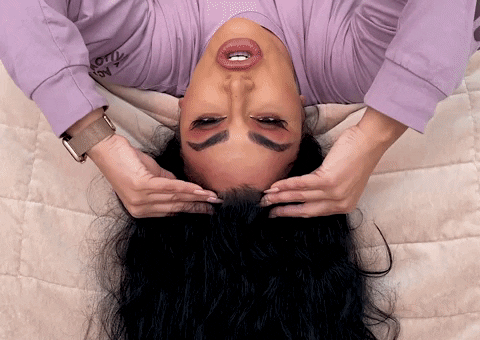 When we said this list of hacks had a multitude of benefits, we weren't exaggerating. Scalp massage is one of our favorite beauty hacks and it's also a big stress-reliever. Not only is it relaxing and can relieve headaches and muscle tension, but it's also proven to boost hair growth. In fact, according to a 2016 study, researchers concluded that regular scalp massages can lead to thicker hair. Find out more here.
Posts You'll Love:
4. Meditate Daily
There's literally no better time to start meditating every day than right now! It'll help you de-stress, improve your mental clarity, and can even amp up your glow game. Studies have shown that it reduces anxiety and helps you to de-stress, plus, a recent study revealed that it increases your attention span so that you're more productive throughout the day.
Other studies have also shown that it makes you more compassionate and kind to others as you're more considerate of other people's emotions. As for the beauty benefits, it boosts blood circulation, delivering more glow-getting oxygen to your skin. Plus, as there are now so many free apps, mediation couldn't be easier or more accessible. Our go-to meditation apps are Headspace and Calm.
5. Lymphatic Drainage
Another form of massage that's seriously beneficial for your health and skin is lymphatic drainage. It's a relaxing massage technique that helps to drain lymphatic fluid via your lymph nodes. Lymphatic fluid helps remove waste and toxins from your tissues. If lymphatic fluid becomes stagnant it can lead to an array of health concerns, including bloating, water retention, acne, skin dryness, or other skin issues.
By physically boosting drainage via massage, you'll help move waste products away from your skin. The technique will also help smooth out your connective tissue (fascia) that's affected by tension. After just five minutes of a DIY lymphatic facial massage, you'll be able to see a clear lift in your skin. It's also great to do to your body and will help combat bloating and remove any water build-up. Check out our full guide to lymphatic drainage here.
For more amazing hacks, check out 7 life hacks you need to know.